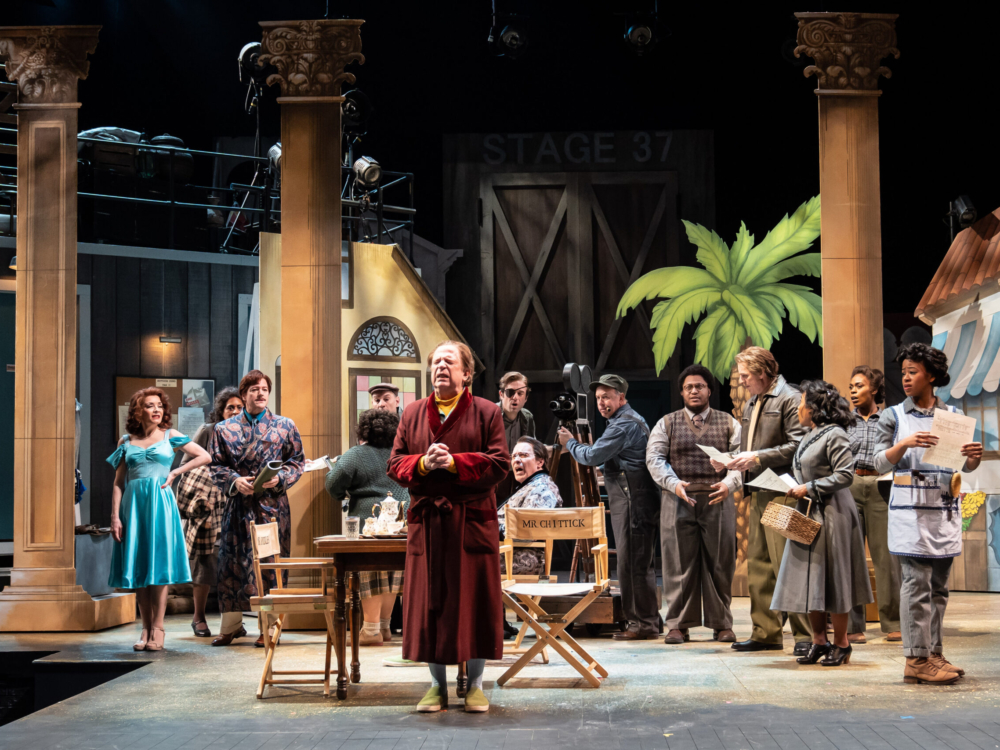 Chicago Shakespeare Theater presents COMEDY OF ERRORS.
Shakespeare's tale of two sets of identical twins is a lampoon of shipwreck separation, mistaken identities and alternative twin sets. This established Shakes comedy is already a character-heavy farce. Director Barbara Gaines escalates the absurdity by framing the  play as a movie. The movie is being produced to cheer up the WWII troops. In the London studio, the film's director (played by Ross Lehman) is dealing with temperamental actors, imploding relationships and explosive air raids. Lehman leads the madcap race to finish the "Comedy of Errors" movie before the set gets shut down by the British government or German bombs.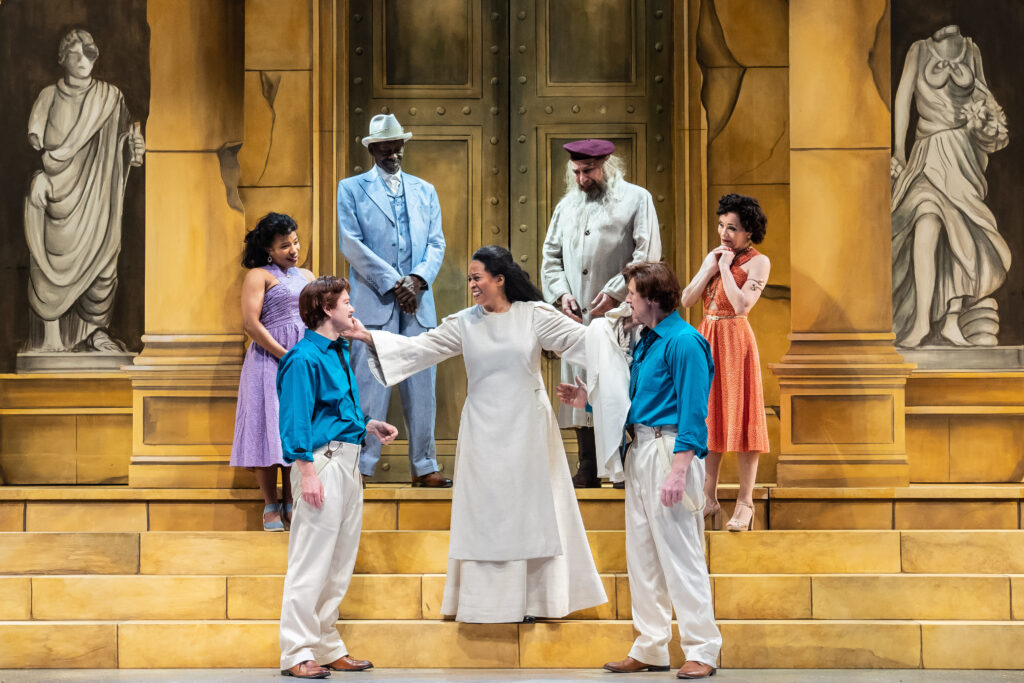 Gaines puts the comedy in errors! The play-about-a-movie-about-a-play is a nonstop frenzy of mishaps. Gaines enlists an impressive Ron West to pen the additional scenes setting up the character-mania. The superb ensemble slip in and out of their 1940s personas and into their 1500s characters with panache. Everyone plays two very different roles. Lehman commands as the film's puppet master and then morphs into a goofy sidekick. An hysterical Kevin Gudahl plays suave, arrogant actor then transforms into Lehman's identical twin.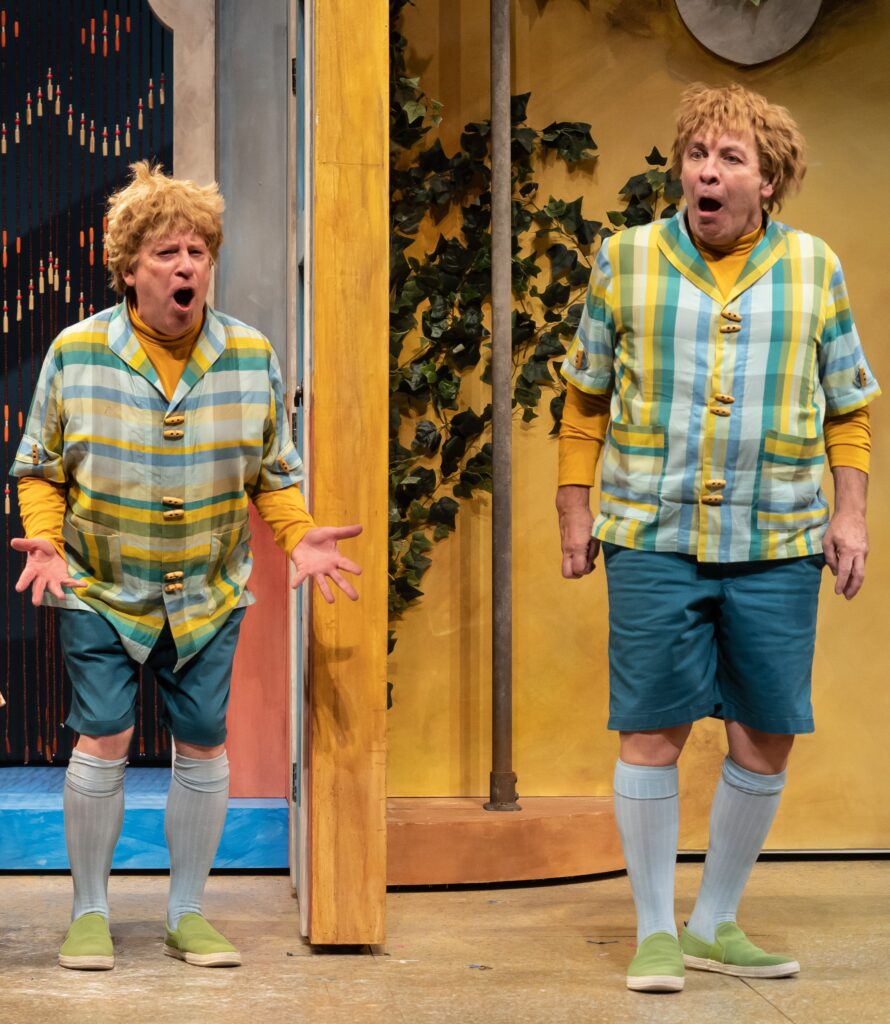 Lehman and Gudahl twinning drives the vaudeville lunacy. For the movie, their characters are supported by colorful, matching Tweedle Dee and Tweedle Dum outfits. In between shooting takes, the duo don silk robes and assume their sophisticated roles. The contrasting looks and styles makes for ongoing amusement. Costume Designer Mieka Van Der Ploeg and Hair and Makeup Designer Richard Jarvie add to the fanciful fun. They dress and redress the cast with distinction. One of the best conversions is Lillian Castillo (Marian/Courtesan) from tam and saddle shoes script girl to pink high heeled vixen. Castillo embraces both roles with zest. Her makeover makes her almost unrecognizable.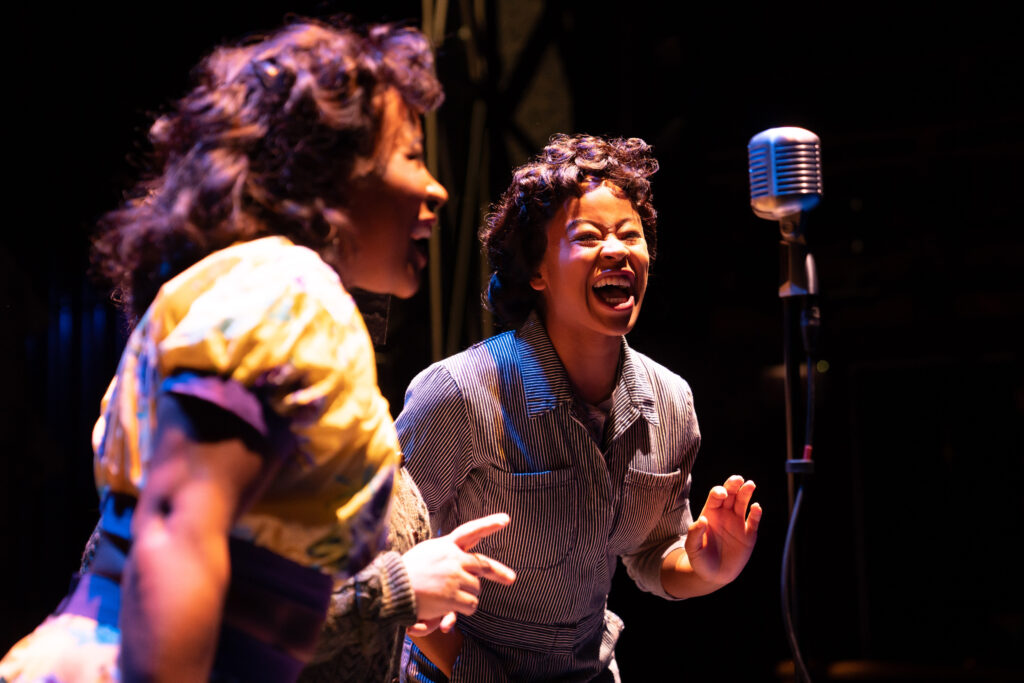 It's the costumes. It's the cast. It's West's additional scenes. Gaines layers this storytelling in nuance. The humor is both droll and silly. Dan Chameroy and Robert Petkoff are the other 'twins.' A swaggering Chameroy is an American movie star. His appearance on the movie set makes the cast and crew swoon. Chameroy charms with his Shakespearean acting, harmonious crooning and whiskey-soaked life advice. Petkoff, his brother from a different mother, is the traditional dashing, leading man. On set, he is successfully wooing his leading lady (played by a diva-vicious Susan Moniz). In the movie, his flirtations to Luciana (played by Melanie Brezill) aren't as well received because of his 'real life' breath. Brezill is riotous as she delivers her lines while plotting her escape out a window.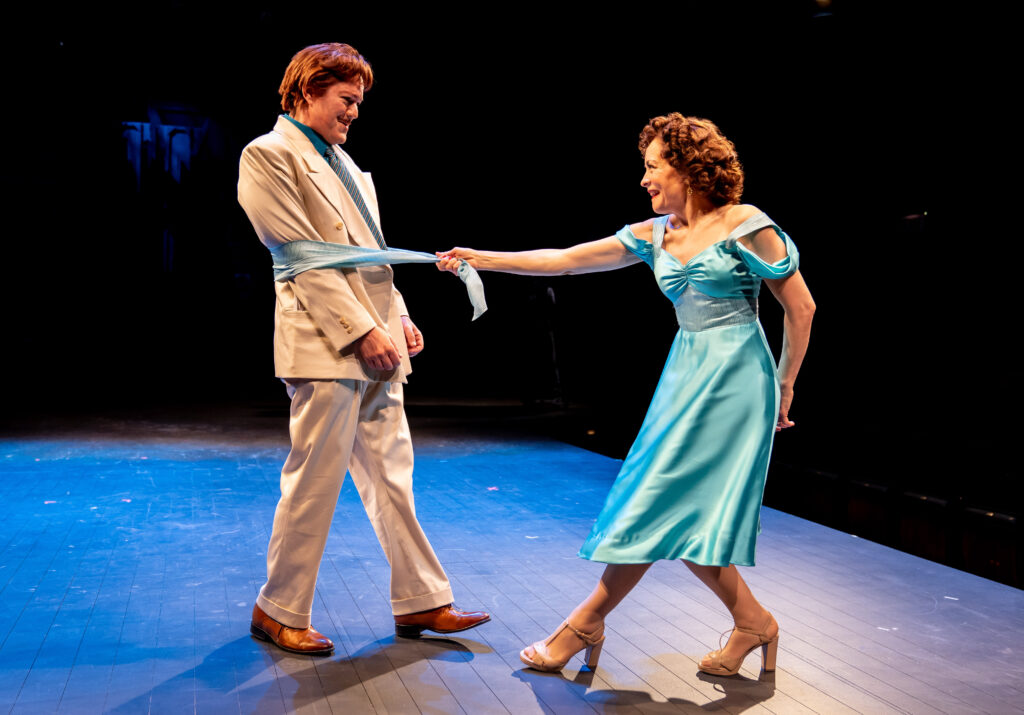 Gaines has fun with this one! Within the swirling chaos of movie production in a war zone, she adds touching moments of romance and humanity. The dynamic cast make us laugh and care especially about their 1940s' lives. Shakespeare's characters almost take a back seat to West's characters. Because the show is long (nearly three hours), Shakes' big identities reveal scene seems to drag. I find myself more interested in wrapping up the drama on West's set than in the 'movie.' Still, the Gaines' epic finale is a feel-good show to see and experience!  
Running Time: Two hours and fifty-five minutes includes an intermission
At Chicago Shakespeare Theater on Navy Pier
Written by William Shakespeare
Scenes framed by Ron West
Directed by Barbara Gaines
Performances are:
Wednesdays at 1pm 
Wednesday, Thursdays, Fridays, Saturdays at 7:30pm
Saturdays at 2:30pm  
Sundays at 2pm
Thru April 16th
For more information or tickets
Photos by Liz Lauren
For more Chicago theatre information and reviews, please visit Theatre in Chicago