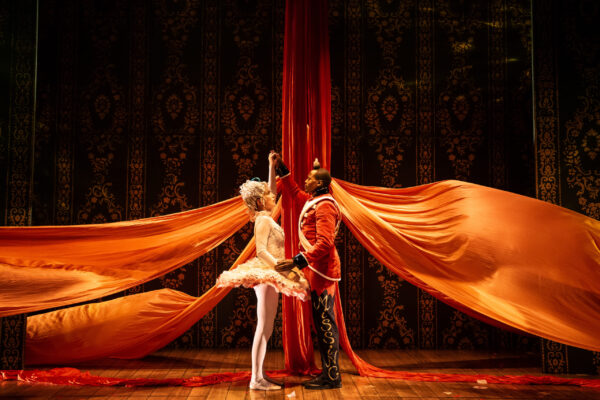 Lookingglass Theatre presents THE STEADFAST TIN SOLDIER.
Magic is back! And just in time for the holiday season.
Creator and director Mary Zimmerman masterfully spins Hans Christian Andersen's story of a broken toy into a tale of resilience. The discarded soldier (played by Adeoye) goes on a journey of discovery. He falls for a ballerina (played by Kasey Foster). He battles a Jack-in-the-box, a sewer rat and a big fish. A steadfast Adeoye, with one leg missing, hops, rolls and pulls himself through a series of unfortunate mishaps. His adventure is a string of random sequential events that bring his life full circle.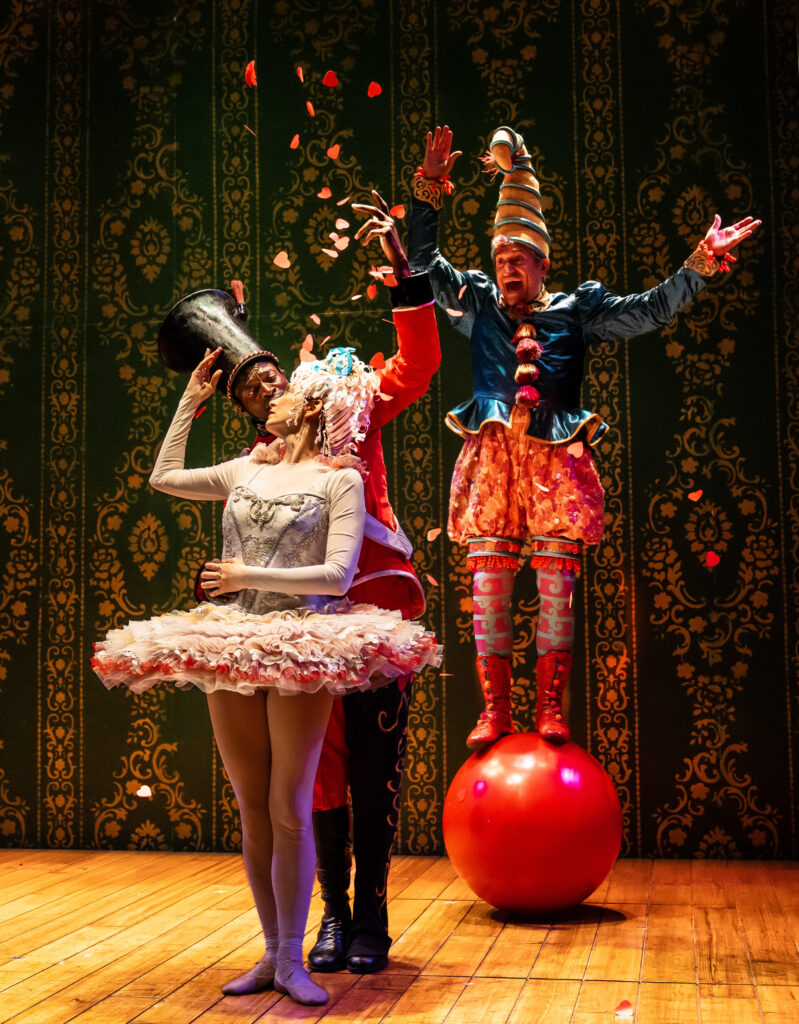 The marvelous storytelling is the perfect combination of Zimmerman and her ensemble, design team and musicians. The diehard 5 member ensemble not only act and clown, they are puppet handlers, silk twirlers and stagehands. Without speaking a word, Adeoye, Foster, Christopher Donahue, John Gregorio and Anthony Irons engage with their energetic antics and facial expressions. Whether it's the tender courtship of Adeoye and Foster or the hysterical flirtation between Donahue and Gregorio, love is in the air… and in the form of red confetti.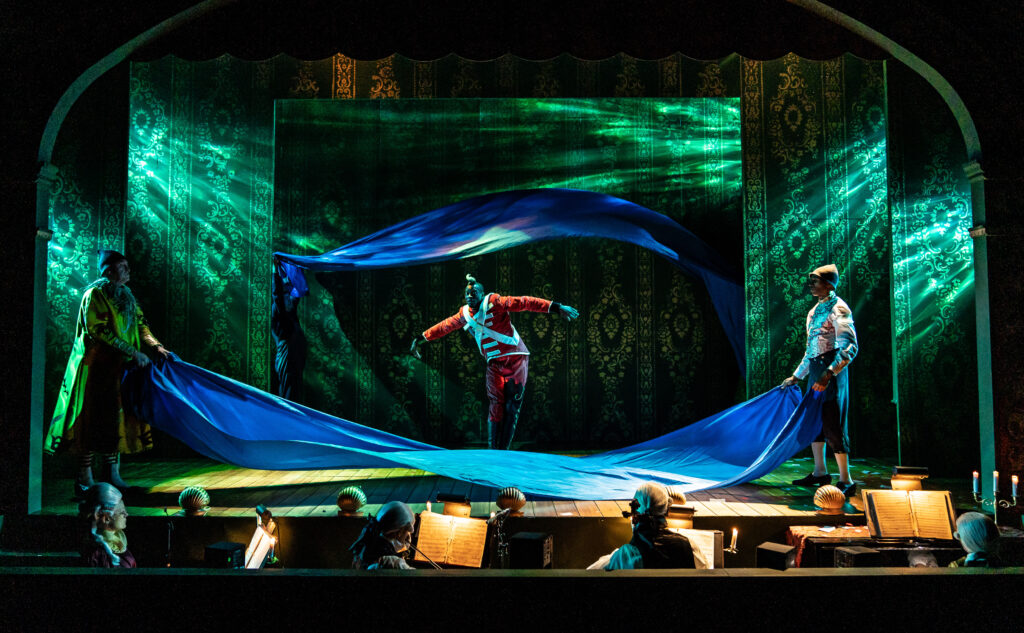 The story evolves with color and panache. Blue silks shimmer as the water. Orange silks twirl as flames. The detail is amazing as size scales up or down. A newspaper boat holding a miniature toy soldier is pulled across the stage by a string. Moments later, Adeoye sails in a life-size newspaper hull. An oversized head and hands portray a baby in one scene. In another, he is a toddler-sized puppet manipulated by three of the ensemble. This kid seems real as he throws a tantrum by the band.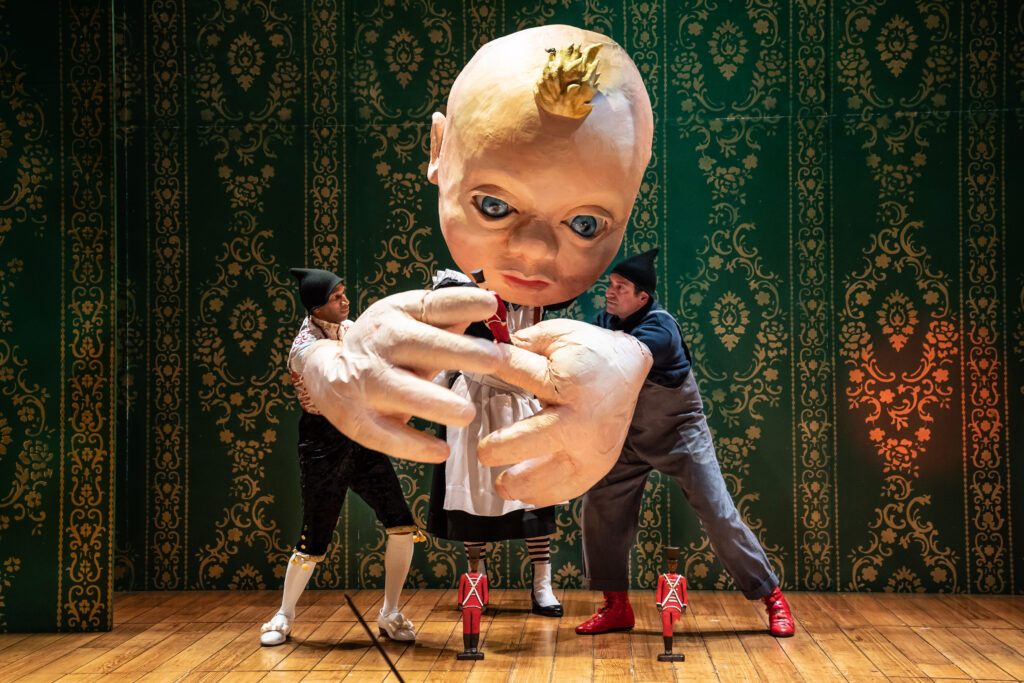 Zimmerman and her entire design team make this spectacle gawk-able. Ordinary activities turn into extraordinary visuals. A fish eating a worm. A mother holding a baby. Two guys fighting over a toy. This is how 'pure imagination' looks and sounds! Nod out to Todd Rosenthal (scenic), Ana Kuzmanic (costumes), T.J. Gerckens (lighting), Andre Pluess (sound/composition), Amanda Dehnert (composition), Christopher M. LaPorte (sound), Tracy Walsh- no relation (choreography) and Chicago Puppet Studio.
When I initially saw this show in 2018, I noted in my review that I wasn't certain it was right for children. Although I was and am thoroughly delighted by the innovative and inspirational storytelling, I continue to wonder about that. Like many fairytales without the Disney makeover, there is tragedy in this story. Still, I highly recommend it for adults looking to reclaim their child-like wonder. THE STEADFAST TIN SOLDIER is enchanting!  
Running Time: Sixty minutes with no intermission.
Lookingglass Theatre, 821 N. Michigan
Based on Hans Christian Andersen's story
Created and directed by Mary Zimmerman
Tuesdays, Wednesdays, Thursdays, Fridays at 1:30pm and 7pm
Saturdays at 2pm and 7pm
Sundays at 1pm and 6pm  
Thru January 8th 
For more information or tickets
Photography by Liz Lauren
For more Chicago theatre information and reviews, please visit Theatre in Chicago