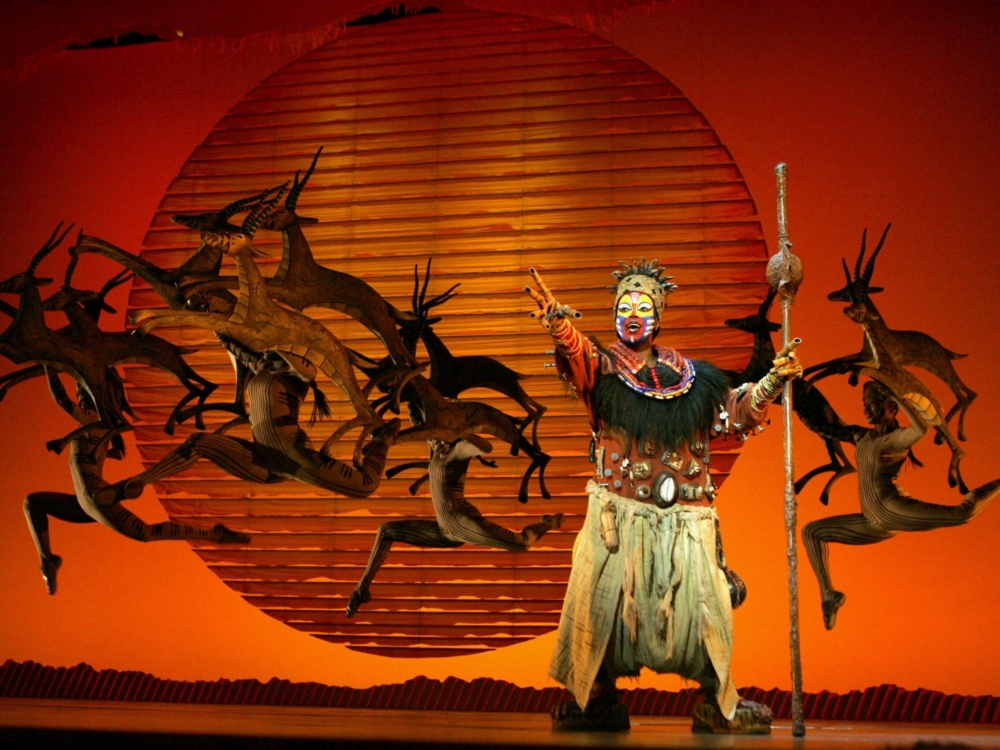 Broadway in Chicago presents Disney's THE LION KING. 
Nants ingonyama bagithi baba
Gugwana Dlamini (Rafiki) chants the infamous words that kick off the show and cast a spell on the audience. Her birth announcement summons the animals to a celebration of life. The resulting wildlife promenade is nothing less than transfixing puppet pageantry. Giraffes appear as performers manipulate stilts on all fours. A life-size cheetah prowls as its puppeteer moves its limbs. A herd of gazelles glide across the stage as dancers twirl wooden replicas on their arms and heads. And the action isn't contained to the stage. An elephant and a rhinoceros stroll up the theatre aisles. Birds soar over the heads of guests from long extended wires. Within the first fifteen minutes of this show, the audience is transported to a magical African safari.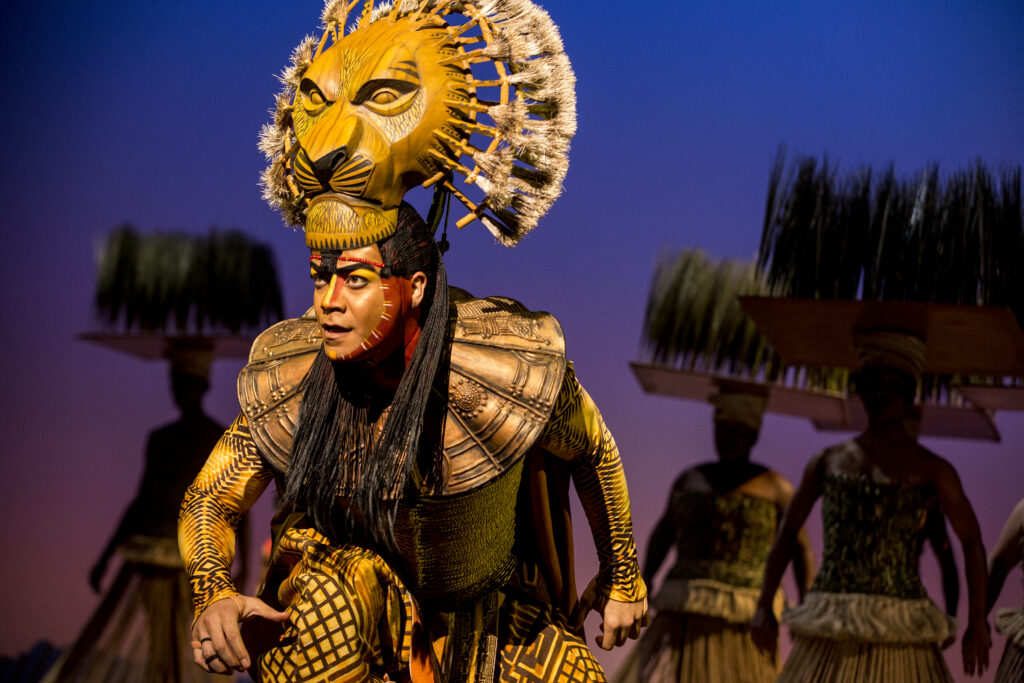 Julie Taymor won the 1998 Tony Awards for direction and costume design. She also served as mask and puppet designer (along with Michael Curry) and contributed additional music and lyrics. Taymor's vision brought Disney's classic cartoon to life. The animated film was the work of Irene Mecchi, Jonathan Roberts, and Linda Woolverton. Meechi later teamed up with Roger Allers to write the book for this beloved musical. And the music and lyrics were composed by Sir Elton John and Tim Rice and include the well-known inspirational anthem, "The Circle of Life." Even though combining a Disney blockbuster with musical legends is already solid gold, it's really Taymor's breathtaking designs that steal the show.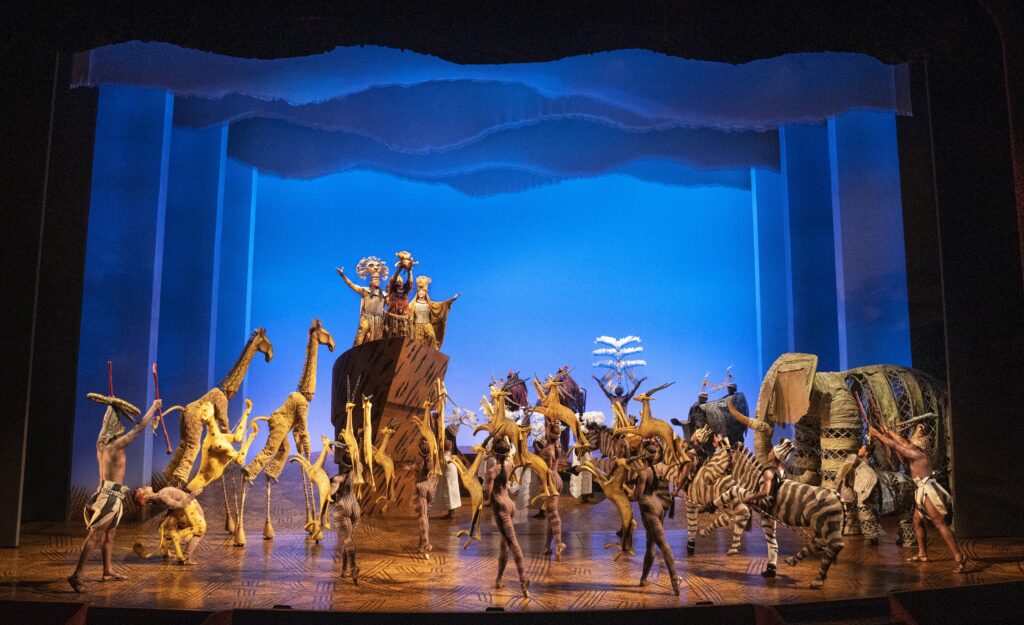 The  extensive and brilliant wardrobe changes seem to require each ensemble member to wear 8-10 different outfits. The costumes are unique. Beautiful colorful tunics and pantaloons adorn villagers. Grass is represented by turf headdresses and wicker skirts  and later with single blades on nude leotards. Whether it's a simulated buffalo stampede or a pack of sassy hyenas, Taymor's whimsical direction and vibrant designs suspend belief. Taymor blurs the lines between real/imagined, puppet/animal, Chicago/Africa. The audience is here/there… basking in the sun of The Pridelands.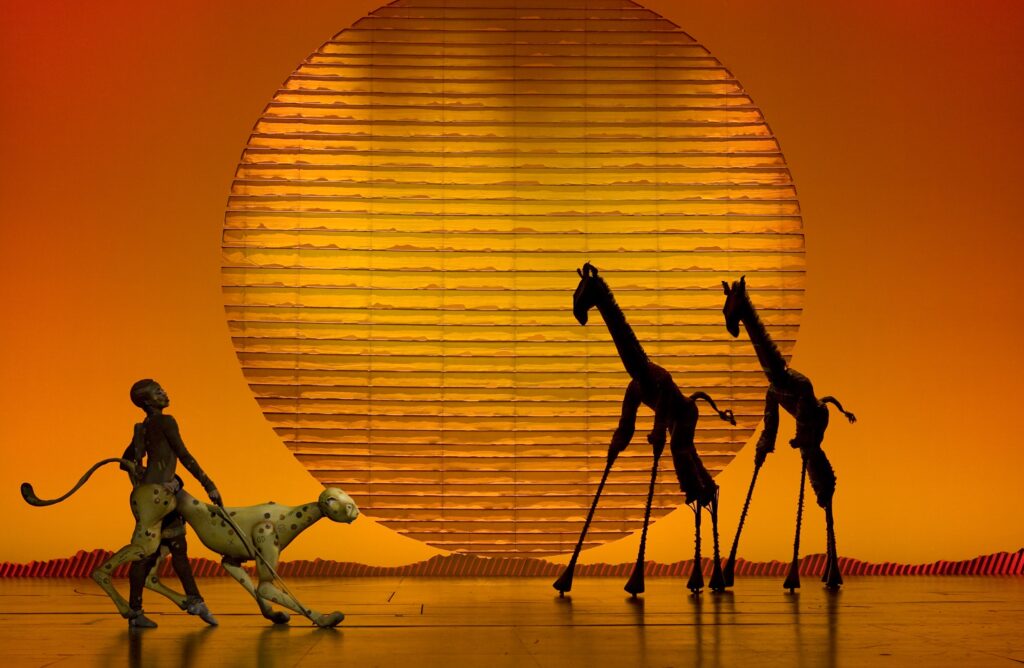 LION KING has been touring for twenty years. This production boasts the cheeky Dlamini and the majestic Gerald Ramsey (Mufasa). Dlamini acts as the wise yet snarky sage. Ramsey is commanding in singing a memorable "They live in you."   An animated powerhouse, Jaylen Lyndon Hunter (young Simba), belts out a purposeful "I just can't wait to be king." He is so entertaining with his youthful passion, it's hard to watch him grow up and disappear for Act 2. Yet, his older self, Darian Sanders (Simba), is also dynamic. Sanders impressively balances a zestful energy and a restless spirit. His rendition of "Endless Night" is searing. His playful chemistry with Khalifa White (Nala) has a natural rhythm. The entire production cast and crew are crushing it in this hypnotic spectacle.  And nod out to Choreographer Garth Fagan, the dancing adds to the animal and tribal illusion. Dancers leap, cartwheel, sway and prance. Their deliberate movements are athletic and graceful. Just gorgeous!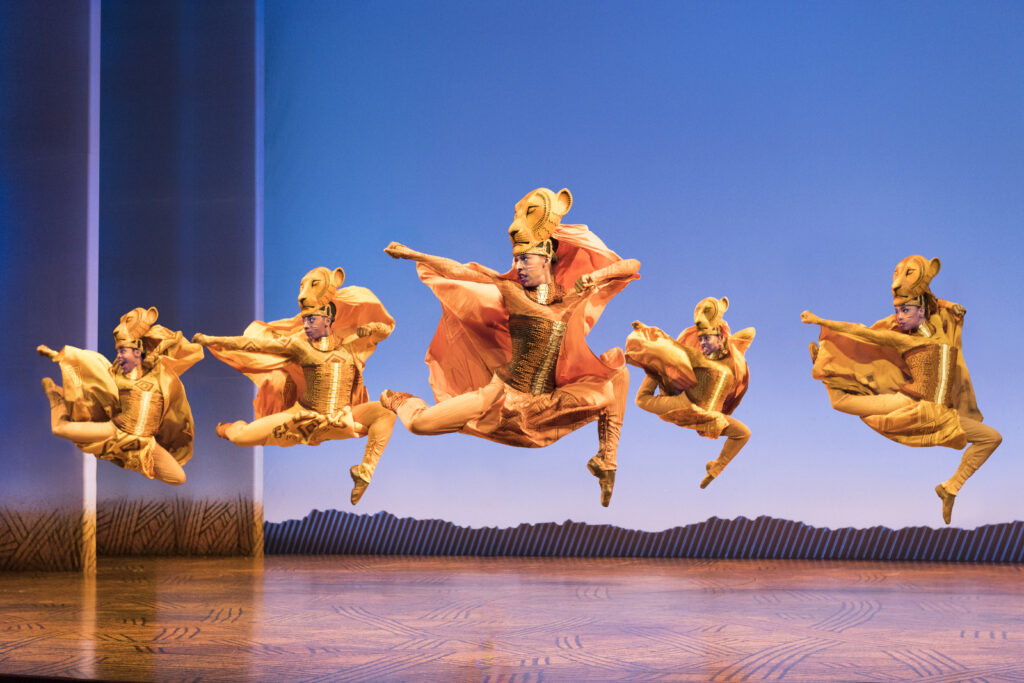 You know the story. You've sung along with Elton's song. Still, if you haven't sat in the midst of Taymor's creative genius, you haven't truly experienced the LION KING. For first timers or returning fans, LION KING is holding court at Cadillac Palace. It's a royal treat for the entire family!!
Running Time: Two hours and thirty minutes includes an intermission.
Cadillac Palace Theatre, 151 W. Randolph
Adapted from the screenplay by Irene Mecchi, Jonathan Roberts, Linda Woolverton
Book by Roger Allers and Irene Mecchi
Music and lyrics by Elton John and Tim Rice
Additional music and lyrics by Lebo M. Mark Mancina, Jay Rifkin, Julie Taymor, Hans Zimmer 
Directed by Julie Taymor
Choreography by Garth Fagan  
Wednesdays at 2pm and 7:30pm 
Thursdays, Fridays at 1:30pm and 7pm
Saturdays at 2pm and 7:30pm
Sundays at 1pm and 6:30pm  
Thru January 14th 
For more information or tickets
Photography by Joan Marcus, Matthew Murphy, Deen van Meer
For more Chicago theatre information and reviews, please visit Theatre in Chicago