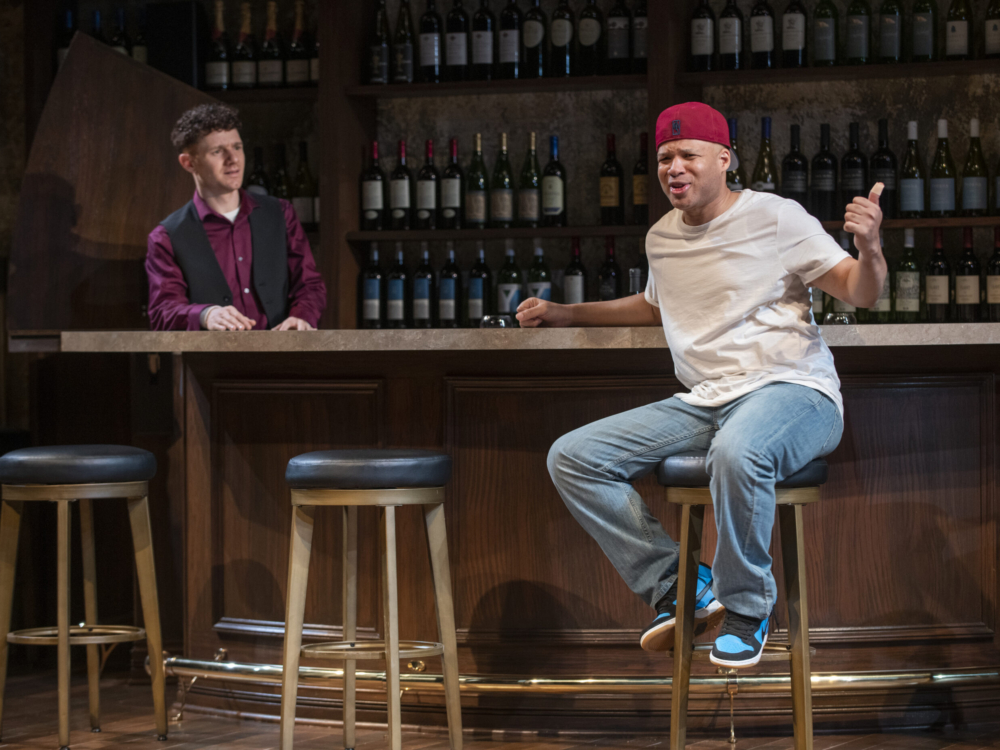 Steppenwolf Theatre and Center Theatre Group presents the World Premiere of KING JAMES.
Just in time for March Madness, Playwright Rajiv Joseph debuts his tribute to the Cleveland Cavaliers. Joseph tells the tale of two fans turned friends. The guys meet to purchase season tickets as LeBron James joins the Cavs. Their resulting bromance chronicles LeBron's career over thirteen years. We experience Sean and Matt as LeBron arrives, departs, returns and eventually leads the Cavs to an NBA championship. We encounter the guys struggling with their lives at four different points in four different scenes. Joseph intersperses the basketball chatter with the financial, relational, and parental woes of adult children. Although there are minor wardrobe changes and LeBron's legacy timeline is in the program, the transition of time isn't distinct (the ladies behind me are verbally confused at the top of each scene). Still, the dialogue is crisp. The humor is playful. This show is fun!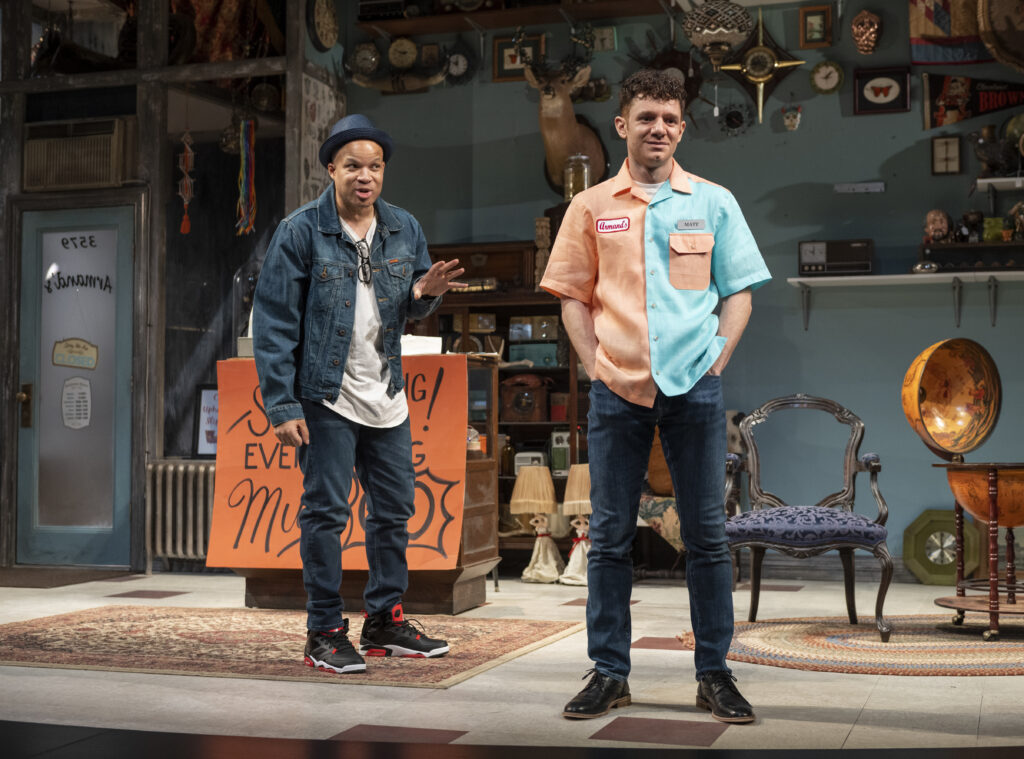 Under the skillful direction of Kenny Leon, Glenn Davis (Sean) and Chris Perfetti (Matt) deliver authentic performances. These guys deal and don't deal with life with and without LeBron James. Not only do they have championship aspirations for the Cavs, they also have personal aspirations. Despite not being a huge basketball or Cleveland fan, I'm completed invested in their friendship and LeBron James. Davis plays it smooth and close to the vest. He shares his thoughts and plans cautiously. Perfetti, on the other hand, is a bundle of nervous chatter. He regularly pontificates on what's wrong with America. Davis is black. Perfetti is white. Their experiences are different. Their approaches are opposite. Their friendship is endearing. 
I found myself reliving nuggets of their friendship well after curtain. Joseph keeps it real with conversations true of sports-focused male friendships. It never gets trite or overly mushy. Instead, Perfetti tells us how many times he watched a TV show. Davis describes what he did to the person next to him at the game. These passing comments beautifully show the depth of their feelings. 
Ultimately, KING JAMES highly entertains for its fanaticism and friendship. It's a winner!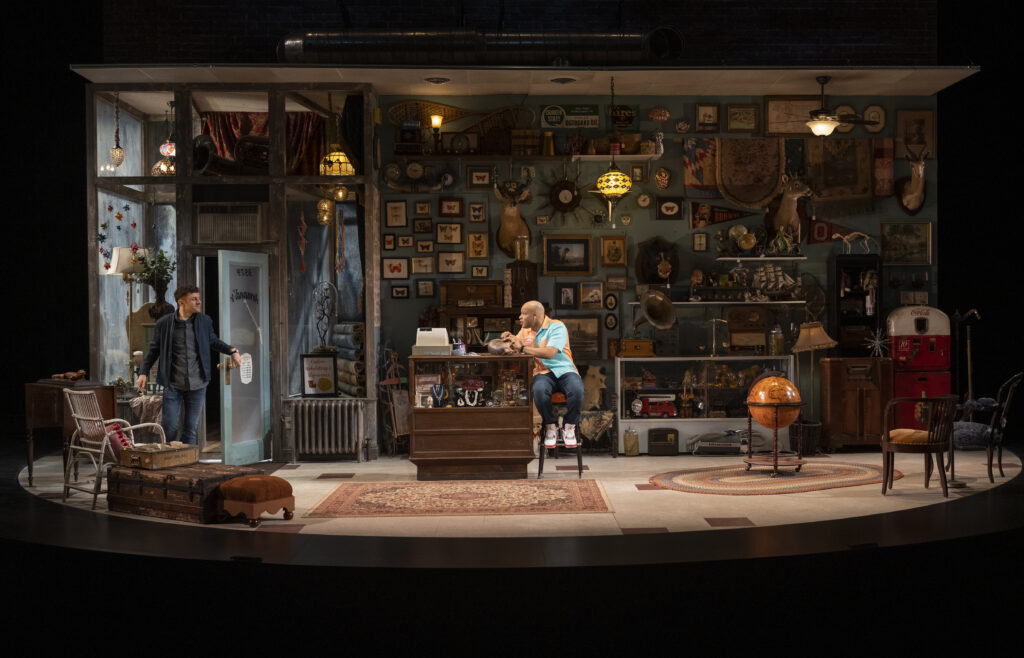 And nod out to the talented Scenic Designer Todd Rosenthal for creating dual locations. The first act is at a wine bar. The second act is in an eclectic, oddities shop. Despite the very clever use of a revolving stage, the set isn't flipped during intermission. The big reveal is in the first few minutes of the second act. Although I usually enjoy a marveling spectacle, I'm all for eliminating superfluous theatrical moments until the audience gets to attend unmasked. I loved the DJ too. Yet, I know cutting the National anthem cuts mask-wearing time.  Tighter productions keeps it all more comfortable and safe during a pandemic.    
SIDE NOTE TO STEPPENWOLF SUBSCRIBERS: Check your phones before each act! The gentleman right next to me received a call he fumbled to answer ten minutes into Act 2. It's been my observation over the last thirteen years of reviewing theatre that Steppenwolf audiences are the worst cell phone offenders.  
Running Time: One hour and fifty minutes with one intermission
Steppenwolf Theatre, 1650 N. Halsted
Written by Rajiv Joseph
Directed by Kenny Leon
Tuesdays thru Sundays at 8pm
Saturdays and Sundays at 3pm
Thru April 10th
For more information or tickets
Production photos by Michael Brosilow
For more Chicago theatre information and reviews, please visit Theatre in Chicago