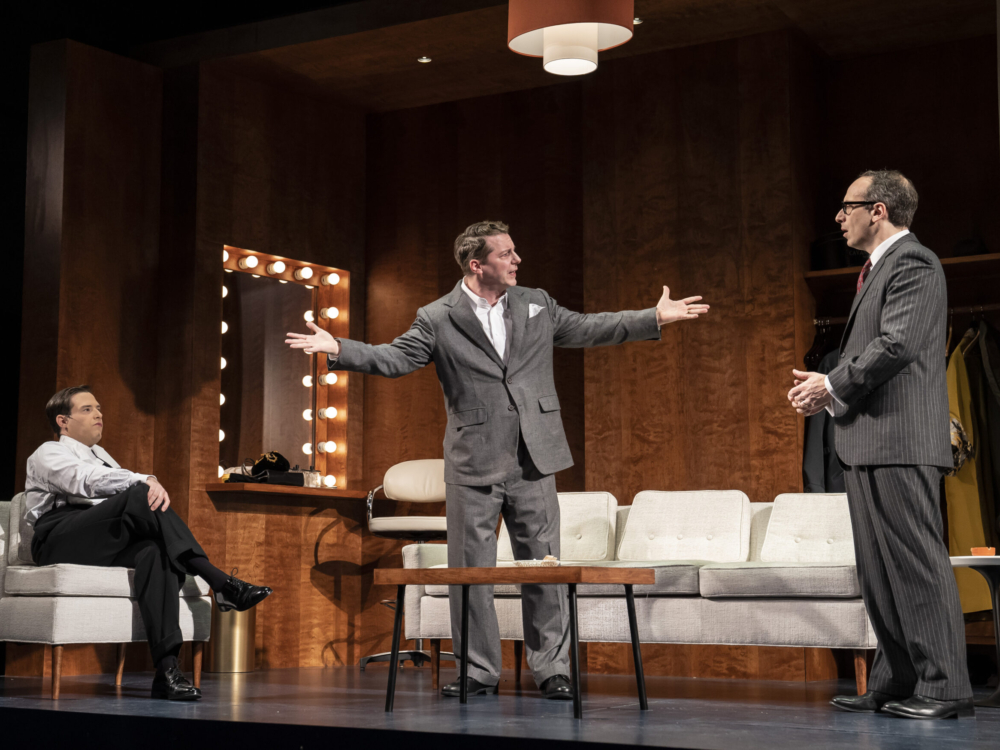 Goodman Theatre presents the World Premiere of GOOD NIGHT, OSCAR. 
It's 1958. The Jack Parr Show is broadcasting from LA for Sweeps Week. Since ratings are everything, Jack has booked his friend Oscar Levant. Oscar is known for his piano virtuosity and his unfiltered humor. Oscar's quick, self-deprecating and unscripted wit is the perfect draw for a late night television blockbuster. The only thing standing in the way of rating gold is censorship imposed by the Network execs. No politics. No religion. No sex. The potential for this to go-off-the-rails is all exacerbated by Oscar's unstable mental health.    
Playwright Doug Wright pens a smart dramedy. Wright balances humanity and hilarity in his cheeky expose' on the world according to NBC. He imagines the back story on real life and real people dealing with the timeless showbiz demands of staying relevant. The play has plenty of unexpected moments that equally shock and delight. I'm remaining vague to support audiences' experiencing the play as intended… scripted spontaneity.  
Director Lisa Peterson orchestrates the show with a sophistication befitting Designer Rachel Hauck's stylish mid century set. The comedy rises far above madcap for an almost droll repartee. And the drama tethers us empathetically to a man regretting his life and legacy. Among Peterson's superb cast, Sean Hayes (Oscar) is extraordinary.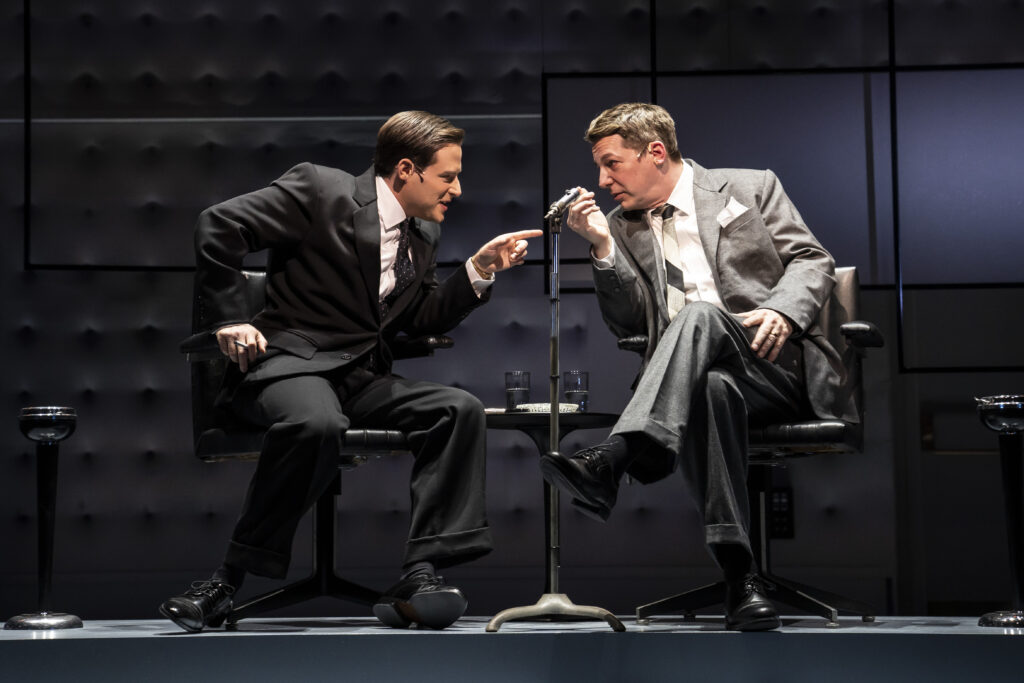 Hayes, famous for his role on Will & Grace, embodies this tortured talented man. We never see Hayes' nimble, high energy 'Just Jack' signature character. Instead, his voice is gravelly. His spirit is dejected. And his introspection is melancholia yet wise-cracking. A riveting Hayes pulls us in to his mental struggle to hold on and move forward all while punctuating his pain with quips. Whether it's on-camera or behind-the-curtain, the dialogue crackles with high-charged one liners.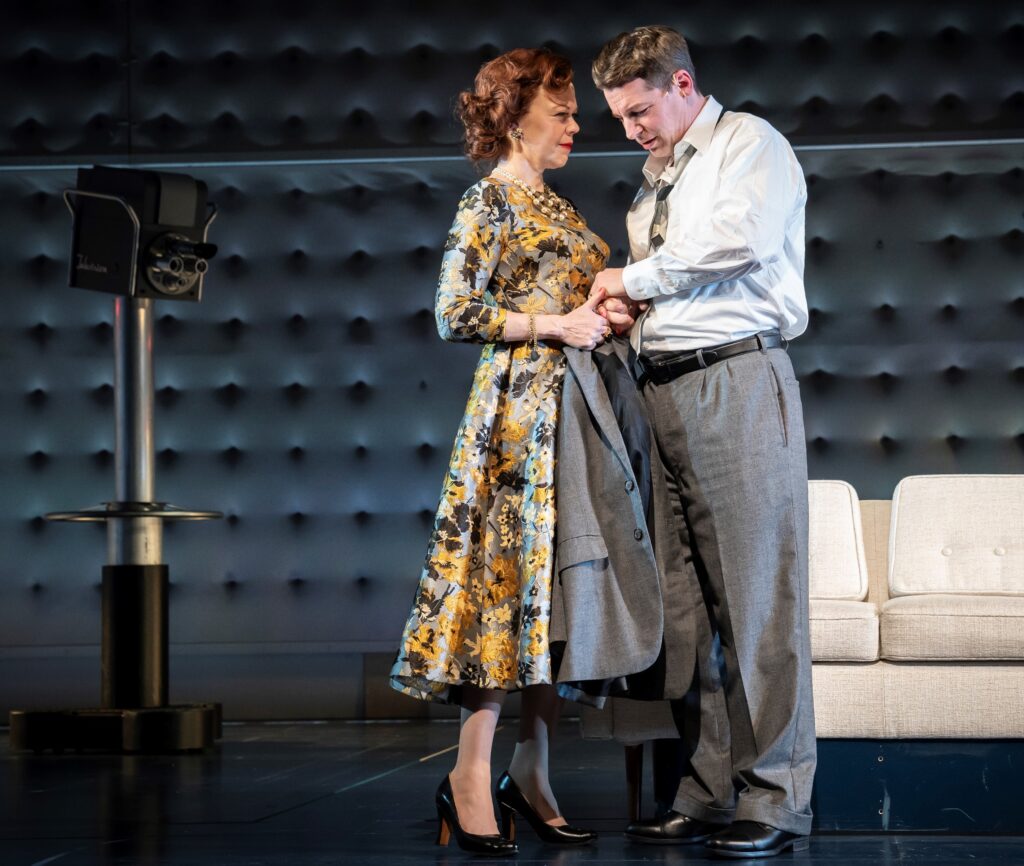 Hayes and Ben Rappaport (Jack) have a show exchange of unforgettable 'ad-lib' humor. The charming Rappaport sets it up and Hayes sharply spikes it for the audience's pleasure. The scene feels authentic as the duo smoke cigarettes and banter. The entire cast supports the volatile evolution of the story. In particular, Emily Bergl (June) – wearing a stunning dress and coat by Costume Designer Emilio Sosa- plays the long suffering wife. Bergl gives a 'Steel Magnolia' like performance as she uses female fragility and grit to manipulate her husband and the network to action. She is understated and amazing!   
I really enjoyed GOOD NIGHT, OSCAR. It's gut-busting and gut-punching simultaneously. Hayes entertains with heart-breaking depth, rapid-fire barbs and surprising show-stopping panache. Go see it!    
Running Time: One hour and forty minutes with no intermission
Goodman Theatre, 170 N. Dearborn
Written by Doug Wright
Directed by Lisa Peterson
Wednesdays and Thursdays at 7:30pm 
Fridays and Saturdays at 8pm
Saturdays and Sundays at 2pm
EXTENDED Thru April 24th
For more information or tickets
Production photos by Liz Lauren
For more Chicago theatre information and reviews, please visit Theatre in Chicago