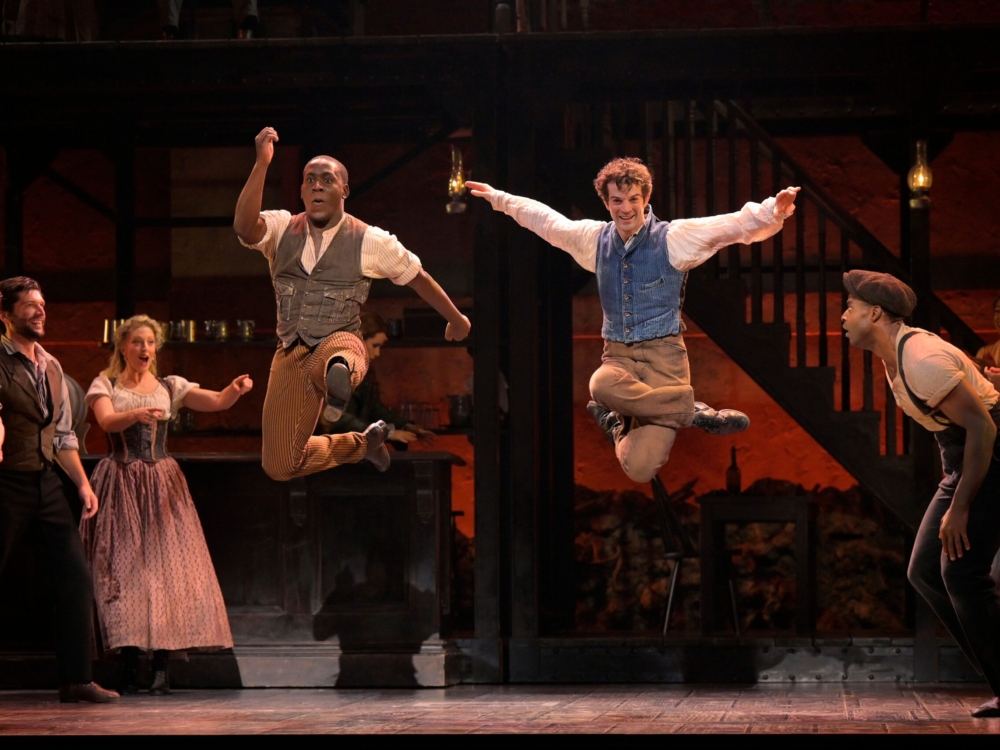 Broadway in Chicago presents the Pre-Broadway Musical PARADISE SQUARE.
From the very first to the very last note, Joaquina Kalukango (Nellie) owns the bar, the stage, and the show. The phenomenal Kalukango welcomes the audience and patrons to her tavern with a rebel-rousing "Paradise Square." Much later in the show, Kalukango belts out, literally and figuratively, the show-stopping "Let It Burn." Her unforgettable delivery blazes with a fierce intensity. She. Crushes. It!  The perfection of the moment is met with an impromptu standing ovation. Bravo, Kalukango!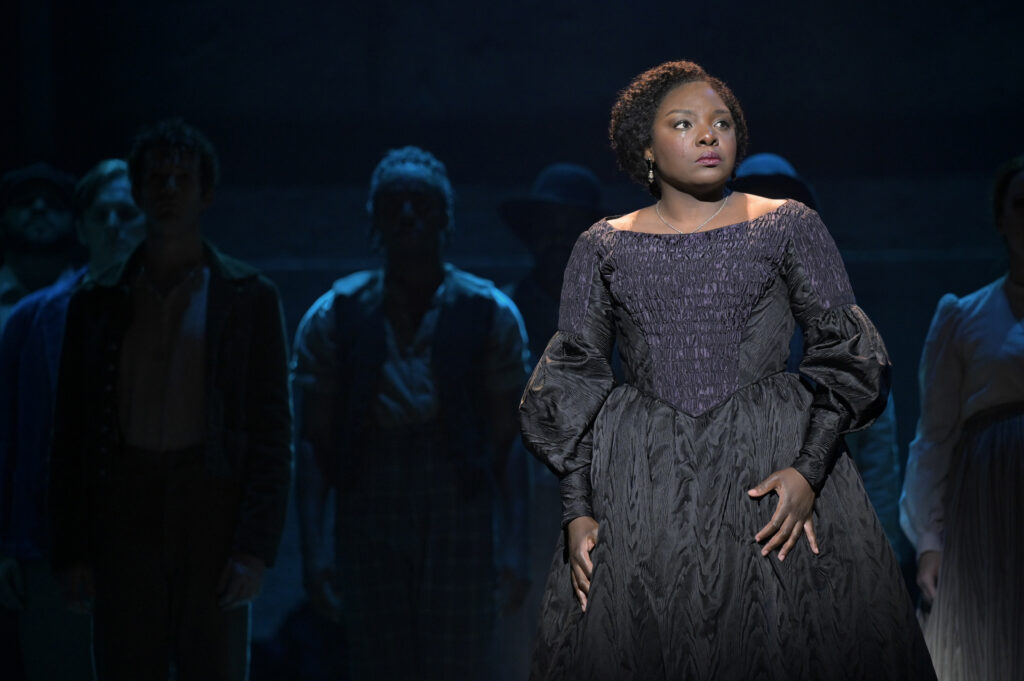 In between these two bookend numbers, Kalukango's jovial moxie amuses and intrigues as multiple stories unfold. Nellie is a successful black entrepreneur happily married to an Irish immigrant. Her pioneering spirit is even more admirable knowing that this is the mid 1800s… during the Civil War. All the stories are rooted in a Manhattan slum neighborhood where Irish immigrants live alongside free-born Black-Americans. 
The show was conceived by Larry Kirwan and written by him, Christina Anderson, Marcus Gardley, and Craig Lucas. The score was composed by Jason Howland with lyrics by Nathan Tysen and Masi Asare. The creative team centers their characters and songs around the real-life event of when the government drafted men to fight in the Civil War. To avoid military service, a man had to pay $300 or be black. Irish immigrants protested.
Moisés Kaufman (director), Jason Howland (musical direction), Bill T. Jones (choreographer)utilize a rock solid ensemble for masterful storytelling. The epic tale is weaved tightly together in the endearing relationships. A feisty Chilina Kennedy (Annie) reminds her reserved husband (played by Nathaniel Stampley) who he married in the playful "Gentle Annie." Later, Kennedy and her sister-in-law (Kalukango) sing a heart-tugging duet called "Someone to Love." These two strong women captivate with a beautifully, authentic bond. Throughout the show, Sidney DuPont (Washington) pines for his true love with "Angelina Baker". His reminiscing is accompanied by Jones' well-choreographed movements to illustrate slavery and plantation life. 
The dancing throughout the show is fantastic! Jones' dancers demonstrate how African juba and Irish stepping led to American Tap. DuPont and A.J. Shively (Owen) lead the rhythmic spectacle with ongoing dance competitions. Their physicality and energetic feats are transfixing. Other dancers join into the numbers for a stage bursting with feet kicking, skirt swirling, fun-loving merriment. It's like Riverdance meets Stomp over at the Bill T. Jones/Arnie Zane Company's dance studio. Even though I loved the stories and the singing, the dancing was my favorite!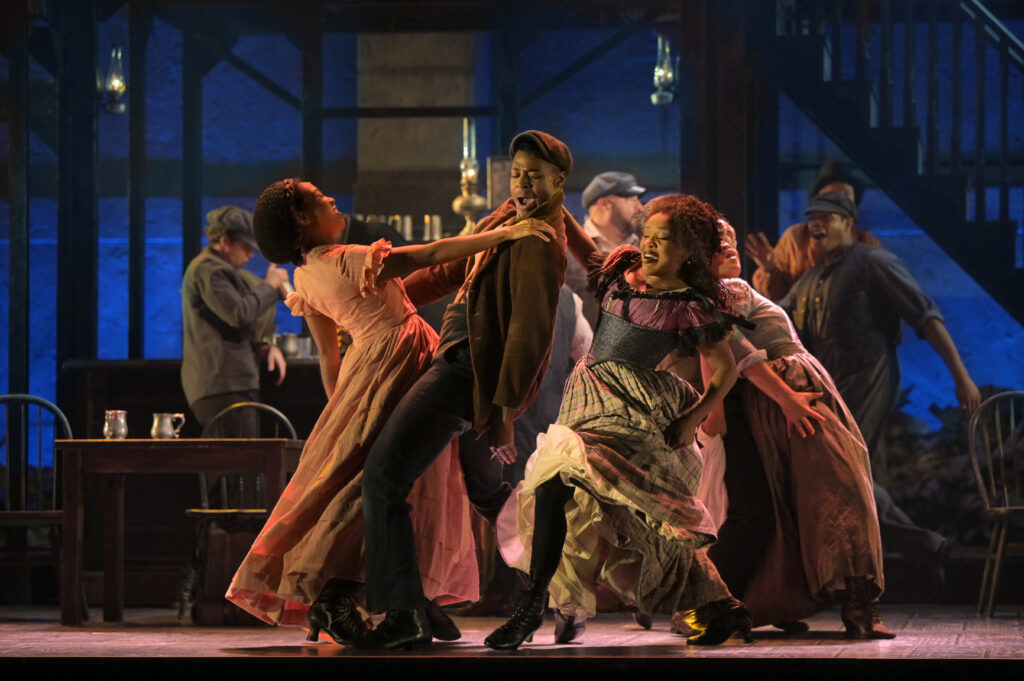 PARADISE SQUARE is so much more than a musical. It's a history lesson and cautionary tale. History repeats itself as classism, immigration rights, Black Lives Matter, corrupt politicians and even an insurrection become the topical backbone of the show. The show boasts TWO interracial marriages and female empowerment for both Kalukango and Kennedy. These layers create an additional wistful nod to how-far-we-have-NOT-come. The depth and breadth of PARADISE SQUARE is a thought-provoking message for both present and future generations. If we learned to be more empathic to others' struggles, we would stop repeating our inhumane history.   
PARADISE SQUARE has its Broadway premiere in March 2022. Although it's in great shape, it could use some tightening especially in the longer first act. I highly recommend seeing it in Chicago, on Broadway and at the Tony's!  
Running Time: Two hours and fifty minutes includes an intermission and a fifteen minute delay
James Nederlander Theatre, 24 W. Randolph
Book by Christina Anderson, Marcus Gardley, Craig Lucas, Larry Kirwan
Conceived by Larry Kirwan
Composed by Jason Howland
Lyrics by Nathan Tysen and Masi Asare
Directed by Moisés Kaufman
Musical direction by Jason Howland
Choreographed by Bill T. Jones
Additional music by Larry Kirwan inspired in part by the songs of Stephen Foster
Thru December 5th
For more information or tickets, visit www.BroadwayInChicago.com
Production Photos by Kevin Berne
For more Chicago theatre information and reviews, please visit Theatre in Chicago