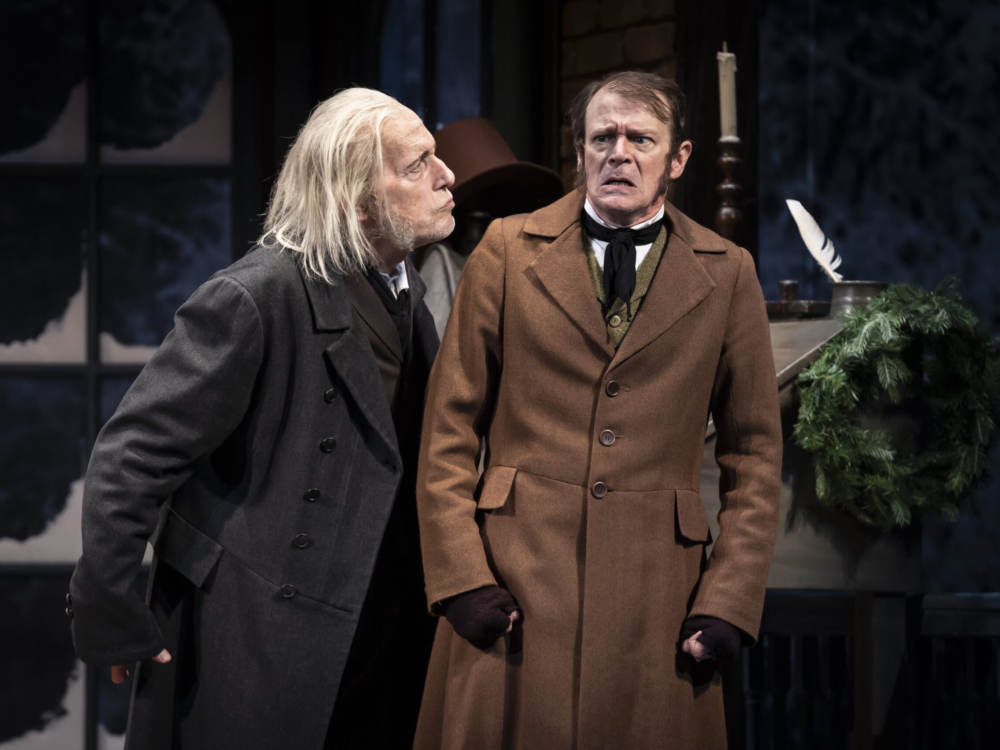 Goodman Theatre presents CHRISTMAS CAROL.
Larry Yando celebrates his 14th stint as Scrooge in Goodman's 44th production of the Dickens' holiday show. Yando owns this iconic miser role… in an almost unsettling way. He makes it impossible to hate the deplorable penny-pincher. His cruelty has biting humor. His curmudgeon stance has playful charm. Even before his ghosts-inspired-transformation, we're rooting for Yando to find his comfort and joy!! 
Jessica Thebus (director) and Tom Creamer (adapter) dust-off and modernize this 1800's classic. The familiar staples are still present. Andrew White (narrator) opens the show by beckoning the audience to be open to the wondrous. Yando describes a ghost's appearance as indigestion. And Gayatri Gadhvi (Tiny Tim) extends the infamous 'God bless us, everyone.' The contemporary makeover is more about making the tale relatable.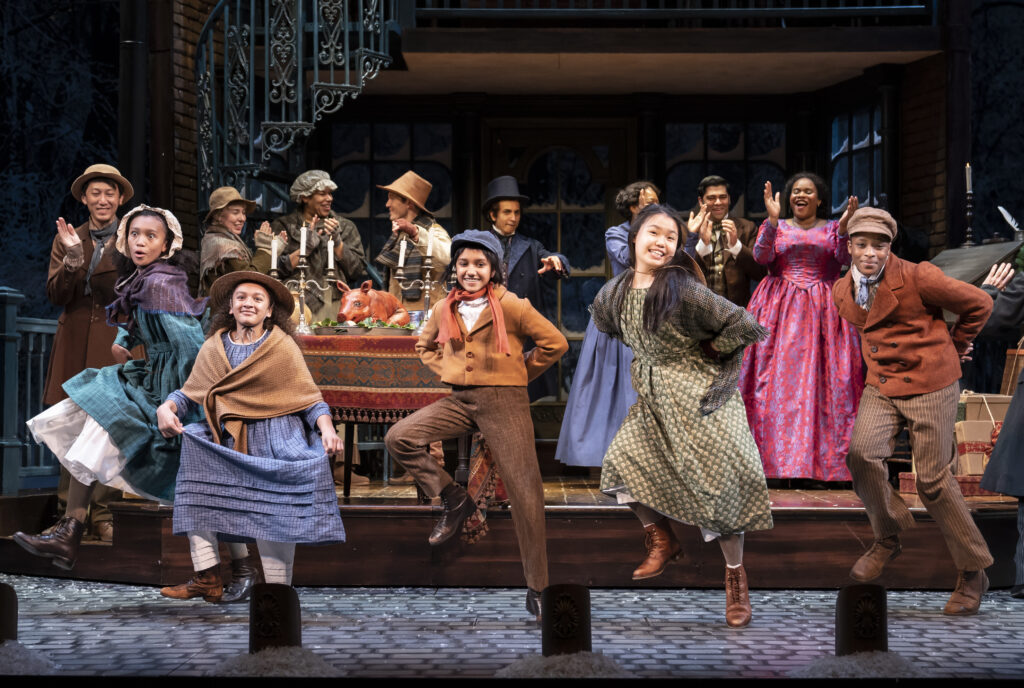 For one, the talented ensemble more closely reflects the diversity of the world. At first glance, the interracial Cratchett clan isn't easily identifiable as a family. After spending a few moments in their loving home, there is no question they are truly family. Women are also given more stage presence. Dickens' male characters get a gender switch. Nephew Fred is now Niece Frida (played by an endearing Dee Dee Batteast). It's a niece who prods Uncle Ebenezer to enjoy the holiday at her place. Scrooge is also an apprentice to MRS. -not Mr.- Fezziwig (played by an irresistible Cindy Gold). The female proprietor puts the 'Merry' in a Christmas party. The delightful Gold inspires even a dour Christopher Sheard (younger Ebenezer) to get his dance on with the lovely Amira Danan (Belle). And we are haunted by strong female presence with the nimble Lucky Stiff (Past) and the commanding Bethany Thomas (Present).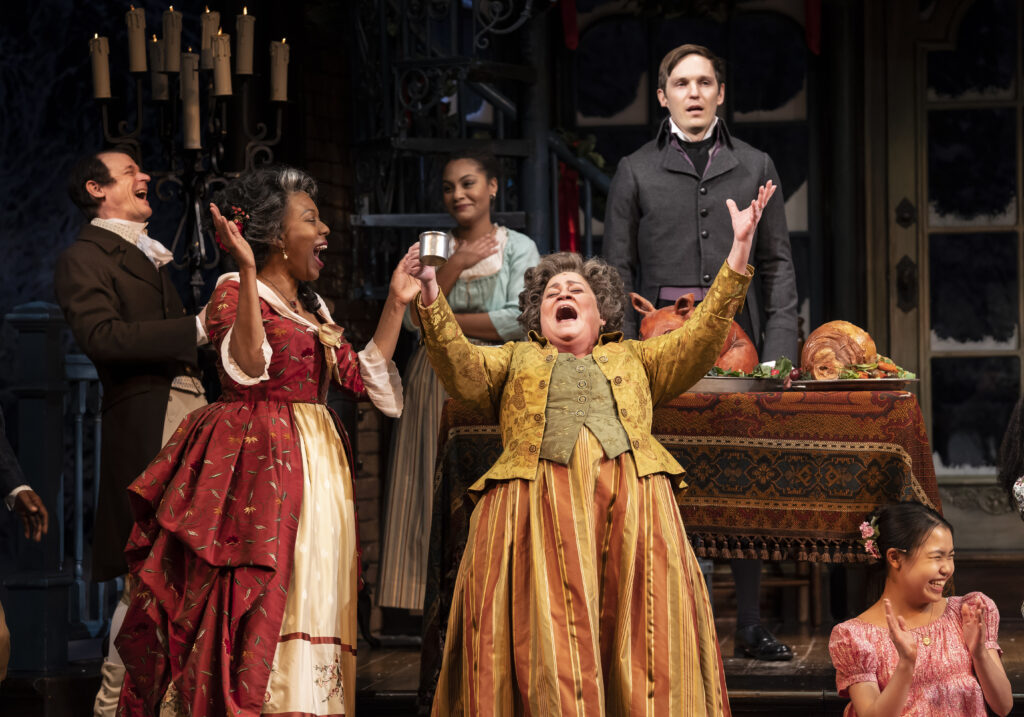 The show's setting is pure Dickens' village with Designer Todd Rosenthal's versatile set. Buildings roll in and out. Balconies and grave stones pop up and down. The Past flies by while the Present dazzles under a sparkly night sky. All these visuals are aided by spectacular costuming designed by Heidi Sue McMath. Party scenes boast majestic and colorful outfits dramatically contrasting street scenes of working-class musicians and merchants along with the struggling poor.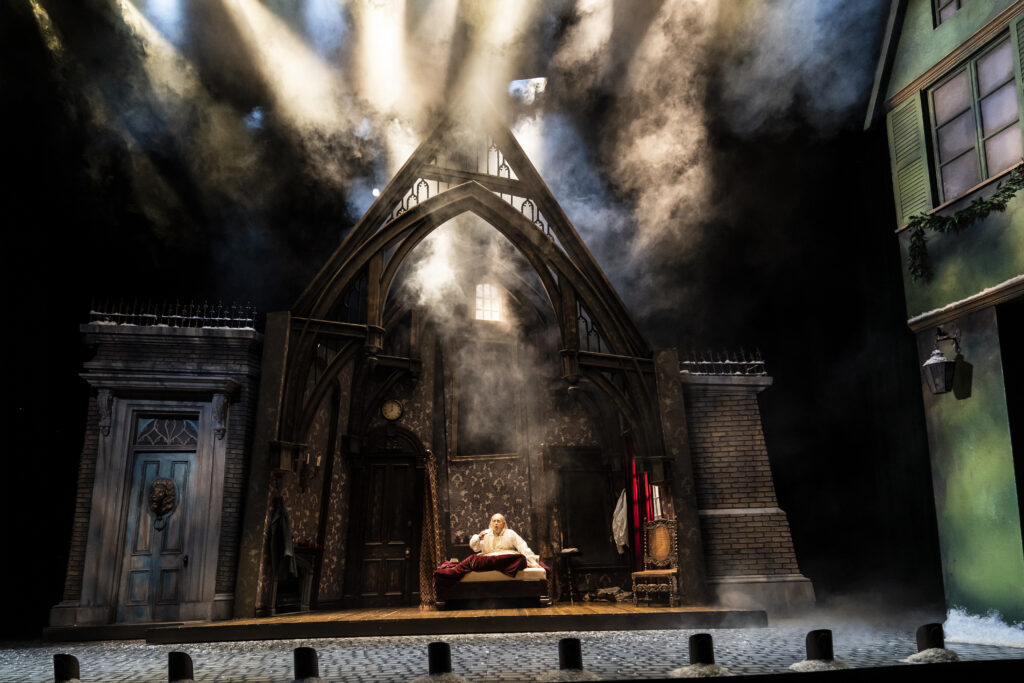 The entire cast exudes the holiday spirit. Whether caroling or dancing, they commit to making the experience uplifting and heartfelt. The show brought me to tears twice: when Batteast welcomes Yando for Christmas in her home and at the curtain call when Yando says 'Welcome Back" to the audience. Both touching moments represent the best of community and holiday spirit. We have lots to celebrate as we end 2021. Family gatherings, friends' parties and Chicago theatre are back!! And the Goodman's CHRISTMAS CAROL is the perfect tradition to bring family, friends and theatre together to celebrate. 
Running Time: Two hours and thirty minutes includes an intermission
Written by Charles Dickens
Adapted by Tom Creamer
Directed by Jessica Thebus
Goodman Theatre, 170 N. Dearborn
Wednesdays and Thursdays at 7pm 
Fridays at 7:30pm
Saturdays at 2pm and 7:30pm
Sundays at 2pm and 6:30pm 
Thru December 31st 
For more information or tickets
Production Photos by Liz Lauren
For more Chicago theatre information and reviews, please visit Theatre in Chicago