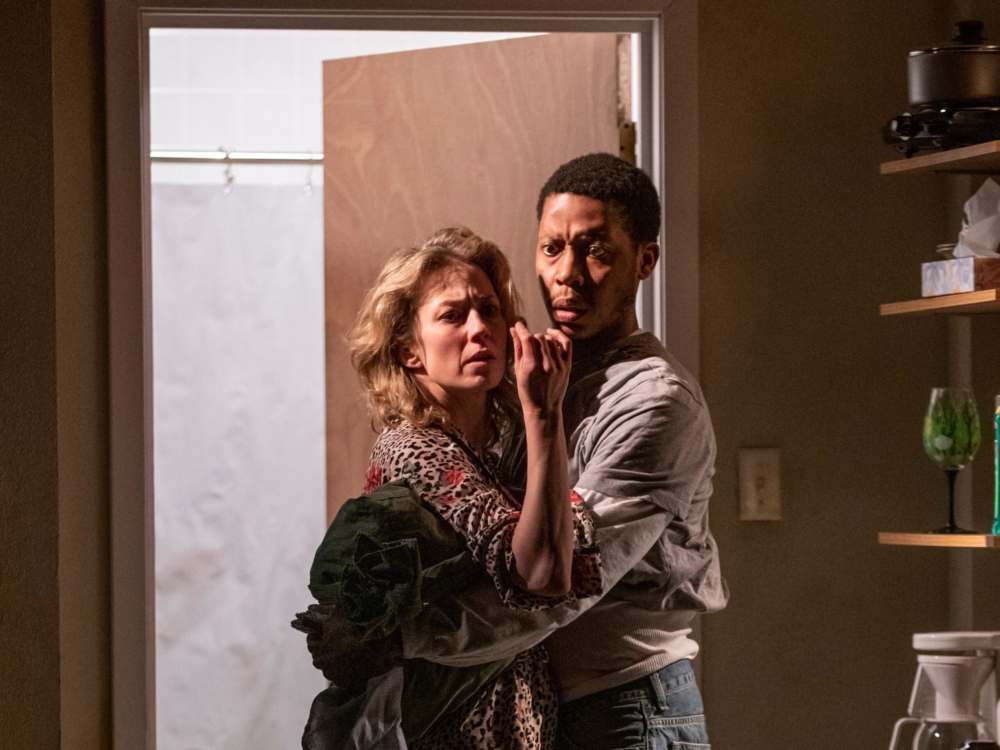 Steppenwolf Theatre presents BUG. 
A woman battles loneliness. A man fights to be free. They both want to escape their pasts. They meet at a party and it changes their lives… forever. Playwright Tracy Letts twists a rom-com-like premise into a demented nightmare. Letts lets his paranoia run wild and wacky. He pulls the audience into a dark, deep hole where conspiracy theories and bugs feed off each other in the shadows. BUG has all Letts' signature storytelling moves… dark humor, unsettling violence and unexpected perversions.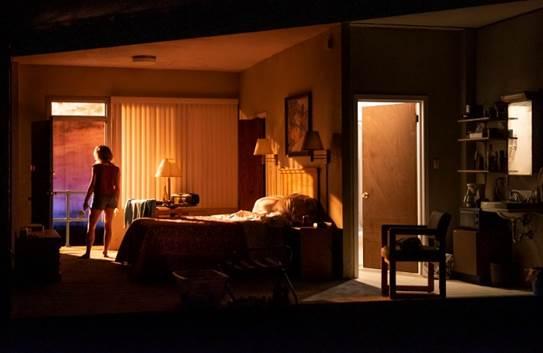 Director David Cromer keeps the tension taut in staging this surreal terror. His terrific ensemble leans hard into the mayhem. An outstanding Carrie Coon* (Agnes) exposes raw emotionality as she peels off layers of years of pain. Coon's nakedness -literally and figuratively- showcases a mixture of fierceness and vulnerability. In contrast to Agnes' abrasive husband (played by Steve Key), Namir Smallwood (Peter) is timid and kind. Smallwood's need to be taken care of endears him to Coon. Despite her fragility, she forcefully embraces defending him and his theories.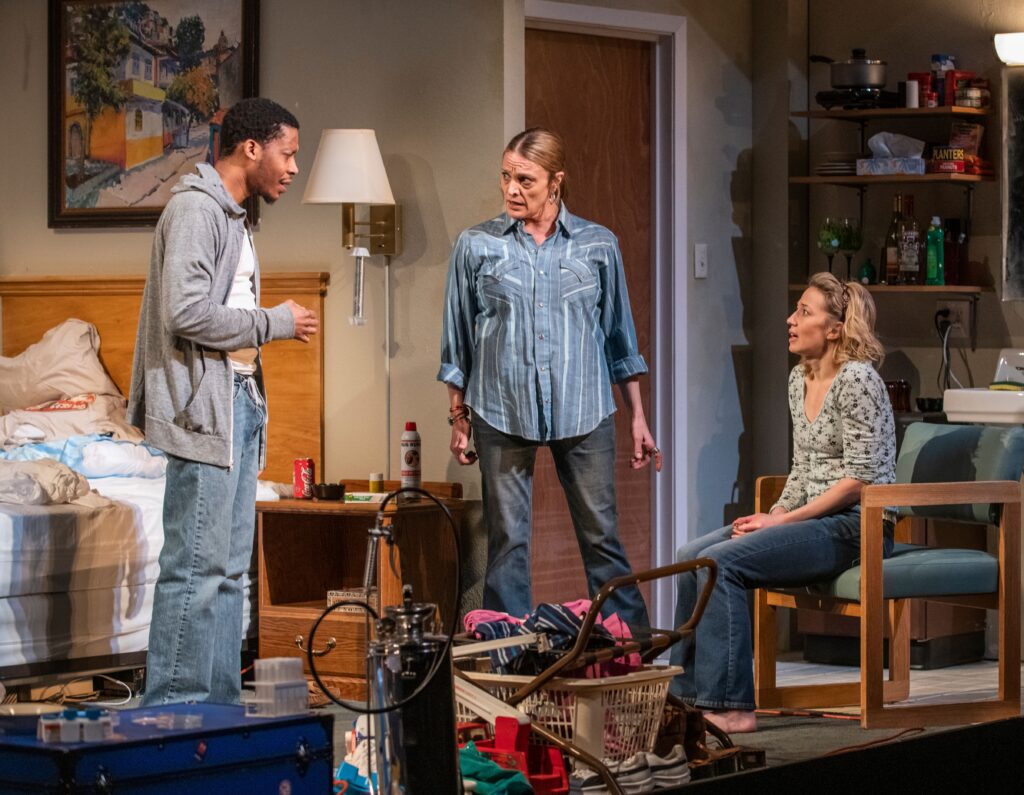 At first glance, Scenic Designer Takeshi Kata impresses with his authentic rendition of a motel room. He creates just the right forlorn functionality to house Letts' BUG nightmare. Kata's room evolution follows the storytelling going from dingy to creepy to fricking crazy!! Some of the metamorphosis occurs seamlessly in the dark with the audience in their seats. Kata conjures up a marring visual.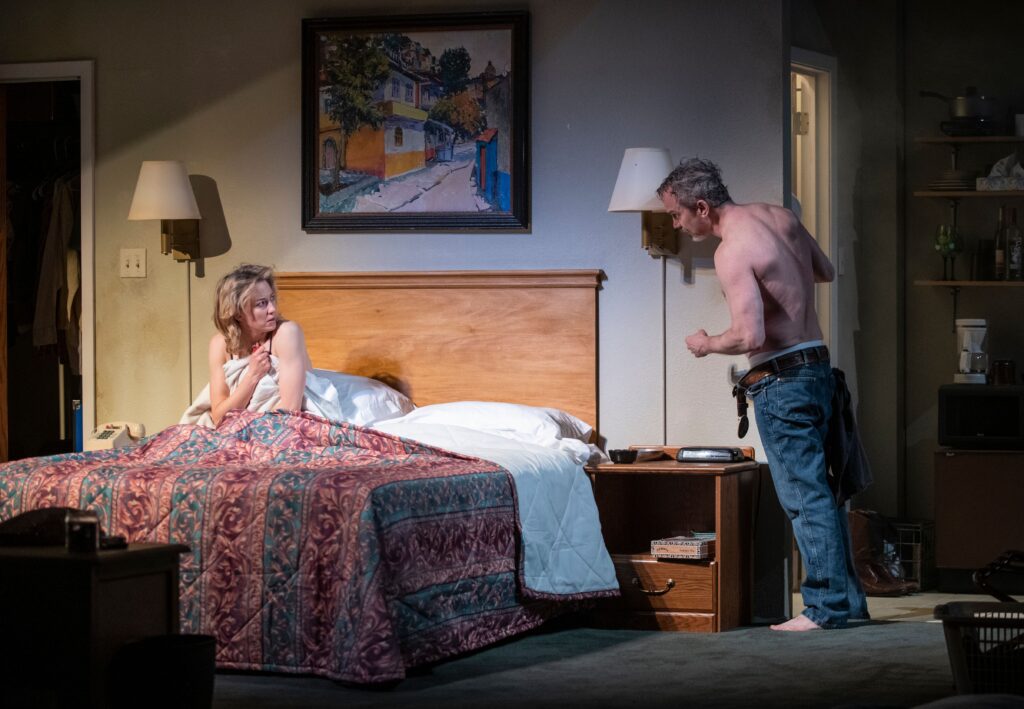 I saw BUG about a decade ago. The gift of live theatre is that it's always different. This Steppenwolf's production took me on a different journey to the conclusion. Under Cromer's interpretation of Letts' story, it was a completely different BUG. I was still bitten but had a different reaction. Especially now in this climate, this BUG shows us how things can fester into an irrational fever.   
*Tracy Letts' wife 
Running Time: Two hours includes an intermission
Steppenwolf Theatre, 1650 N. Halsted
Written by Tracy Letts
Directed by David Cromer
Tuesdays, Wednesdays, Thursdays, Fridays at 8pm 
Saturdays at 3pm and 8pm 
Sundays at 3pm and 8pm
Thru December 12th
Production Photos by Michael Brosilow
For more Chicago theatre information and reviews, please visit Theatre in Chicago