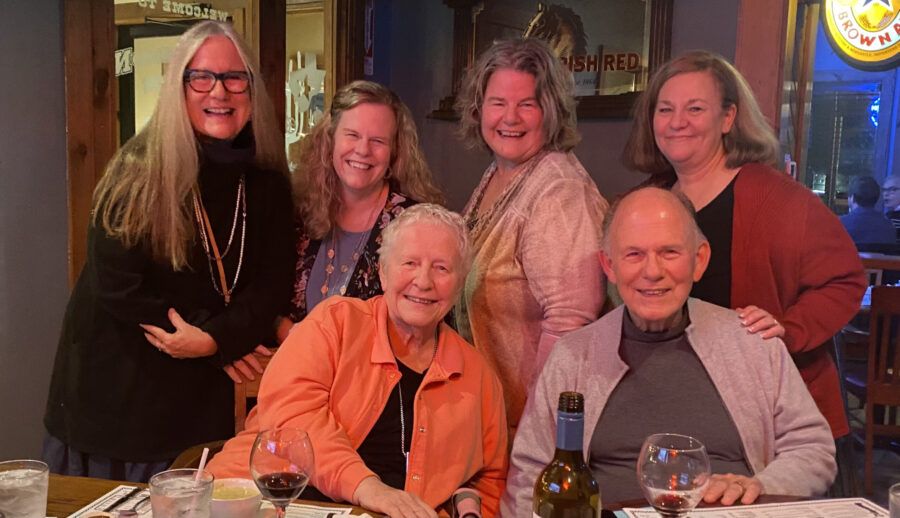 COVID, Delta, Omicron, ——— what's next? This pandemic continues to live on. It mutates in unvaccinated hosts to survive and thrive as a new variant! It all makes me mad, cranky, disappointed and sad. I've got pandemic fatigue. If Americans refuse to listen to the science and get vaccinated, how can we expect for residents in under-developed countries to do it? I don't see an end. And I'm so tired of this fricking insanity.  
I'm doing my part to end the madness. I'm home…a lot! I'm masked when out. And I'm boosted. I got my booster at the beginning of November. I hadn't had a reaction with my original Pfizer vaccine series. I did end up with a fever 18 hours after my Pfizer booster. It lasted for several hours and I woke up feeling fine.     
Still, last year is so different than this year. Last year, my family exchanged Thanksgiving food and a blessing in my parents' driveway.  This year, eleven of us sat around a table and ate Thanksgiving dinner together. Earlier in the month, we celebrated my dad's birthday with the parents/Jenny/Cindy/Christy&Bob and me. I got to spend time with my family! My family count in November was parents-2, sisters-3, brothers-in-laws-2, nieces-2, nephews-3!! I am so grateful to be vaccinated and able to safely be with my family.  
I also had dinner with Tom, Bilger, parents, Josh, Maureen, Schooler & Sue C-F, and Collin (2).  I had lunch with Karen & Natalie and some AC staff. I went for Collin's last shift at Wood and saw many familiar faces. I crashed a seminarian party and ran into Mike & Cathy. I babysat Greta and Jonah and enjoyed a fierce game of Sorry over pizza.
And I reviewed five plays: "Pump Boys and Dinettes" at Porchlight Music Theatre, "I'm not a Comedian…I'm Lenny Bruce" at Mercury Theatre with Tom, "Bug" at Steppenwolf Theatre with Josh, "Paradise Square" by Broadway in Chicago with Maureen, and "The Christmas Carol" at Goodman Theatre with Collin. 
I did a puzzle to kick-off puzzle season. (Puzzle season is roughly and unofficially November through March). I watched  "Jungle Cruise", "Shang-Chi and the Legend of the Ten Rings" and "Love Hard". I went on walks with Bilger (2), Bill and Ellen.  James and I saw "Belfast" at the cinema. I started my winter soup project making Italian Wedding and Butternut Squash. And I donated blood. 
I've also…
Work! I celebrated my two year anniversary at AllianceChicago. I've been on the AC team for 24 months… 20 months of it remotely. We were excited to come together in November for a Staff-giving. It was our largest AC in-person gathering since March 2020… about twelve people. We had an additional ten colleagues join virtually. Our hybrid experiment with 20-ish% of the staff was challenging and successful. The people actually in-the-room were excited to be together. We wanted to have clustered conversations and catch-up. Still, we needed to include our virtual folks in the discussion to ensure they felt apart of the activity. Such a weird reality that we are living. We made it work! It prepared us to tackle a hybrid holiday party this month. We had plans to improve the virtual-in-person interactions. Well, yesterday, our CEO announced the party would be virtual only. Although it was a big ole bummer, Omicron, COVID numbers being up in Chicago and the anticipated holiday surges made it the right decision to keep people safe.

     

Working Out! Except for one 45 degree day, Josh and I have moved into my place for workouts. My rule is it has to be over 40 degrees to workout on the roof.

 

I took one yoga class in-person and masked. I hit 65 days on my 10K quest and took a two day break. Even though my goal was 100 days, my knees started to bother me so much… I had to stop. I've decided the culprit was my new Kizik shoes. I bought them at the end of October. They were cute with a hands-free gimmick. I loved them until my painful knees had me dig deeper into their reviews. They are built with new-age technology yet not built for support. According to reviews, many buyers have remorse. I'm back on a new quest with my old Brooks shoes!

     

And I hit level 5648 on Candy Crush.

   
I'm continuing to adhere to my new practice adoption based on James Cleary's Atomic Habits. My morning ritual is to first read for 30 minutes to an hour. In November, I read 4 1/2 books.   
*The Barbizon by Pauline Bren: I finished the stories about the all-women residential hotel built in 1927 that housed famous and working single women for decades. It has since been converted to high-end condos as the Barbizon 63. Comedian Ricky Gervais is a resident! I especially liked learning how a bunch of old lady residents had to be grand-fathered into the new building because of their SRO agreement. They refused to leave and legally didn't have to.     
*This Time Next Year We'll Be Laughing by Jacqueline Winspear: Scubi lent me this one. Winspear is the author of the Masie Dobbs detective series set in early 1900s England. This book is her memoir. She describes her childhood and how it was impacted by her parents' childhoods and her grandparents' experiences. It has a mystery-like quality as she puts together puzzle pieces of her families' influence on her own development.     
*Mrs. Everything by Jennifer Weiner: Ellen loaned me this one. I've read a few Weiner books in the past. They have been fun 'beach reads.' Nothing heavy…easy, entertaining novels. This one had a bit of an oomph.  She covers plenty of taboo topics as she describes two Jewish girls growing up in a Detroit suburb in the 1950s. Although it was an interesting dissection of two women, I felt like Weiner spent all her effort on the first half that covered their first 20 years. And then really went skimpy covering the next fifty years. She tackled plenty of thought-provoking issues yet the second half of the book seemed under-baked and rushed-to-be-over.   
*Lemon by Kwon Yeo-sun: Mary gave me this book. This was a fascinating read. It was about a high school girl that was killed. The mystery was told from several different points of view. Deciphering who was talking wasn't always easy, adding to the intrigue. It was also set in Korea with subtle cultural references making for another riveting layer. It made me google 'hangover soup'. It's always fun getting books from friends to expand my literary experience.    
*These Tangled Vines by Julianne MaClean: I listened to this book. It had a high rating on Audible. It was fine. A young woman inherits an Italian winery from a father she never met. Inheriting a winery is my ultimate fantasy! Although some of the landscape and wine-making descriptions captivated, overall the 'love story' was unsatisfying. It felt very Harlequin Romance… simple and dramatic events force a relationship to end. Trite! Communication and honesty could have made this book about a woman growing up on a vineyard estate. I would have liked that better!    
November ended. Now, it's the last month of 2021. And today was a rare, beautiful, sunny, 57 degree December day in Chicago. My windows are open and my decorations are up. In these long, dark days of the pandemic, it's nice to have my Christmas lights on for a pretty evening glow.  Please do your part to stop the creation of these variants… get vaccinated, get boosted, get masked and get your holiday celebration on… cautiously!