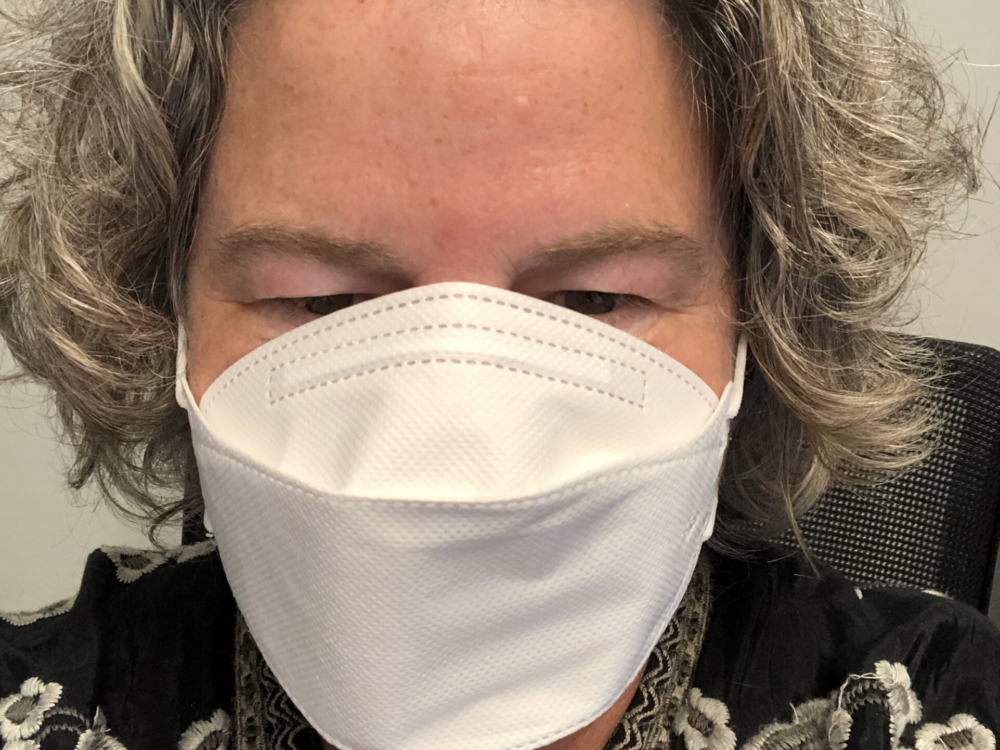 Mid-August, Chicago was hit with an indoors mask mandate. Illinois followed suit a week later.  The positivity rate was too high. Was it Lollapollooza or other festivals?  Who knows? I'm not mad at the Mayor or the Governor for inflicting a mask mandate. Masks have proven to stop the spread. I'll wear one for the healthcare workers tirelessly battling this plague and our children under 12 unable to safely get vaccinated. My mask anger is geared to the un-Vaxed. Their defiance is prolonging this plague. They continue to infect and kill as they give life to this deadly virus. And I continue to rage against their ignorant superiority stance as it has directly affected and limited my life in a big city.  
This month, I found out two of my friends got COVID, got sick and got better. Thankfully, they were both vaccinated! When I think about 'why these two?' as recent coronavirus victims, I'm not surprised about him. Although he's been working from home during the pandemic and following health guidelines, he has shared hilarious stories about his nonconformist ways mostly by accident. When he went to a restaurant in the early days of the plague, they asked to take his temperature. He removed his mask and stuck out his tongue. Yeah, he was compliant yet careless on occasion.     
She, on the other hand, was scrupulous in following every protocol over the last year and a half. She was always wearing a mask, working from home, observing social distance, washing her hands, and isolating herself. She had her groceries delivered and wiped them down on arrival. She only visited friends outside. And she brought her own food to a barbecue. She had been the poster child for not getting coronavirus until she got it! COVID is a fickle, non-discriminating mother f#cker. Do whatever it takes to keep out of its path.         
Meanwhile, Chicago continues to try to breathe life back into the war zone. Theatre debuted this month with a couple openings. On August 3rd, Josh and I saw "School Girls; Or, The African Mean Girls Play" at the Goodman. Even though the theatre enforced guests wearing masks and sitting in pods, I didn't feel comfortable. I was concerned for the health of the cast, crew, staff and attendees. I grappled with the risk vs the reward. And I ended up canceling on a request to review a magic show two days later. I miss theatre. I've only seen one show since March 2020. And its with caution and sadness I've decided to wait awhile to see my second show.
Luckily, I have watched some great tv over the last month. For theatre-goers, especially musical lovers, I recommend "Schmigadoon" (Apple+). At first, I thought it was too over-the-top for me. At Rich and James' insistence, I gave it a second try and really enjoyed the schmaltz and humor. Plus, Cecily Strong rocks! "Modern Love" – Season 2 (Prime) is even better than the first season. Love stories involving a car, a train and circadian sleep rhythms… entertaining, thought-provoking and sweet! "Val" (Prime) is a fascinating documentary on  and by Val Kilmer. It was surprisingly upbeat as the resilient Kilmer creatively reinvents himself following throat cancer. His son is the narrator. "Grace & Frankie" (Netflix) dropped the first half of the final season. Although the series is getting a little tired, Jane Fonda and Lily Tomlin are inspirational icons in and out of character. "Ted Lasso"- Season 2 (Apple +) is back and AWESOME as the first season. The positivity vibe is the perfect antidote for a plague. The Christmas episode is a cult-classic-in-the-making. "The Chair" (Netflix) is a quick, six episode exploration of a dusty New England college dealing with students being woke.  Sandra Oh leads a great cast in this identity crisis. 
And I wasn't just invested in the streaming folks. I also spent time with real people. I brought back a monthly Zoom to check-in on my family and friends. I had dinners -mostly on/in friends' decks/backyards and a few times on restaurant patios- with Bill (3x), El/Scubi/Gretchen, Bilger/El (twice), Bilger/ El/ James/Cathy, Bilger/El/James/Scubi, Dave D, and Tom. I had Andrew/Karen/Fred for noshing and sipping on the roof. I hosted a Blue Angels brunch for the parents/Jenny/Scubi/Bill/El/James.  And I got to babysit Greta and Jonah (Josh's kids).  If plague-induced isolation has taught me anything, I'm so very grateful for the people in my life and the opportunity to spend any time with them.         
I stayed in Chicago all month. Partly in reaction to all my July driving frenzy and partially due to the PT Cruiser (aka Ethyl, Ole Yeller, Butter Cup, Cream Puff, The Fridge) dying in the Jewel Grocery Store parking lot. She has been resurrected for $1,107. And she is sporting a new battery and alternator.  As a homebody, I also fixed my Murphy bed. It only took a dozen trips to multiple hardware stores and several online orders/returns over a year and half to get its springs back to functional. Both my driving and sleeping are benefiting from new parts. 
I've also…
Work! I'm working on both a 3 million dollar proposal and our October conference plus all my regular stuff. I've been putting in plenty of hours. Yet, I only worked one day at the office this month. With the mask mandate, broken car and the public transportation ick factor, I let go of the Thursday weekly routine. It's just easier and cheaper to work from home. And ultimately, more comfortable without a mask. I can't even predict what September will be like. In the back of my head, I kind of imagined we would be going back to a masked existence simultaneously with the flu season. The mandate coming in August doesn't bode well for fall and winter. 🙁
Working Out! It was hot and humid for a long stretch. My walking suffered. I got 10K steps in about 53% of the time and one yoga class -masked. Despite the heat, Josh and I have been regularly doing strength training on the roof. The workout consistency supports my mind-body-spirit well being.

 

And I hit level 5432 on Candy Crush.

   
I'm continuing to adhere to my new practice adoption based on James Cleary's Atomic Habits. My morning ritual is to first read for 30 minutes to an hour. In August, I read 5 books.   
*Scubi loaned me Truevine by Beth Macy. The story was about two albino African American children abducted (or sold) to the circus in the early 1900s. The history of traveling circuses was very interesting. I found this quote enlightening: "The entire country was obsessed with the notion of separating people into greater and lesser breeds." Macy's writing could have used firm editing. Her storytelling rambles. She starts to tell one story and veers off into other side stories. I found myself re-reading sections to make sense out of it.
*The Boston Girl by Anita Diamant has been on my now depleted pile of books. I have no clue who gave it to me. It was terrific. Diamant of "Red Tent" fame is a solid storyteller about women's lives at different moments in history. This time her focus was a Jewish woman growing up in the early 1900s in Boston. She rebels against conformity to have independence and a job. Loved it!

 
Because of my pandemic limited life, I really connected to these next two very different books with common themes of isolation.
*Where the Crawdads Sing by Delia Owens. This was a powerful audible book. A young orphan girl raising herself in a marsh. Her resilience was inspiring. There was a secondary storyline around a murder mystery that I found unnecessary. Kai's unconventional existence engaged me all on its own. I kept thinking 'what 7 year have I

 

ever known that was half as scrappy?' Owens navigates us through her life and loves to find purpose and solace in the beauty of a marsh.

   

*The Past is Red by Catherynne M. Valente. Tom, a Wood regular, lent me this dystopian fantasy. I probably wouldn't have picked it up at a bookstore.

 

Still, I enjoyed it for Valente's imaginative vision of Earth in 2200s. In her story, climate change has done its worst. The world is covered in water. Ancestors of survivors are living on piles of garbage. She describes rituals of existence like not 'being named' until the age of ten. The heroine gets the name of Tetley after a tea bag and her brother is Manchurian after a ramen soup seasoning packet. It's a wacky and provocative cautionary tale.

 

*In Praise of Difficult Women by Karen Karbo. This was an audible freebie. Karbo writes short snippets on the lives of women in history from Liz Warren to Vita Sackville-West. I picked up a few nuggets like Amelia Earhart's husband worked on her branding to ensure she was adored by women and not dismissed by men. I learned when Frida Kahlo's diet (candy, cigarettes and a daily bottle of brandy) rotted her teeth, she got two sets of dentures, one solid gold and the other with diamonds. Since history classes seldom talk about the contributions of women, I enjoy bios on the non-conforming women who made their mark in the world.

 
Reading and daily smoothies have been summer habits that I've purposely created in the morning.  I'm benefitting from both. My day and evening routines aren't as valuable to my overall wellness. Some days, I'm in back-to-back meetings without a break. It can be so exhausting all I can do is lay on the couch and watch re-runs of "Big Bang Theory" at night. I've cooked less in August. Luckily, I've benefitted from friends inviting me to dinner. Still, I want to be more thoughtful about having a refrigerator with ingredients that I can pull together for satisfying and nutritious meals and not rely on the kindness of friends. And I want to increase my yoga practice to more than one random class a month and walk more in the fresh air before the frigid temps return. 
I'm careful not to use 'should' or 'need to' when talking about areas to focus on. I like using 'want to' as a positive way to approach making new habits. I want to change a little to better myself a little. Self care is important! Recently, I've been seeing these commercials on CNN. They feature busy adults that need to prioritize taking care of themselves. Although I agree wholeheartedly with the sentiment, the product being sold is botox. Even though I'm pretty sure botox is not a solution to my unproductive evenings, I feel that there are better ways I can be taking care of myself.
It is Labor Day weekend, the official end of summer. I'm ready. Fall is my favorite season. I'm looking forward to the leaves changing color, sweater weather and pumpkin spice novelties. Please continue to be safe and kind, mask and chin up for whatever is around the COVID corner. And take time for self care… if that includes botox, go for it!