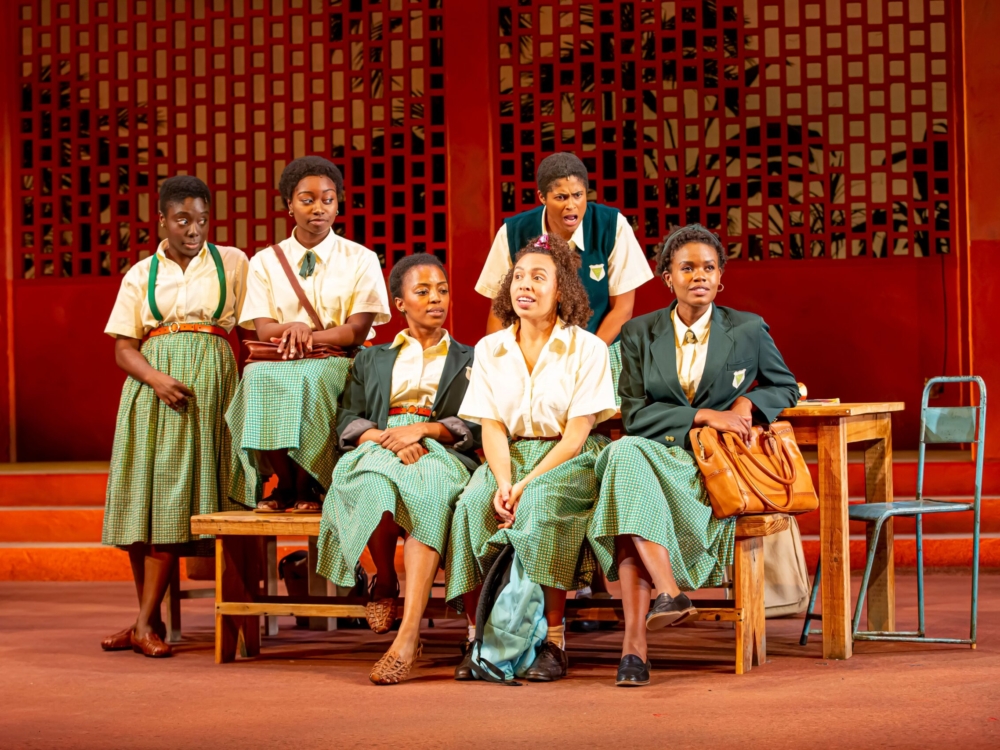 Goodman Theatre presents SCHOOL GIRLS; OR, THE AFRICAN MEAN GIRLS PLAY.
Playwright Joselyn Bioh's story is a tribute to the best and worst parts of being a girl in high school. The ladies bond and giggle over boys, clothes and makeover parties. They also confront the clique pressures of trying to fit in, being cool and avoiding the wrath of the pretty girl. The timeless themes have a few twists. Bioh sets her tale in a boarding school in Ghana in 1986 where the students are in a frenzy over the upcoming tryouts to be in the Miss Universe Beauty Pageant.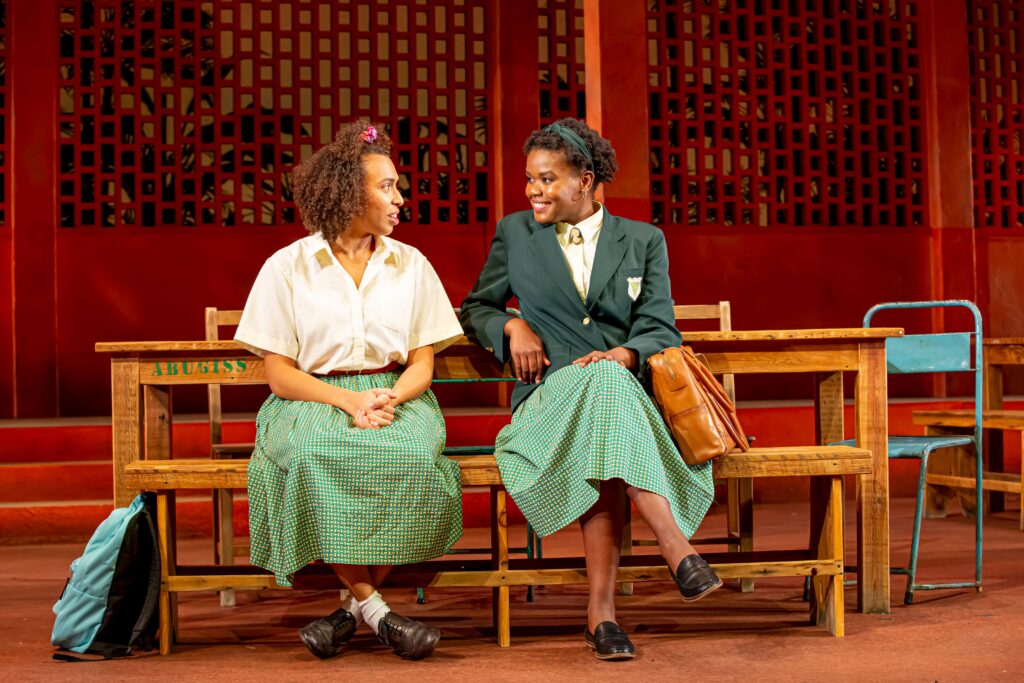 Director Lili-Anne Brown masterfully assembled a top notch cast to bring it. In the lead, the outstanding Ciera Dawn (Pauline) is diva delicious! Dawn delivers razor-sharp jabs with pageant -posed perfection. We watch as she devours one of her prey (played by the heart strings tugging Ashley Crowe) or one of her oldest friends(played by Adhana Reid) with an unflinching smile. Although Bioh thoughtfully tackles racism, colorism, and classicism, her show is primarily a light and frothy comedy. And Brown punctuates the humor with a joyful vibe resonating from her cast. The ensemble -despite some nasty girl confrontations-  are having fun! The kind of exhilarating delight young people have when they know their dress is pretty, their teacher cares or their friends want them to come over. Brown gets that simplistic happiness and exploits it.  At one point, she has the girls spiritedly dance off stage.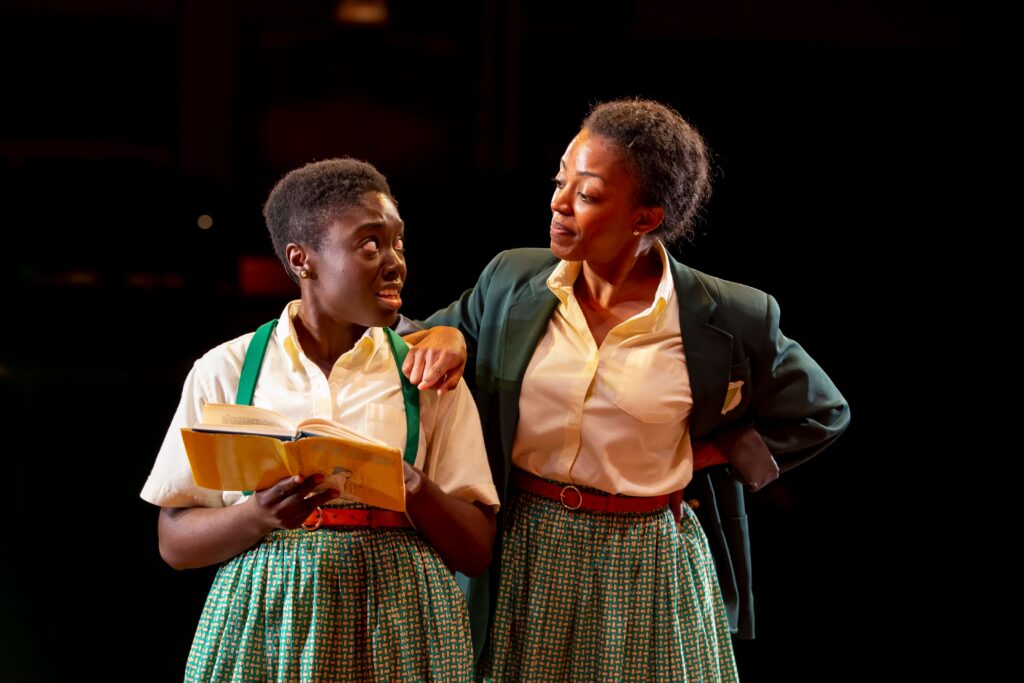 This ensemble is tight! The hilarious Adia Alli (Gifty) nails every possible punchline… sometimes with just a look or exaggerated movement. Her sidekick and cousin (played by Adhana Reid) continually sets her up for the slam dunk. Reid, all on her own, is riotous in the talent competition with an over-the-top sashay. Under the the loving tender guidance of the headmistress (played by Tania Richard), the girls perform an awkward number with a surprising Kyrie Courter (Erica) torching the song. Throughout the competition, Lanise Antoine Shelley (Eloise) oozes nasty as Miss Ghana 1966. Shelley and Dawn spar with ambitious understanding.  They are both so bad, it's good!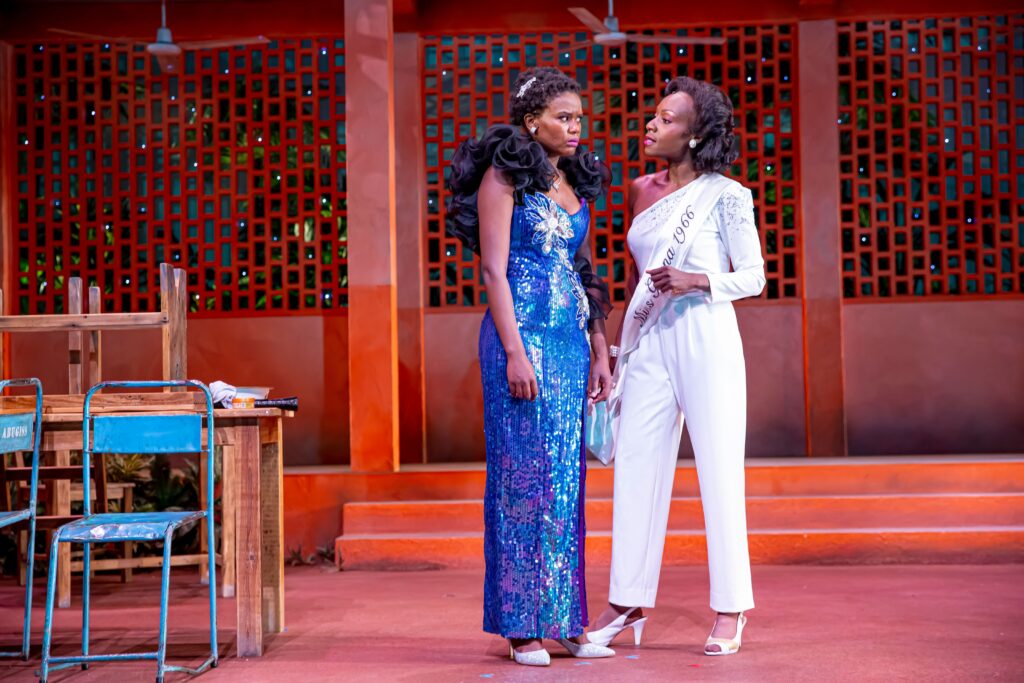 After 506 days, I returned to a Chicago theatre for a live performance of SCHOOL GIRLS. I was masked and sitting in my couple pod. Although there were empty seats between attendees, the theatre felt pretty full. I had mixed emotions returning to seeing a play. My jubilation at enjoying my favorite pastime was tainted by the surge of the Delta variant. Bioh's comedic look at high school girls struggling with their identity was in some ways the perfect fun transition back to Chicago theatre. In other ways, the beauty pageant story felt like a frivolity not worth the risk of COVID exposure. I'm torn with emotion! I loved the opportunity to experience SCHOOL GIRLS… in-person and in a theatre. I'm grateful for the Goodman dipping their toe in the live performance pond. I'm mad that half the country's behavior is prolonging this pandemic. I worry for the safety of the performers, the crew, the staff and the attendees. I am recommending SCHOOL GIRLS to vaccinated people who will use an abundance of caution in attending.
And I promise I will never take for granted the wonderful Chicago theatre community that has entertained and inspired me for many years before March 2020 and will rise again after this pandemic truly ends.          
Running Time: Eighty minutes with no intermission
Goodman Theatre, 170 N. Dearborn
Written by Joselyn Bioh
Directed by Lili-Anne Brown
Wednesdays, Thursdays at 7:30pm 
Fridays at 8pm
Saturdays at 2pm and 8pm 
Sundays at 2pm
Thru April 19th
Production Photos by Flint Chaney
Recommended for ages 12 and up.
Please note: Regardless of vaccination status, face coverings will be required for all patrons during performances of School Girls. In an effort to seat parties together and provide space between our guests, all tickets are available in groupings of 1, 2, 3 or 4 seats only. You must purchase all seats within a pod in order to checkout. Learn more at GoodmanTheatre.org/Protocols
For more Chicago theatre information and reviews, please visit Theatre in Chicago