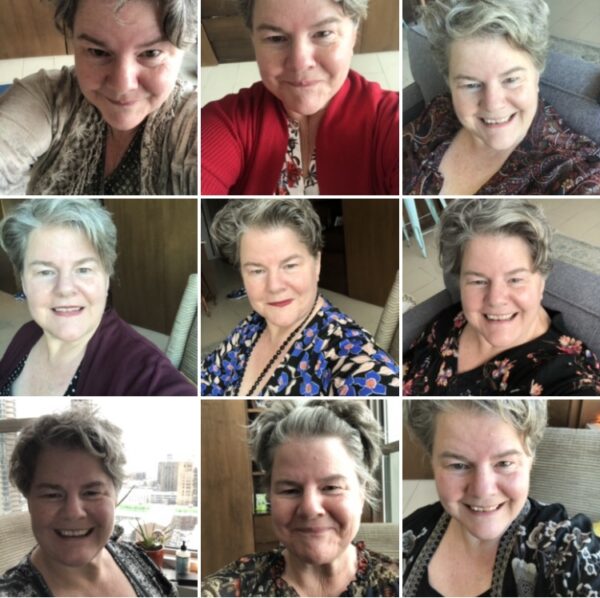 February 2, 2021
Day 334 of a pandemic
41 hours of being 'locked in place'
Happy Groundhog Day!
Although I'd like to go outside to see if I can see my shadow, I'm on lock down. Nope, it doesn't have anything to do with the pandemic, quarantine or a travel restriction. I'm sealed in to my home due to a faulty door.
After retrieving a dinner delivery from the lobby on Sunday evening, I returned to my condo and couldn't close the door. It was the weirdest thing. I couldn't see any obstruction. I leaned heavily into the shutting motion and it didn't work. I was baffled. My first thought was to call Bill. Since Chicago was in the midst of a winter storm, that didn't seem like a viable -or at least- kind option. I knew I needed to do something. Even though I live in a quiet high rise, an open door during the night wouldn't be conducive to slumber.  My second thought was do I hire someone to stand guard outside my door so I can sleep. That really didn't seem practical and I had no clue how to hire an instant security guard.
Long story short… I called the front desk. They sent up the Sunday evening engineer. He determined the floor plate needs to be replaced. Although he finagled the current plate to close the door, he stressed 'temporary fix.' I promised not to push my luck by opening the door until they were ready to replace it.
Well, that was 41 hours ago!
For almost a year, I've been figuratively stuck in my house 23/7 allowing for an hour daily walk. Getting locked into my home actualizes the prison-like state of my existence.      
Still, I have so much to be grateful for especially this last month…
A new President!!! Despite the insurrection and the impeachment trials, the burden weighing me down for four long years has been lifted and moved to Florida. He has been banned on social media and his silence is glorious!!
Vaccinations! My parents get their second shots next Monday. Two sisters, two nieces and my Baltimore bestie are or almost completely vaccinated. Well done, Indiana and Maryland. Meanwhile in my neck of the woods, Chicago's vaccine roll-out is abysmal.

 

190,000 vaccine dosages since mid December is ridiculously low for the third largest city in the country. The current plan has me getting vaccinated with my age group (16-64) sometime between May 31st and December. I'm choosing to believe it will be earlier. I'm hopeful the passed Biden stimulus plan with city and state support will be the big shot to recovery we need here in Chicago and Illinois.
Walks! I'm on a 36 day streak of getting in my daily 10K steps. I also went on walks and talks with Bill (2), Bilger, James & Bill, Ellen, Josh and Natalie & Karen. We walked the 606, Grant Park, A-ville, Lincoln Square, West Ridge Nature, lakefront and the Belmont river walk.
With a new administration, I'm able to watch dramas again. Previously, I had to balance the real life drama and lunacy with a steady diet of comedy. I can now begin to watch potential Oscar nominations to get ahead of the race. I watched Mank, On the Rocks, 40 Year Old Version, and One Night in Miami.
*I've completed 7 puzzles, hit level 4904 on Candy Crush and decreased my wine drinking by 87.3%.
For my January 2021 goals…
*I'll wear a different ensemble (waist-up) for every work day. At least twice, I'll wear a dress.
Did it! These pictures are my proof. Although I took advantage of dressing sloppy on my MLK holiday and Inauguration vacation day, I liked focusing on regularly 'dressing up' above the waist. One of my dress days, I remembered to put on lipstick. It lifted my spirits to give attention to my work attire. It felt like normal times.   
*Daily, I'll drink 80+ ounces of water.
Doing it! My friend Jen started an impromptu Hidrate Club. A bunch of us purchased water bottles that light up to encourage you to drink more. There is even a Hidrate app to track your intake with cheeky prompts to keep drinking.   
*Daily, I'll read something for pleasure.
I continue to casually read "The Seine" by Elaine Sciolino. I read a couple chapters a week. I recently finished the chapters on the houseboat sub culture, life on barges and movies shot by the river. It's not a page turner making you want to plow thru it yet interesting enough to continue to read and sit with it.
I listened to Julie Andrews narrate her memoir "Home Work." I guess this is her second memoir. The beginning breezes over her childhood, vaudeville roots and Broadway entrance as a quick synopsis of her first book. The bulk of it chronicles her film life starting with Mary Poppins and balances it with her personal life. Her voice is so familiarly comfortable I would listen to her read anything. It was interesting hearing about the challenges of shooting "Sound of Music" in the cold and rain, her disappointment in not being Eliza Doolittle on film, the decisions about baring both breasts in "S.O.B." and how she prepared to play a man in "Victor/Victoria".  She also weaves in personal tales about her husbands, daughter, stepchildren and adopted Vietnamese kids. She shares the struggles of her parents, step parents, brother, stepchildren and her husband. I feel like it's the British version of family dysfunction. She doesn't belabor the juicy, sordid details. She mentions it and moves on.
I'm finishing listening to Dr. Sanjay Gupta's "Keep Sharp: A Better Brain at Any Age." I've enjoyed Dr. Gupta's calm and reassuring presence on CNN for years. During this pandemic, he has reached celebrity status behind our beloved Dr. Fauci. When they speak calmly and firmly, I listen intently and responsively. Dr. G's book just launched. There is nothing 'breaking news' shocking. Still, it's a wonderful tutorial on how to keep your mind and body functioning optimally as we age. He gives scientific background with digestible real life stories. He also gives tips on what works for him and others. It's little things that you can do to improve your mental and physical health like moving for two minutes every hour, eating organic foods not processed foods, and drinking one glass of wine daily for women (optional). He backs up these life tweaks with scientific data. And he does it all in a calm and firm voice that encourages me to listen intently and responsively.               
*I will actively reach out to friends and family (text, calls, Zoom) every day.
I'm actively calling, texting, Zooming and mailing/dropping off. I'm hosting weekly friends and family Zooms. I made two puzzle/potato drop-offs  and a magazine drop. I sent the family MLK holiday cocktails. And I do call, text folks every day.   
*I will meditate 5+ times a week.
I probably only meditated twice a week. I want to improve that in February. I'm going to continue all my January goals with this addition for February:
*I will add vegetables to every meal.
In these pandemic times, it is truly one month at a time, one day at a time. Every day of 2021 is getting us closer to  post vaccination celebrations. Until then, please remember to stay safe, stay healthy, stay home, mask up and be kind.
For there is always light, if only we are brave enough to see it. If only we're brave enough to be it.     – Amanda Gorman