March 1, 2021
Thank God February is a short month… because it was a rough one. 
Here comes the venting…. 
The pandemic hit the 500,000 death milestone. Illinois was recognized as THE worst state for percentage population vaccinated. As coronavirus was ever looming in the background, centerstage I had three friends die. They were all gentlemen in their early fifties. One had been sick. The other two were shocking. Although none of them died directly from COVID-19, I'm certain the pandemic exacerbated the end of their journey.
Then, I had a friend painfully rip the tendons in both elbows. And another friend break her leg playing kickball. Chicago had 19 inches of snow dumped on it along with relentless days of frigid temperatures.   
I'm not going to lie. My response wasn't always a healthy choice. A couple nights, I had pretzels for dinner and laid on the couch not moving. I had pizza for breakfast… a few times. One day, I worked out but since I wasn't going to be on camera, I didn't shower, change clothes or reapply deodorant.  Oh yeah, I smelled… stunk! 
February got bad and ugly. Then, it got better and pretty. All last week, the sun and forty degree temps melted the snow. On Saturday, Scubi hosted a small, socially-distanced bonfire. I got to hang out with 7 friends for the first time in 6 months. We laughed, sang and drank wine with zest. It was a wonderful respite.       
Despite February's sadness, I do have so much to be grateful for…
Vaccinations! My parents are completely vaccinated!!! We toasted that with the 'good wine'. Two sisters, two nieces, my Baltimore bestie and Scubi are completely vaccinated.

 

Two more nieces are one shot in. Meanwhile in my hometown, Chicago's abysmal vaccine roll-out is about to get so much better. The J&J vaccination is approved and being distributed. UPS reports 40% increase in vaccination shipments starting this week. And on March 10th, the United Center becomes a mass vaccination site with 6,000 shots daily. I'm hopeful that I will get vaccinated in April!

 

Walks! I'm on a 65 day streak of getting in my daily 10K steps. I only went on 3 walks and talks with Bill (Sculpture garden and Rosehill cemetery) and Ellen (lakefront). Pretty much the frigid temps forced me to walk indoors or short trips outside.

   

I did take a winter escape into some fantastic television entertainment. In preparation for the Oscars, I watched:

 

Nomadland (excellent though slow), A Promising Young Woman (solid thriller), Palm Springs (stylish, contemporary "Groundhog Day"), Chicago Trial of 7 (disturbing, thought-provoking), and Ma Rainey's Black Bottom (Chadwick Boseman!!!). And when I wasn't doing my Oscar homework, I watched the phenomenal In and Of Itself (magical storytelling)! I also binged Mrs. America (fascinating look at E.R.A. in the 70s) and WandaVision (super clever). And I rented the hilarious Barb and Star Go to Vista Del Mar.

 
*I completed 7 puzzles, hit level 4996 on Candy Crush and maintained mindful yet infrequent wine drinking.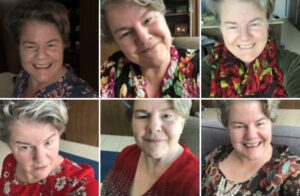 For my February 2021 goals…
*I continued my January goal of wearing a different ensemble (waist-up) for every work day. I made it an additional 18 days. 
Full disclosure, I hate two of these tops yet I wanted the diversity of clothing. And one top doesn't quite fit so I wore it on a camera-limited day. I'm tweaking this goal for March. Even though no one will know but me, I'm going to wear real pants or a skirt two days a week. It's time to ween myself off my sweatpants.  
*Daily, I'll drink 80+ ounces of water. 
Although I'm focusing on getting in my water, I hit the goal probably 75% of this month. It's hard to drink water when you're lying on the couch. I'm definitely going for better rate of hydration in March  
*Daily, I'll read something for pleasure.
Nope, I didn't read daily.! What can I say? I watched a lot of TV in February.
I am finishing listening to Carol Burnett's "This Time Together." Carol shares stories from her career about her show and her cast mates. It's cute! Nothing sensational just sweet stuff.           
*I will actively reach out to friends and family (text, calls, Zoom) every day. 
I'm actively calling, texting, and Zooming. I'm hosting weekly friends and family Zooms.  I sent or delivered the family Prez Day holiday cocktails. I spent a weekend with my parents and Jenny. Then, I had breakfast with Sue C-F and Schooler before heading back to Chicago. And I do call, text folks every day.   
*I will meditate 5+ times a week.
I'm doing better on this one. I have a Lenten booklet that has daily meditations that is guiding my practice. 
These were my January goals with this additional one for February.
*I will add vegetables to every meal. 
I did okay on this one. I did add mushrooms and onions to eggs for breakfast. I threw stuff over arugula for lunch. And added peppers and brussel sprouts to this and that for dinner. I did do that! Yet, you can't add vegetables to pretzels. And breakfast pizza was cheese. 
I'm going to continue with all these goals and add a March one. 
*I will dance to a song every day. 
I need to add some joy to my life. I'm feeling the weight of this long year of isolation and the loss of my friends' lives.  Then, I start worrying about others in despair. 
I need to lighten up!!! We are on the cusp of post vaccination celebrations. I need to remember that for me and help others realize it too. We got this…stay safe, stay healthy, stay home, mask up and be kind.  
Bring it March Madness!