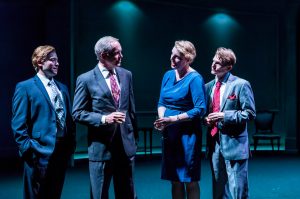 TimeLine Theatre, in conjunction with Broadway in Chicago, presents the Chicago Premiere of OSLO.
Playwright J.T. Rogers won the Tony for Best Play in 2017. Rogers chronicles the 1992-1993 secret peace talks. Norwegian diplomats facilitate discussions between Israel and the PLO. The tug and pull negotiations are illustrated through a series of meetings. Over conversations, cocktails and waffles, the reluctant participants begin to form an unlikely camaraderie.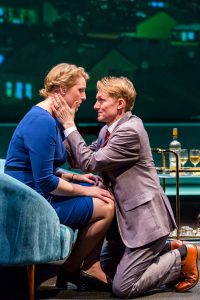 Director Nick Bowling's cracker-jack cast fills the stage with personalities. Each ensemble member brings distinction to their historic portrayal. As the power couple steering the drama, Terge (played by a nimble Scott Parkinson) and Mona (played by a steadfast Bri Sudia) lie and coerce in the name of peace for the Middle East. Bowling injects an almost madcap urgency with tangled phone cords and raveling temperaments. These witty moments are the comedy relief in the ongoing back to back meetings.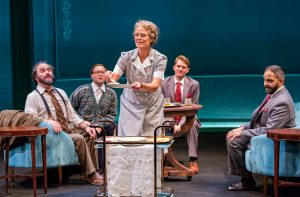 The show is set in a pre-Trump era. Although the negotiations have ripples of tension, it's nothing like the political crap that Americans wake up to daily. This is problematic for Rogers, who debuted this play in June 2016. Despite radically different perspectives, Rogers' foes are civil to each other. They don't give each other demeaning nicknames. They don't taunt the opposition with cruel tweets. This 90s flashback is a return to 'normalcy' and therefore a challenge for a 2019 attention span. The peace talks roll out like choppy waves but nothing like a Trump typhoon.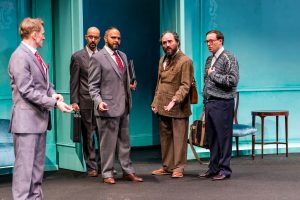 The current theatrics of politics have spoiled us for the tedium of a true political process. Without the impulsivity of an unstable, former reality tv show persona, the meetings on the road to peace get dull. The show is 2 hours and forty-five minutes long… long. The rhythm of conversations in the foyer, in the conference room, in the living room over cocktails repeats and repeats. It all feels redundant and mundane. Knowing how the peace talks end might be part of the lack of intrigue. Yet, I feel our current steady diet of political buffoonery have spoiled us from savoring lengthy political discourse.         
Running Time: Two hours and forty-five minutes includes an intermission
At Broadway Playhouse, 175 E. Chestnut 
Written by J.T. Rogers
Directed by Nick Bowling
Tuesdays,Wednesdays, Thursdays, Fridays at 7:30pm
Saturdays at 2pm and 8pm
Sundays at 2pm and 7:30pm
Thru October 20th
Photos by Brett Beiner Photography
For more Chicago theatre information and reviews, please visit Theatre in Chicago