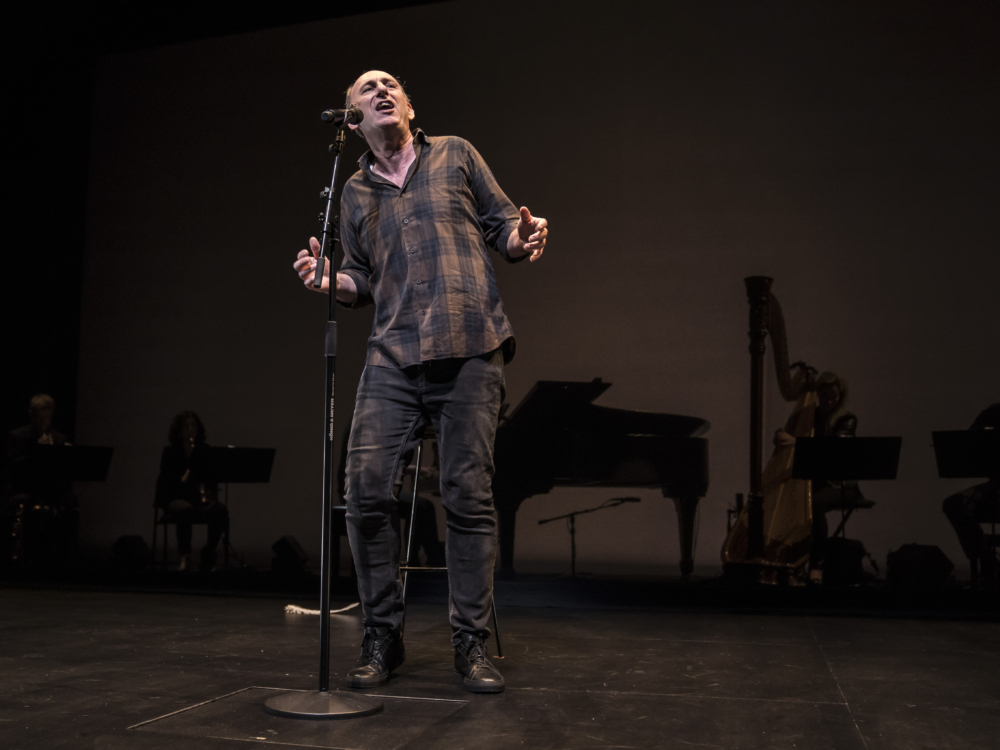 Goodman Theatre presents the world premiere of David Cale's WE'RE ONLY ALIVE FOR A SHORT AMOUNT OF TIME.
David Cale returns to the Goodman Theatre after a ten year absence to launch his newest one man show. Cale has debuted six of his singing-songwriting-acting solo shows at the Goodman. WE'RE ONLY ALIVE is my first experience of the Obie Award-winning artist.
The stage is stark except for a variety of elegant, dangling birdcages (Scenic Designer Kevin Depinet). The birdcages disappear into the rafters as Cale walks onstage. He is clad in rumpled jeans and a plaid shirt. A microphone pops up from below stage and Cale begins his story. He recollects how his bird fascination led to him to build an aviary as a ten year old. His successful venture eventually housed 300 birds. Throughout the next ninety minutes, Cale regales an array of stories from his childhood. He describes growing up in an industrial village in England. 
Cale makes it personal. Although he lived on a street lined with relatives, the family closeness was only geographical. His parents' marriage was an unhappy one. He escaped by taking care of his birds. He found solace in his bedroom singing to his favorite records, including a Liza Minelli obsession. The first half of the show is his musing over the isolated life as a child of an alcoholic. The rhythm is lulling and the  details sobering. The second half takes a sharp turn. (I don't want to reveal anything else and spoil the experience).
Under the direction of Robert Falls, Cale tells stories from different people's perspective. He alters his voice to the personality. I have no trouble identifying his father's voice. I have some struggles distinguishing Cale from being himself and Cale being his mother and others. It gets a little confusing as he shifts from character to character especially in the first half. 
Woven into his storytelling, Cale sings songs accompanied by a six piece orchestra. Led by Composer and pianist Matthew Dean Marsh, the musicians are hidden onstage behind a curtain.Their presence is so subtly introduced as a musical interlude, the first few notes can be misinterpreted as a cell phone. A woman across the aisle made an audible 'tisk' before the lights revealed the noise was coming from the band and not a rude audience member. The orchestra adds a layer of emotion and a sophistication to the narration.
WE'RE ONLY ALIVE FOR A SHORT AMOUNT OF TIME is an interesting experience of David Cale. His story is marring. His storytelling, although uneven, is vivid.    
Running Time: Ninety minutes with no intermission
At Goodman Theatre, 170 N. Dearborn
Written and performed by David Cale
Songs written by David Cale
Arrangements and underscoring composed by Matthew Dean Marsh 
Directed by Robert Falls 
Wednesdays, Thursdays, Sundays at 7:30pm
Fridays, Saturdays at 8 p.m. 
Wednesdays, Saturdays, Sundays at 2 p.m. 
Thru October 21st  
For more information and reviews on Chicago theatre, visit Theater in Chicago.