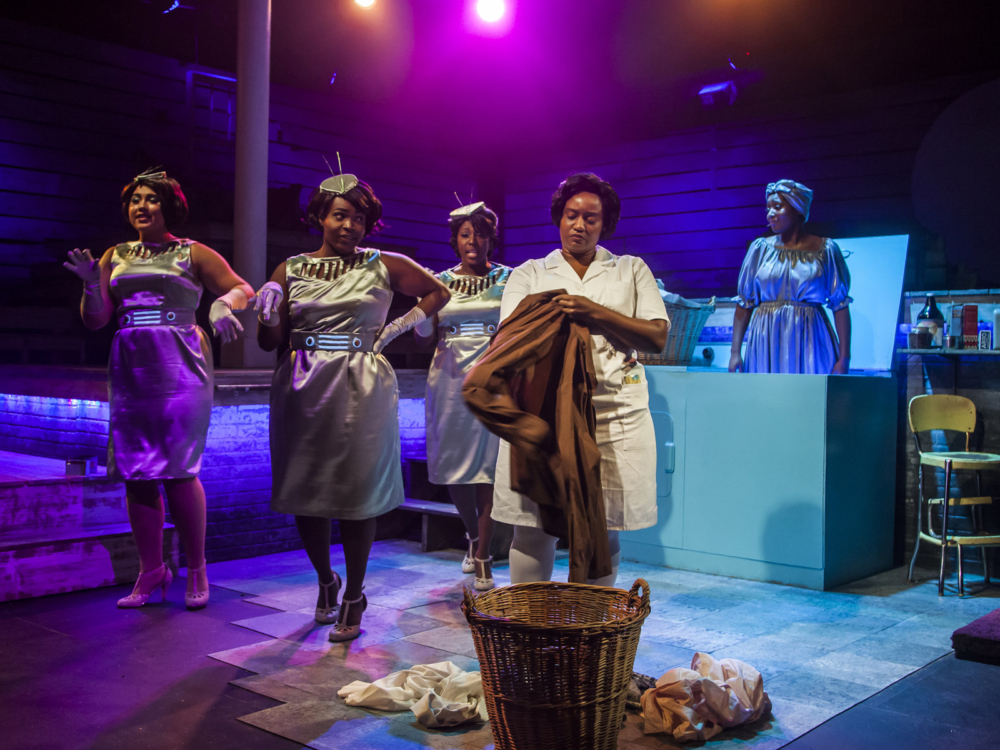 Firebrand Theatre, in partnership with TimeLine Theatre Company, launches its 2018-19 season with a revival of the Tony Award-nominated Best Musical CAROLINE, OR CHANGE.
This musical is a powerful tribute to the 1960s civil rights movement. We see race relations up close and personal. Caroline (played by the superb Rashada Dawan) is a black maid for a Jewish family. We meet her on a hot Louisiana day in the basement. She is doing the wash.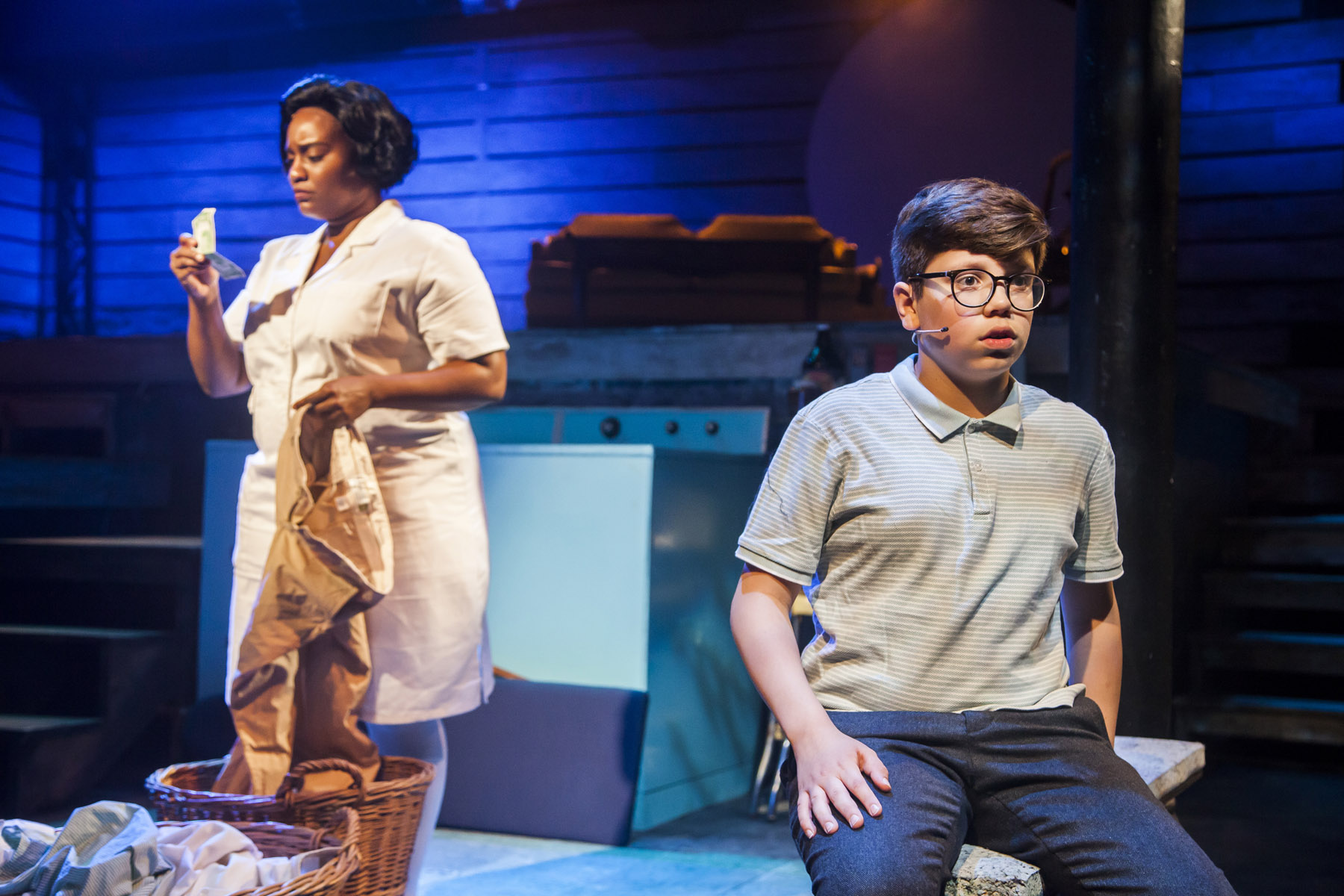 Dawan's whole persona suggests beaten down resignation. Her face is hardened. Her movements are rigid. Her laundry routine is painfully methodical. Dawan turns on the radio and slips into a daydream. The mood lightens as a sixties-style girl group (Roberta Burke, De'Jah Jervai, Emma Sipora Tyler) sashay onto the stage as the radio. The washer (Tyler Simone) and dryer (Michael Lovette) add to Dawan's fantasy escape. The audio-visual moment is sensational. The transition goes quickly from the mundane to the delightful. I'm mesmerized in particularly by Simone's shoulder movements as the washer. When Lovette pops up as the dryer, his interaction with Dawan is hilarious.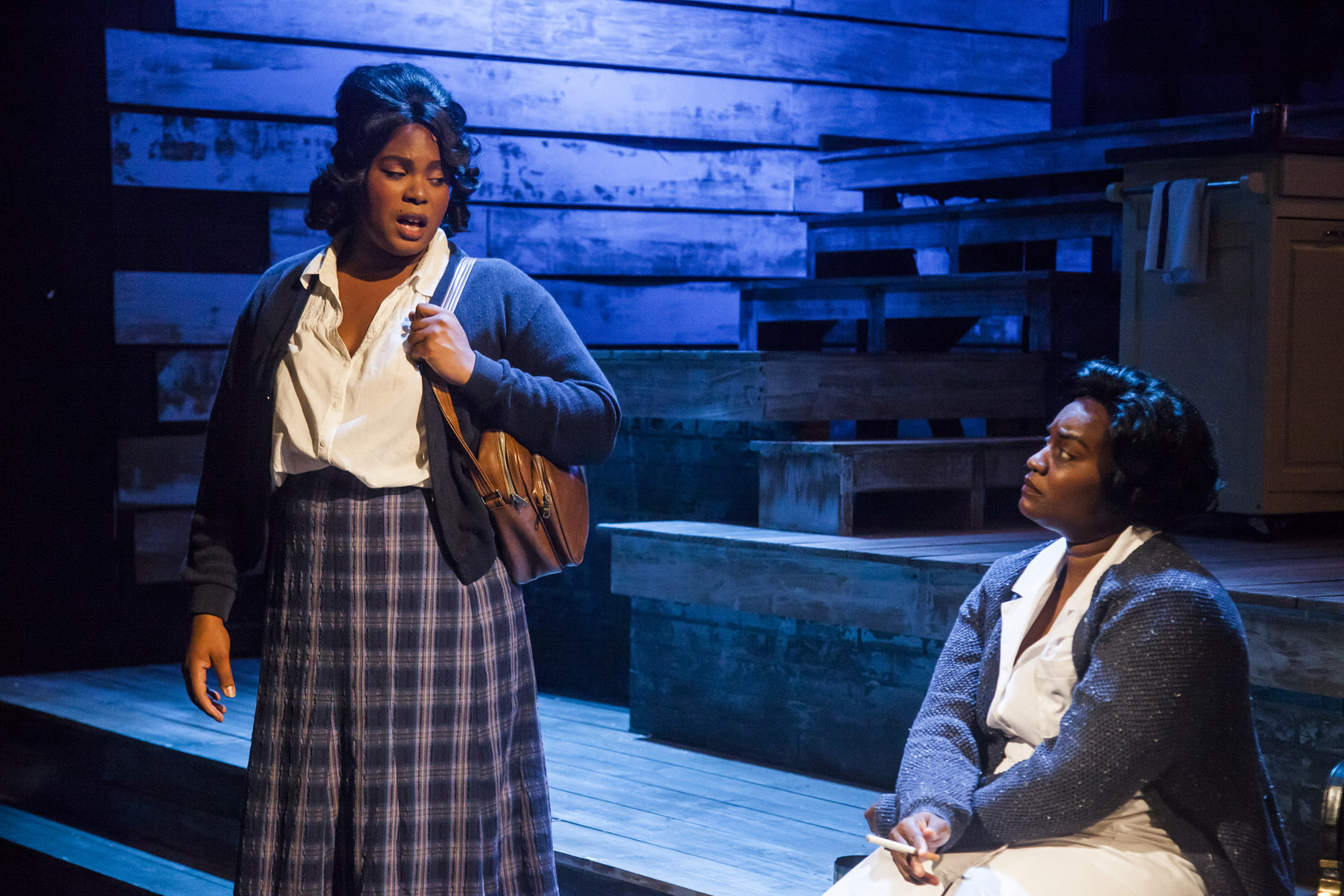 Playwright Tony Kushner cleverly tells the story of change. Dotty (played by the effervescent Nicole Michelle Haskins) is wearing saddle shoes and going to night school.Noah (played by Alejandro Medina) is grieving his mother and seeking affection from the maid. Rose (played by Blair Robertson) is juggling and struggling with her new roles of stepmom, wife and employer. And Caroline's daughter Emmie (played by Bre Jacobs) is finding her independence in speaking out against injustice. Although Caroline's world is changing, she is unhappily stuck. Pocket 'change' she is given starts to change her. 
The show is primarily about Caroline changing and finding her voice. Dawan even has a showstopping solo as part of that transformation. Even though Caroline is the focal point, Kushner's very real characters are all grappling with changing or not changing. Under the masterful direction of Lili-Anne Brown, their stories roll out with wit and grit. Even though the underlying white privilege is always present, the drama is intertwined with comedy.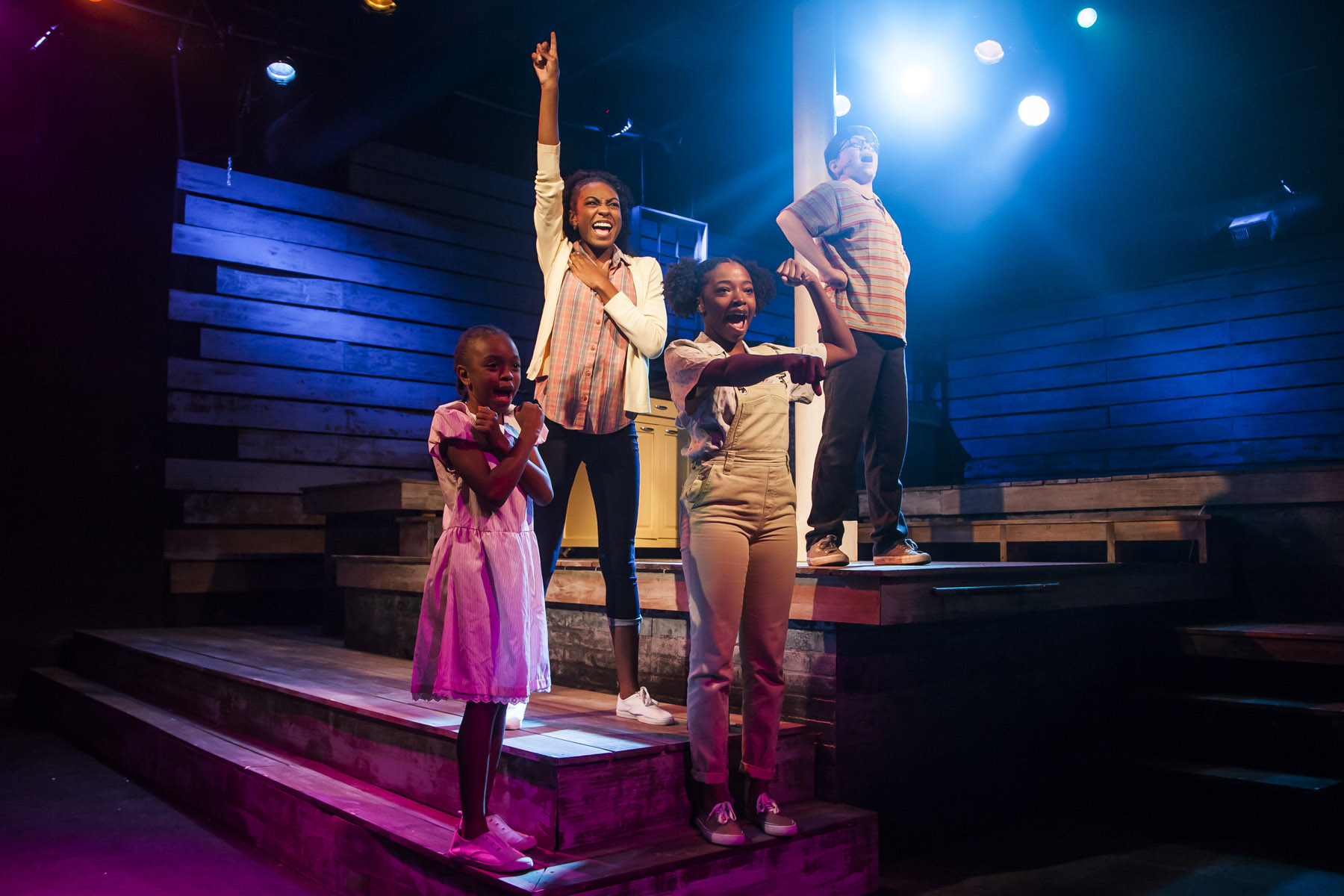 Both Robertson and Medina offer Dawan support but want recognition and adoration for that charity. The buttoned-up Robertson continually has both sobering and amusing outbursts after being spurned. Medina even imagines that Caroline's whole family is thankful for his loose change. His fantasy sing-along with Caroline's daughters (Jacobs, Princess Isis Z. Lang and Lyric K. Sims) is a terrific, upbeat musical number and my favorite. The entire talented ensemble provide merriment and meaning to the show. The grandparents (played Kevin M. Grubb and Rosalind Hurwitz) inject ongoing comedy relief with their quirky duets and sidebars. Michael Kingston (Mr. Stopnick) takes on Jacobs in a spirited debate. And the reserved Jonathan Schwart (Stuart) cowers on the sideline beautifully playing his clarinet.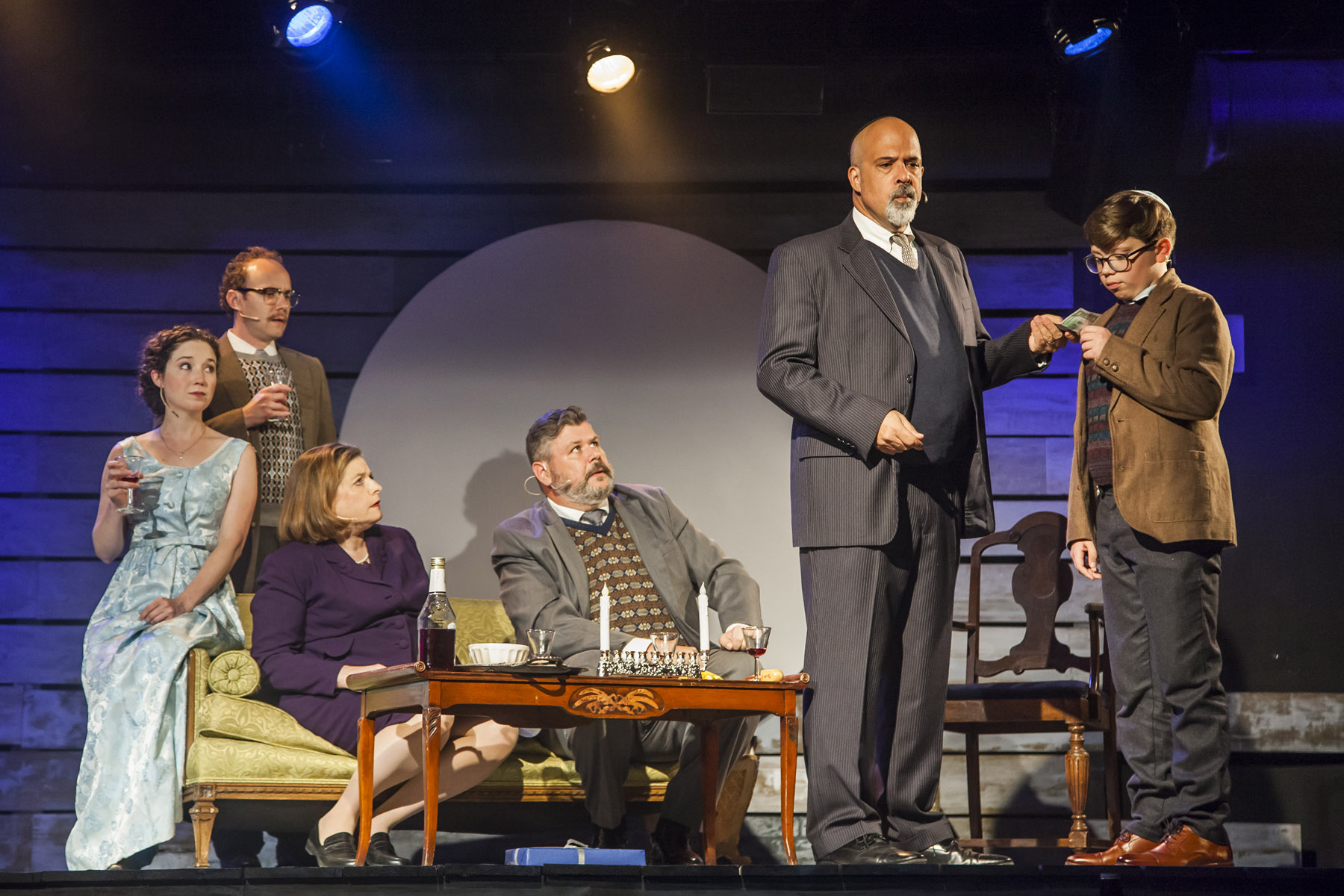 CAROLINE, OR CHANGE has it all: writing, directing, acting, singing, dancing, drama, comedy, reality, fantasy. It is sensational!  The only thing I would change is the theatre's acoustics. In many songs sung by multiple performers, the words were hard to understand. And on opening night, sweet young Sims' microphone wasn't working correctly. Still, this show is thought-provoking and up-lifting. I highly recommend making plans or changing plans and seeing this production.
Running Time: Two hours and thirty minutes includes an intermission
At The Den Theatre's Heath Main Stage, 1331 N. Milwaukee
Book & Lyrics by Tony Kushner
Music by Jeanine Tesori
Directed by Lili-Anne Brown
Music Direction by Andra Velis Simon
Thursdays, Fridays, Saturdays at 7:30 p.m. 
Sundays at 3 p.m. 
EXTENDED Thru November 11th
Production photos by Marisa KM
For more information and reviews on Chicago theatre, visit Theater in Chicago.