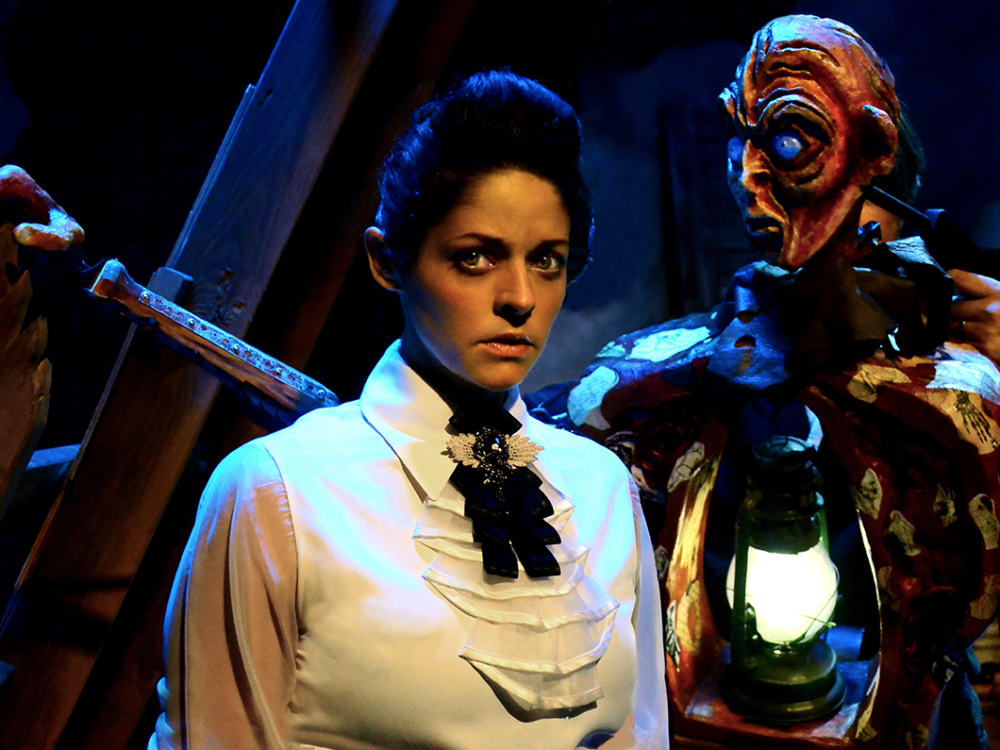 In celebration of the 200th anniversary of Mary Shelley's Frankenstein, four Chicago theaters will be debuting their version of the infamous tale; Lifeline, Remy Bumppo, Lookingglass and Court. 
Lifeline Theatre presents the world premiere of Robert Kauzlaric's adaptation of FRANKENSTEIN.
Kauzlaric spins his tale of resurrection around Victoria -not Victor- Frankenstein (played by Anne Sonneville). Kauzlaric makes Shelley's protagonist female and leans hard into the scientist's relationships with her family. He makes Victoria's obsession with bringing the dead-back-to-life anchored in her own father's (played by Chris Hainsworth) death. Kauzlaric makes the story personal. His main character is tormented by her all-consuming grief. She struggles with her monstrous creation and his impact on her family.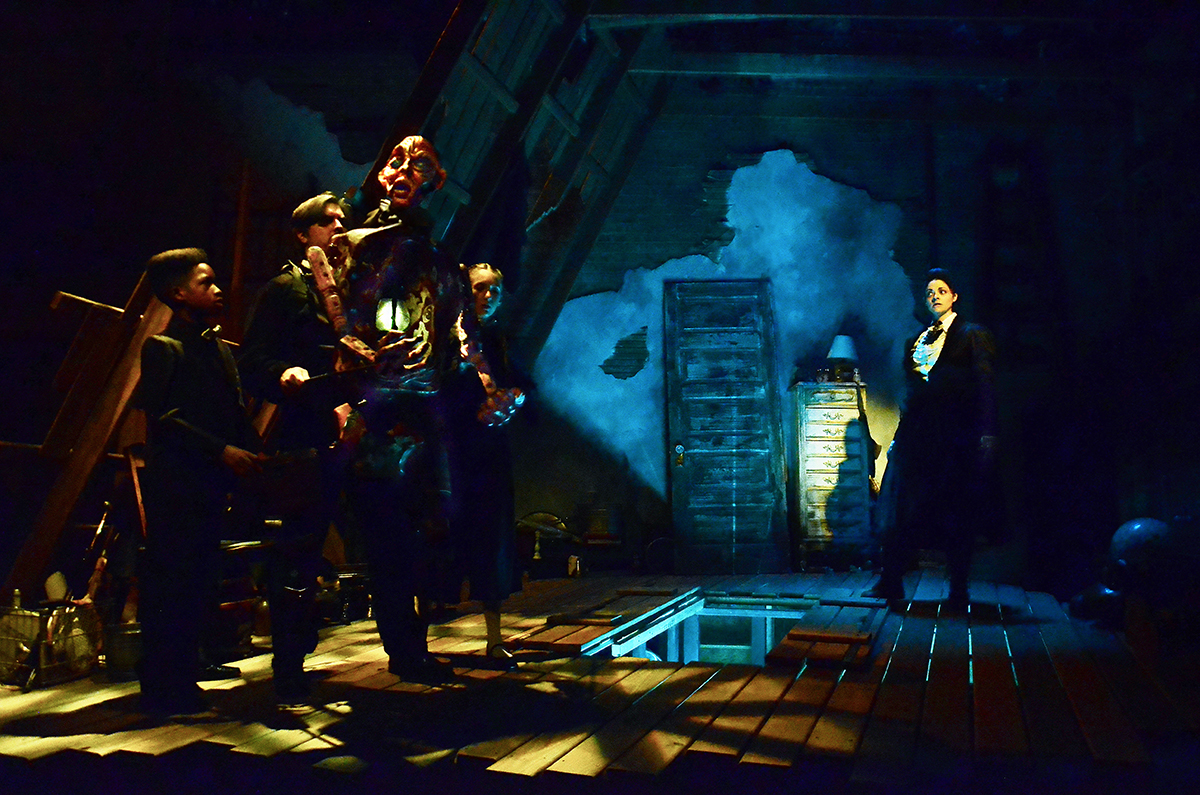 The story is more poetic, than horror. The scientist is driven by sadness rather than madness. Death has a rhythmic sensibility. It is illustrated as passing through a lit trap door on the floor. As each person surrenders to death, they join Hainsworth in manipulating the creature (Puppet Designer Cynthia Von Orthal). Orthal's impressive creature has moveable parts allowing it to grow as people join Hainsworth in operating its limbs. The creature's increasing presence mirrors Sonneville's escalating grief.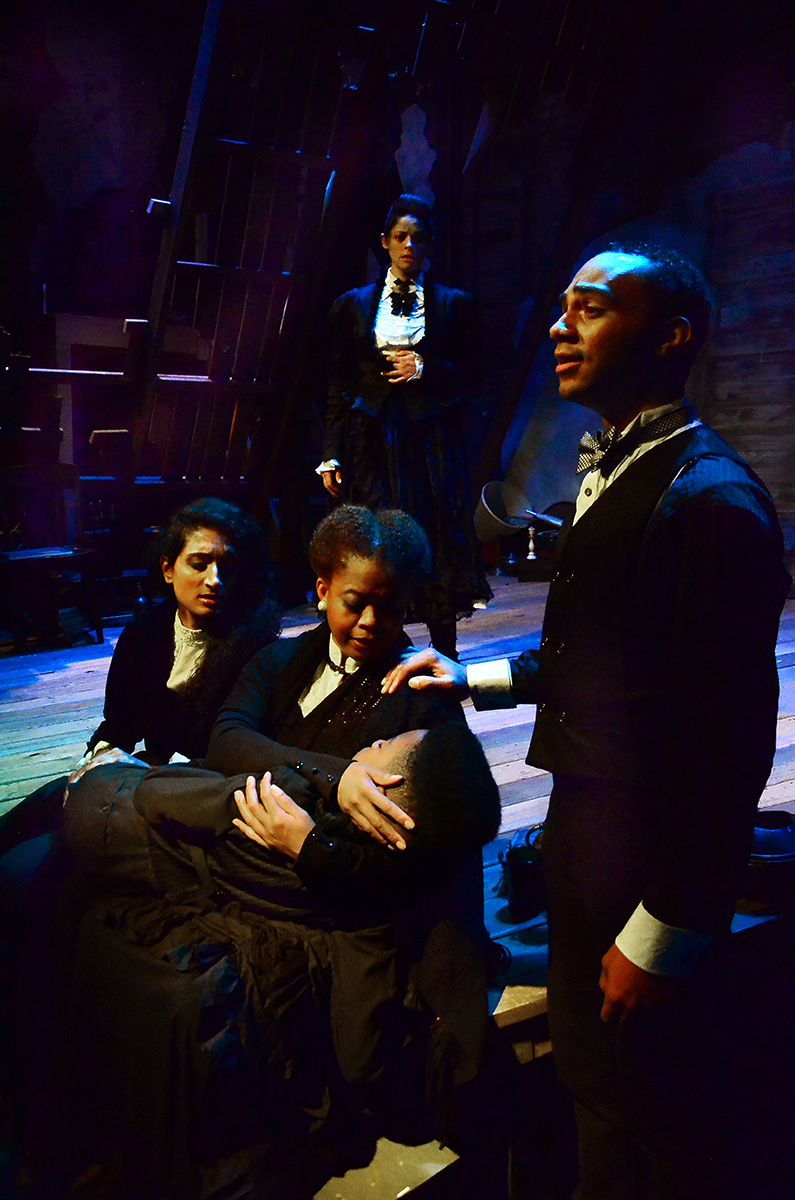 Director Paul S. Holmquist skillfully orchestrates the movement of this terrific ensemble (Sonneville, Hainsworth, Ty Carter, Trent Davis, Maya Lou Hlava, Rasika Ranganathan, Risha Tenae) through life and death. His design team (Von Orthal, Scenic Designer and Technical Director Joe Schermoly, Music and Sound Designer Barry Bennett, Properties Designer Emily Hartig, Costume Designer Izumi Inaba, Lighting Designer Jordan Kardasz, Fight Choreographer Greg Poljacik)nail the aesthetic of between this world and the underworld. They fill that gap with haunting sounds and hazy visuals.  
Lifeline's FRANKENSTEIN is an elegant adaptation of a traditionally creepy story. Sonneville beautifully tethers us to her grieving process. We watch as she grapples with immortality and morality. Although I recommend this show, I'd warn folks that this isn't a Halloween fright night of blood and guts. It's more tender, than terror. And special nod out to Kauzlaric for best last line in a play.
Running Time: Ninety minutes with no intermission
At Lifeline Theatre, 6912 N. Glenwood
Written by Mary Shelley
Adapted by Robert Kauzlaric
Directed by Paul S. Holmquist 
Thursdays, Fridays at 7:30pm
Saturdays at 4 p.m. and 8 p.m. 
Sundays at 4 p.m. 
Thru October 28th 
Production photos by Suzanne Plunkett
For more information and reviews on Chicago theatre, visit Theater in Chicago.