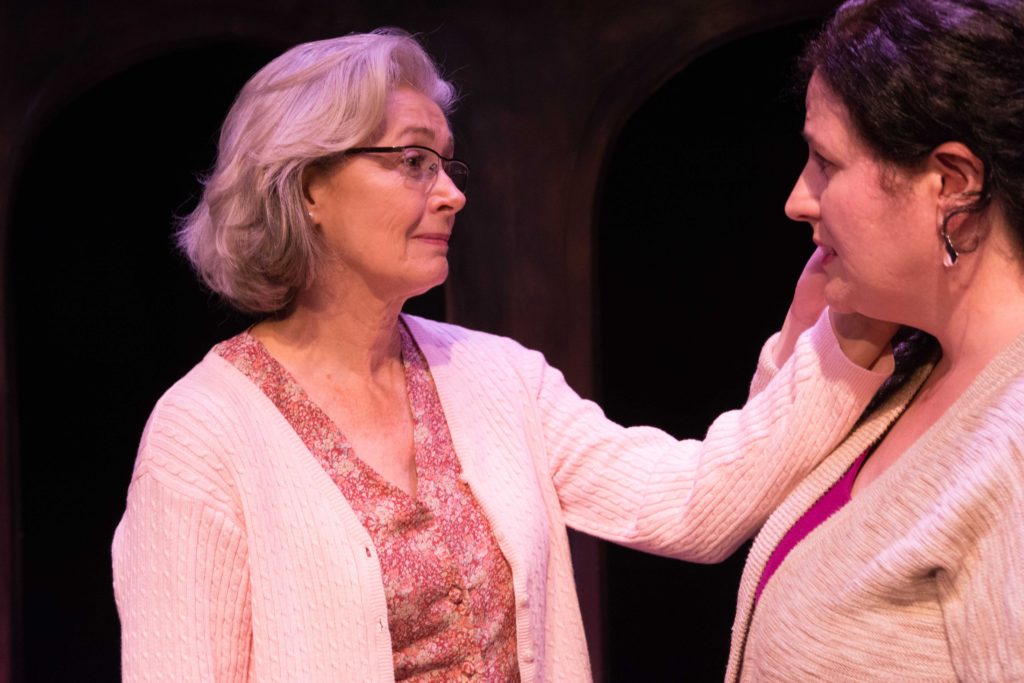 Strawdog Theatre presents the World Premiere of DISTANCE.
At the core of Playwright Jerre Dye's new story is a woman dealing with Alzheimer. Janice O'Neill's (Irene) struggle to be present is palpable.  She vacantly holds a lightbulb. She frets over missing a train.  She demands to be heard, to be seen, to be understood. O'Neill impressively flips back and forth between reality and memory. One moment, she screams at her daughter, a resigned Anita Deely (Luvie).  The next, she wants Deely to hold her hand.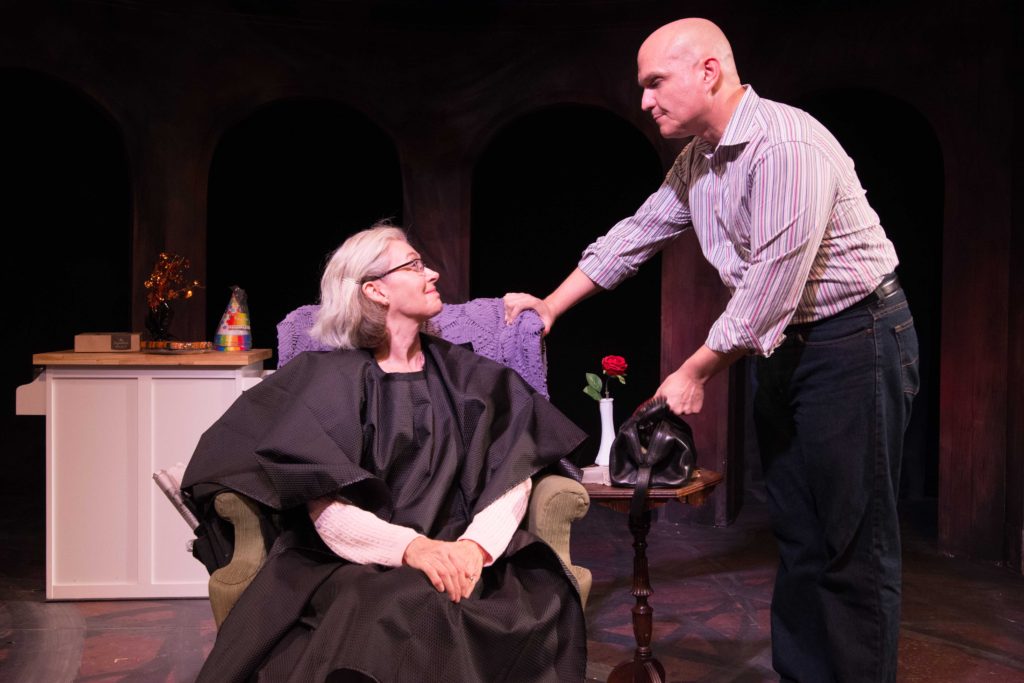 Dye's story is compelling. He doesn't stop at one person's identity crisis due to illness. He piles on a variety of other scenarios. His well-developed and flawed characters are believable.  Their identities are stuck in a perception inherited from parents, adapted from society and warped from their own self-loathing. They begin to understand 'who they are' simultaneous to O'Neill slipping into dementia. Seeing O'Neill's conscious life ending forces Deely, Loretta Rezos (Dolly), Caleb Fullen (Dylan) and Stephen Rader (Leonard) to grapple with their own mortality and identity.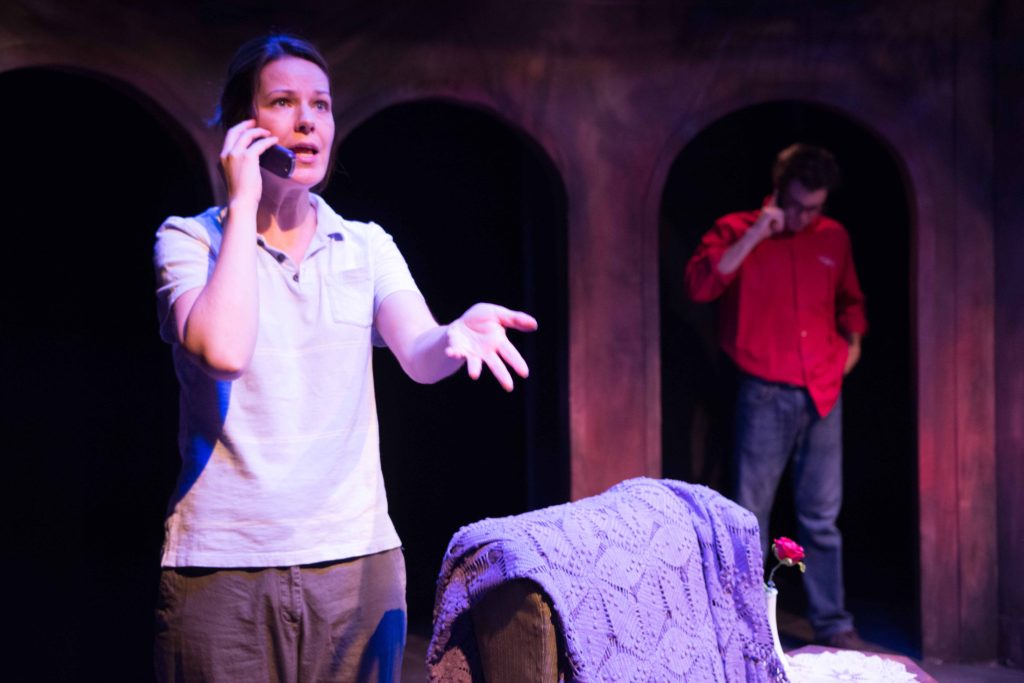 DISTANCE is poignant. The relationships between parent and offspring for all the characters, through interactions or stories, is relatable.  Some moments are so tender they inspire tears.  Others are just gut-busting hysterical. Director Erica Weiss masterfully pulls out the drama and comedy from her sublime ensemble.  In my favorite scene, Rezos and Rader are having dinner when an irate Fullen spirals out of control.  Dye's dialogue is authentic. Rezos has a conversation with both Fullen and Rader at the same time.  In one breath, she is having a come-to-Jesus meeting with Fullen, her son. And every other comment is directed to Rader as an apology about the timing. Meanwhile, Fullen has a full-fledged melt-down. The comedy is absurdity perfection.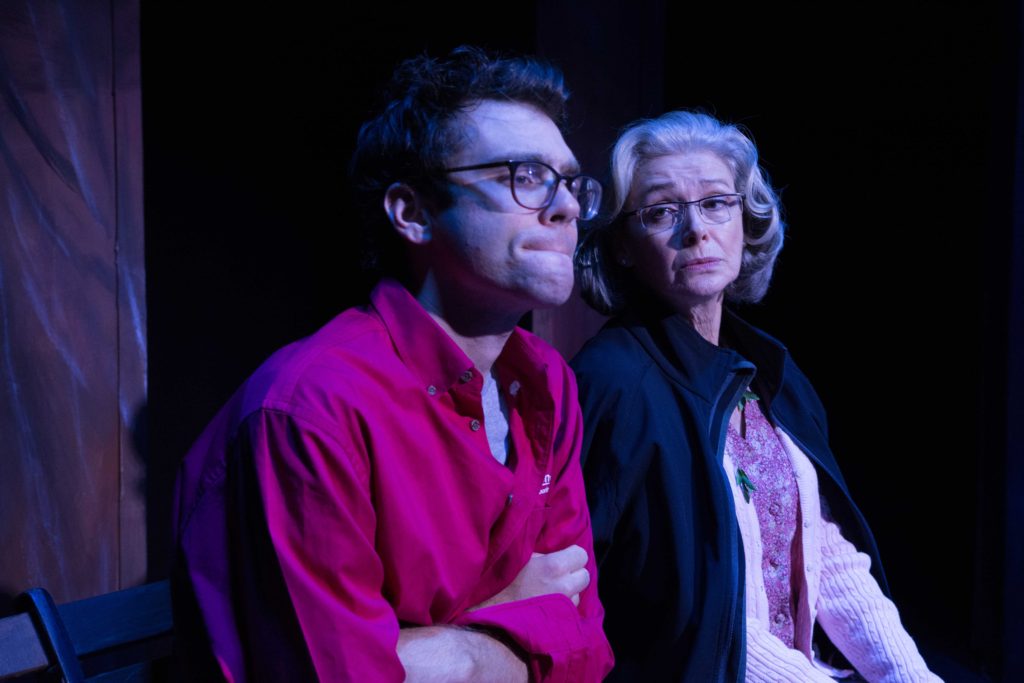 DISTANCE is funny. The ensemble embody these personalities for lampoon delight. Fullen is playing a videogame-playing millennial living with his mom.  His social awkwardness is transparent as he fumbles over his cursing.  Rezos and Rader are these chatty southern belles. They deliver Dye's litany of southern metaphors with charming zest.  And the long-suffering Deely continually zings with deadpan humor.
DISTANCE is the whole package: writing, directing and acting.  Trifecta!  I loved it. When Rezos makes a life-changing announcement, Fullen responds, 'can you do that?'  Yes, she can.  Yes, you can.  Yes, I can. DISTANCE challenges us to look at our lives from a distance and make changes to find out who we really are.  LOVED IT!
Running Time:  Two hours and ten minutes includes an intermission
At The Factory Theater, 1623 W. Howard
Written by Jerre Dye
Directed by Erica Weiss
Thursdays, Fridays, Saturdays at 8pm
Sundays at 4pm
Thru October 1st
Buy Tickets at www.Strawdog.org
Photos by Tom McGrath, TCMcGPhotography
For more information and reviews on Chicago theatre, visit Theater in Chicago.