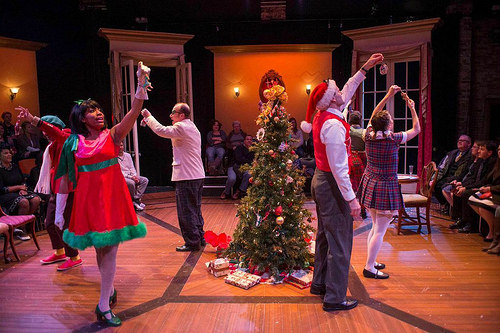 Reviewed by Tom Lawler
Set the scene: The House Theater, a reliable option for modern, fourth-wall breaking theater, brings us their annual holiday spin on The Nutcracker. Originally created in 2007 for a premiere at Steppenwolf Theater, this year's production is directed and choreographed by one if its original creators, Tommy Rapley.
What's it all about: Although based on the original 1816 folk tale "The Nutcracker and the Mouse King" by German writer E.T.A. Hoffman, the House team delivers a fresh, emotionally powerful interpretation of what happens to young Clara when she receives a magical nutcracker. Namely, instead of merely being a holiday fantasia vehicle, this production takes a stunning turn about 10 minutes into the play as we learn that Clara's older brother, Fritz, a soldier, has died. This not only brings the family Christmas party to a sudden close, but as this tragedy lingers, Clara's parents can't bring themselves to celebrate on the following Christmas either. (Abu Ansari as Clara's father, David, gives this production real gravitas as the grieving father.) This Nutcracker then is about Clara and her family acknowledging and ultimately overcoming their grief so they can celebrate Christmas again as a family. The Nutcracker is also about embracing the magical and smartly weaves together elements from Toy Story, The Wizard of Oz and of course the original story to take us a journey that is sure to dazzle any children in attendance while being smart, entertaining and absolutely absorbing at all times for the adults.
Stand-out performance: The entire ensemble is terrific, so singling out one performance isn't fair. There's such a palpable playfulness to this Nutcracker though, and the ringleader has to be Chris Mathews as Clara's jovial beret-wearing family member (most cast members are double-cast) and "Monkey" – her monkey doll that comes to life at night along with her other toys and her new nutcracker.
Also, check out: It's tempting to single out director-choreographer Tommy Rapley for best performance, because for this critic, the highlight of this production was the bravura 10-minute opening of The Nutcracker that uses just movement and music to show us a rollicking Christmas party as we watch guests arrive through four sets of white French doors, trim the tree and enjoy their holiday treats. Working from a gorgeous, circular stage that resembles the face of a clock (perhaps in tribute the occupation of Clara's uncle, a clockmaker, from the original short story), Rapley and the cast waltz in perfect harmony as they rotate clockwise and then counterclockwise to celebrate their holiday cheer, while often breaking the fourth wall and involving the front rows in the holiday fun. This same sophisticated sense of movement and symbolism is astonishing when you watch this family suddenly receive terrible news and carry away their Christmas tree like a casket. The children in attendance will no doubt be awed by the attack of the Rat King in the second act — a superb use of old-fashioned scenery movement and large-scale puppetry. (The House has also corrected a problem I always found with the original Nutcracker ballet – why are we cheering on these toy soldiers in mowing down these defenseless mice? In the House production however, these are mean, menacing rats who want to keep Clara's family in their dark misery – and they deserve to meet their end.)
More of this, please: When you go to a House production, expect to have a great time. The actors will already be in the theater as you take your seat, making the rounds and welcoming you the show even before it begins. For this production, it's hard not be dazzled by this gorgeous circular set and how the audience (and musicians) have been seated around it as if this production is taking place in your living room. Add in the pre-show music and so many attending children donning their holiday best, well, if you're not in the holiday spirit before The Nutcracker begins, you will be hard-pressed to resist this feeling by the time it ends. This is a full-on assault of holiday cheer, balanced with some beautiful sadness, and I highly recommend it.
However: A big surprise about this Nutcracker is that it's basically a musical (the original songs are by Kevin O'Donnell). While some of the songs are extremely effective as they tunnel into your heart – a duet between Clara and her deceased brother about future holidays they won't be able to celebrate together destroyed audience members on my left and right – not all of this music was of this high quality. "Cookies," an under-baked Disney-like attempt at holiday whimsy about making sugar plum treats could have used a little less sugar and more time in the oven. 
Do this first: Since there's no intermission, grab a beverage or some German chocolates at the Chopin's adorable café. Yes, you can bring them into the theater!
Do this after: Have kids with you? Browse the top-secret gadgets and books at the nearby Secret Agent Supply Company (AKA the retail operation attached to David Eggers' 826Chi, a nonprofit writing and tutoring center.)  No kids in tow? Try cocktails or dinner inside an old bank vault at The Bedford.
Katy's reviews of The House Theater's Nutcracker in 2014, 2013, 2011,  2010
Running Time: 2 hours (including one 15-minute intermission)
At Chopin Theatre, 1543 W. Division
Created by: Jake Minton, Phillip Klapperich, Kevin O'Donnell and Tommy Rapley
Directed by and choreographed by: Tommy Rapley
Based on the story by: E.T.A. Hoffman
Thursdays-Fridays at 7:30pm
Saturdays at 3pm and 7:30pm
Sundays at 3pm and 7:30pm
Thru December 31
Tickets: $25-$45
Buy Tickets at 773.769.3832 or http://thehousetheatre.com/
For more reviews and information on Chicago theatre, visit Theatre in Chicago.