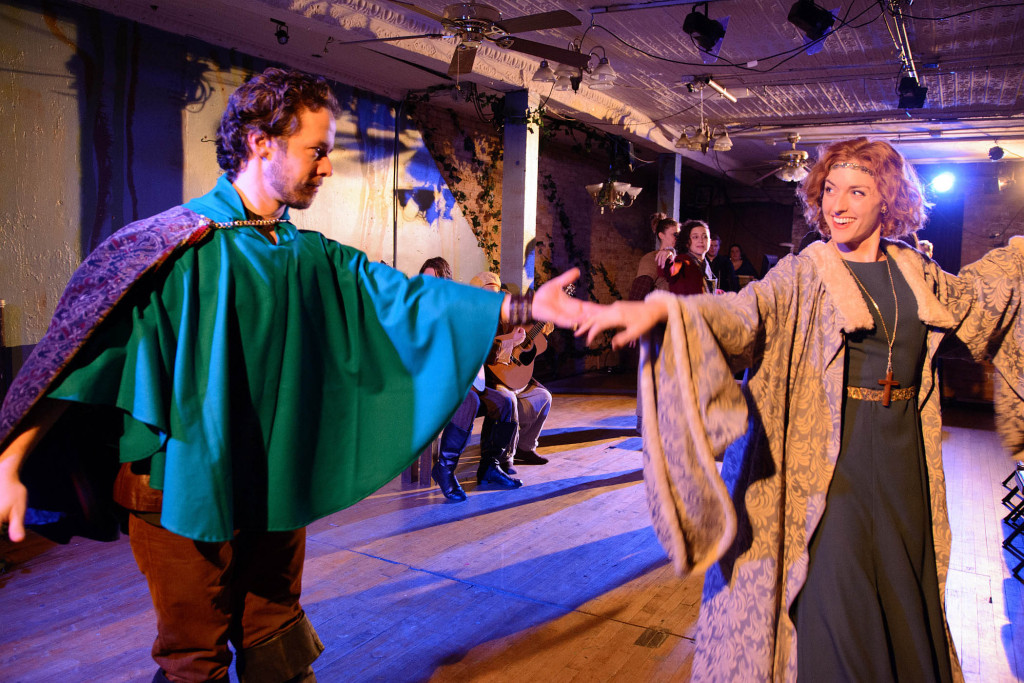 Strawdog Theatre Company's Hugen Hall presents the world premiere adaptation of ROBIN HOOD AND MAID MARIAN.
I've seen "Robin Hood" dozens of times both the Errol Flynn and Disney versions. In these popular depictions, Maid Marian is a demure character in need of rescue.  What I like most about Hugen Hall's world premiere adaption is how Maid Marian is multi-dimensional.  Although the feisty Kelsey Shipley (Marian) loves the gallant Caleb Probst (Robin), she is much more practical about their future.  Shipley recognizes the need to preserve her father's land along with her virtue as a 'maid.' And she doesn't shrink to male inflicted pressure.
ROBIN HOOD AND MAID MARIAN has been adapted from Alfred Lord Tennyson's "The Foresters."  The storytellers are the Chicago-based troupe Forks and Hope.  The troupe's name is derived from a Lewis Carroll poem passage.  They sought it with thimbles, they sought it with care; they pursued it with forks and hope.
The creative F&H team strive to make theatrical experiences unexpected.  And their specialty is verse.  Tennyson's play utilized written and sung verse to tell the nobleman labeled outlaw tale.  Under the skillful direction of Matt Pierce, F&H embraces the verse as the dialogue and also in the musical accompaniment. Probst is especially deft at navigating through long prose with a natural cadence.  During one soliloquy, he amicably addresses the audience about his political and personal woes. He is so genuine in the moment, it's easy to forget he is speaking in verse.  Or that it's a speech and not a personal conversation. Even his passionate decree to crown Shipley 'Queen of the Forest' sounds more impromptu punch-love-drunk vows than rehearsed oration.
Probst and Shipley's chemistry drives this love story. They flirt with a coy playfulness and a weighty certainty of destiny.  Probst insists his men verbalize adoration for Shipley.  She reprimands his men when they question Probst's action. Their interactions are grounded in respectful partnership.
Besides the love story, F&H delivers powerful harmonies led by Austin Oie.  Onstage, Oie leads the singing as the minstrel Scarlet.  At one point, he's strumming a lullaby.  And the next, he is leading the Merry Men in a rousing pub song about the greatness of English men.  Offstage, Oie plays composer of original music and music director.  Although the music, along with energetic swashbuckling (Fight Choreographer Sam Hubbard), add interesting layers to the familiar story, F&H include some whimsy that didn't quite work as well.
Various ensemble members don bird hats or deer antlers to prance through the forest.  The birds chirp out melodies while the deer just skip across the stage.  At least at my performance, it didn't get the intended laugh or awwww.  It was more of an awkward speed bump.  The addition of the woodland creatures was unnecessary and distracting from the real story.  Still, I enjoyed my trip to Sherwood Forest.  ROBIN HOOD AND MAID MARIAN are a contemporary couple for the ages.
Running Time: Two hours includes an intermission
At Strawdog Theatre Hugen Hall, 3829 N. Broadway
Based on Alfred Lord Tennyson's "The Foresters"
Adapted by Forks and Hope
Directed by Matt Pierce
Original music and music direction by Austin Oie
Saturdays at 4pm
Sundays at noon
Mondays, Tuesdays at 8pm
Thru December 29th
For tickets, visit strawdog.org or by calling OvationTix toll-free: 866.811.4111
For more reviews and information on Chicago theatre, visit Theatre in Chicago.