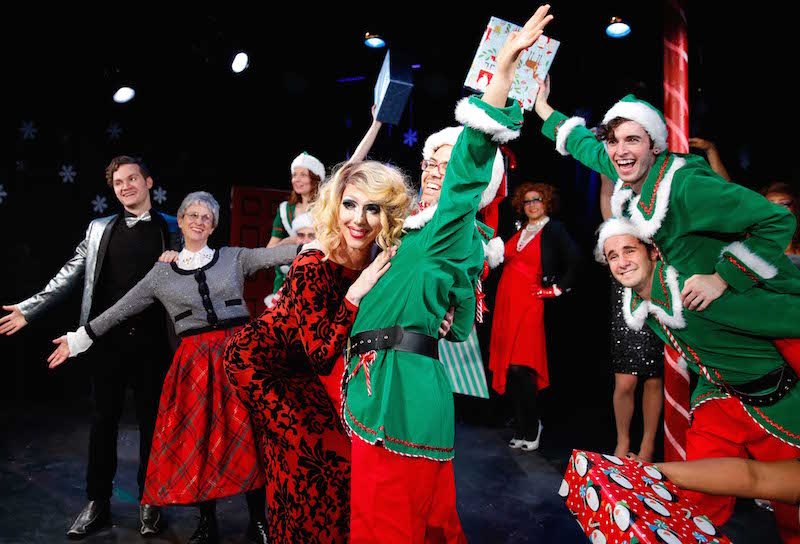 The Other Theatre Company (TOTC) and Artistic Director Carin Silkaitis are proud to present the second show of the company's 2015-2016 season BARNEY THE ELF.
Santa was dead to begin with. His son, Santa Junior (played by the sinister tyrant Lewis Rawlinson) is running the toy operations.  When Rawlinson learns that Barney (played by the irresistible Yando Lopez) is gay, he banishes him from the North Pole. Lopez heads to Chicago and meets a kind-hearted drag queen named Zooey (played by the sultry Dixie Lynn Cartwright).  When Rawlinson can't get his sled to fly, it's going to take a big ole gay elf to save Christmas. 
Playwright Bryan Renaud has penned a musical parody of the movie "Elf."  This time the identity crisis isn't an elf grappling with being human.  This Santa's helper is struggling with his sexual orientation. Although Renaud's elf still has all the unabashed adoration for Christmas, he also has a boner for the delivery guy. His surprise package gets him into trouble
Out in the real world, Lopez works to accept himself as both gay and an elf.  He and Cartwright even do a bit around Lopez coming out of a closet.  It's sweet and cute.  The chemistry between Lopez and Cartwright had the audience spontaneously utter 'awwwww' every time they kissed.  Lopez is sugar-coated adorable which melts Cartwright's frosty cynicism. The odd pairing is oddly perfect. Although Cartwright is hysterical delivering biting zingers, she tenderly hovers over her little elf. They are a charming couple.   
Despite the elf love story and the name suggesting a purple dinosaur, this show isn't for the kiddies. It's late night North Pole humor.  The comedy is raunchy as drag queens and elves bump and grind.  And Mrs. Claus (played by the spunky Maggie Cain) liberally drops the F bomb when reprimanding Rawlinson. Director Carin Silkaitis has her talented crew squeezing every funny aspect out of Renaud's ballsy script.  At my performance, the audience was cackling so hard, I missed several lines. 
My favorite part of this show is the musical numbers.  The singing and dancing is surprisingly solid for this campy frolic.  Renaud and Emily Schmidt wrote relevant lyrics to familiar tunes. In the beginning, the elves are complaining to the tune of "9 to 5." It's peppy with precision package throwing and dance moves.  Later, Rawlinson and Lopez face off to a spoof of "The Confrontation" from "Les Miserables."  Despite the singing being seriously amazing, the shtick is hilarious.  Cartwright even joins to amusingly deliver a dying Fantine moment at the end. When he reprimands Rawlinson, Lopez does it by belting out a rendition of "Don't Rain on My Parade" which brings the ensemble together in an impressive, high-kicking chorus line (choreographer Tommy Rivera-Vega).               
I really enjoyed BARNEY THE ELF.  It's crass and classy at the same time.  This one goes on the naughty and nice list in both categories.  And sidenote to Hell in a Handbag:  watch out, these Lincoln Park drag queens are fierce.  I see a holiday smackdown between CHRISTMAS DEAREST and BARNEY THE ELF.
Running Time: Ninety minutes with no intermission
At The Greenhouse Theatre, 2257 N Lincoln Ave
Written by Bryan Renaud
Lyrics by Bryan Renaud and Emily Schmidt
Directed by Carin Silkaitis
Choreographed by Tommy Rivera-Vega
Thursdays, Fridays, Saturdays at 8pm
Sundays at 3pm
Thru December 20th
Purchase tickets at http://greenhousetheater.org/barney-the-elf/.
For more information, please visit theothertheatrecompany.com. 
Production photo by Carin Silkaitis
For more reviews and information on Chicago theatre, visit Theatre in Chicago.