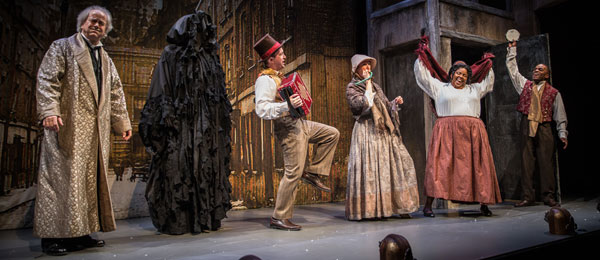 Goodman Theatre, in partnership with The Second City, presents TWIST YOUR DICKENS.
Here's how we know Goodman Theatre has a sense of humor.  On its mainstage, they are presenting their 38th "Christmas Carol" production.  Their traditional offering has become a Chicago holiday staple.  Which makes it even cheekier that the show on their second stage is a spoof of the Dickens' classic.  For the second year in a row, Goodman teams up with The Second City to rip-on-the "Christmas Carol." The taunting gets personal as Francis Guinan (Scrooge) mutters, "I bet Larry Yando doesn't have to put up with this sh#t."  Yando is playing Scrooge on the mainstage.
The irreverent alternative show continually makes fun of the timeless convention on stage next door. Playwrights Peter Gwinn and Bobby Mort use the familiar framework of the haunting of Ebenezer Scrooge.  Then, they layer in additional holiday hoopla. Guinan is hit up for money not only by London do-gooders but George Bailey (played with Jimmy Stewart accuracy by Gwinn).  There are skits about a "Peanuts Christmas," the island of misfit toys from "Rudolph" and the three kings en route to the nativity.  Each shtick works in plenty of topical or political humor.  The kings bicker over giving a stable family gold. And Gwinn and Mort don't just stick to seasonal humor.  At one point, Guinan is hilariously visited by three famous orphans and a Girl Scout. 
Director Matt Hovde regularly ensures we know we are in the lampoon version of "Christmas Carol." Fairly early in the show, Travis Turner starts heckling from the audience.  He points out the historical inaccuracies onstage for the Dickens time period. Later, Turner plays a rapper as the Ghost of Christmas Past.  He and Guinan bust a move across the stage and back in time. Hovde keeps the frolic moving quickly.  The talented ensemble heighten the absurdity for different characters.  Some are customary like Sue Salvi's Tiny Tim in exaggerated slow motion.  Others are recognizable stereotypes like Beth Melewski's booze-soaked Ghost of Christmas Present or her caroling sloshed lounge singer.  
Keeping with the signature comedy of The Second City, several bits have an opportunity for the audience to interact.  The performer requests a topic and then ad libs the audience's response.  Some of the improv is silly. Incorporating TSC comedy feels forced and clunky.  Those parts weren't that funny for me.  I do have to say that for the folks behind me and to the side of me, the improvising was riotous.  Their laughter was loud, hard and often accompanied by one of them repeating lines.  Although I enjoyed TWIST YOUR DICKENS as a clever farce, for the people around me, Christmas came early and they were over-the-moon  with this holiday treat. 
POST SHOW:  Even now almost 24 hours after I saw the show, I can't seem to let go of the fantasy of seeing both Goodman casts having a face off in the lobby and then it turning into a flashmob.  Guinan team vs Yando team!  Good, right?
Running Time:  Two hours with one intermission
Written by Peter Gwinn and Bobby Mort
Directed by Matt Hovde
Tuesdays, Wednesdays, Thursdays at 7:30pm
Fridays at 8pm
Saturdays at 4pm and 8pm
Sundays at 3pm and 7pm
Additional performance at 3pm on December 23rd
No performances on December 24th or 25th
Thru December 27th
Buy Tickets at www.goodman.org/Twist
For more reviews and information on Chicago theatre, visit Theatre in Chicago.