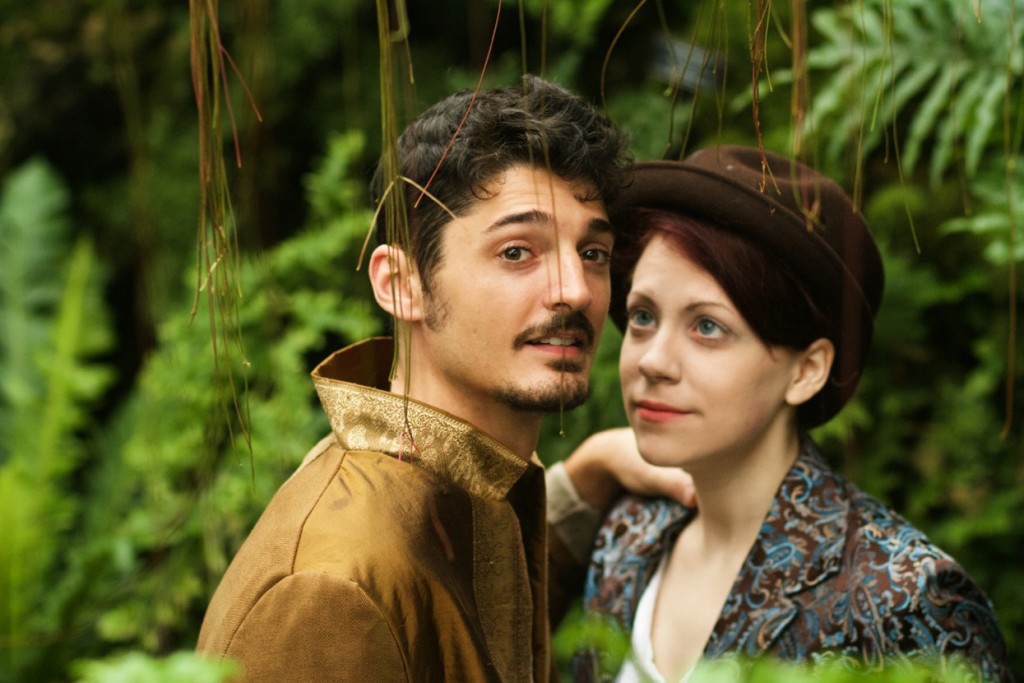 Midsommer Flight, in partnership with the Lincoln Park Conservatory, presents TWELFTH NIGHT.
The backdrop of the holiday decorated botanical gardens is the winter way to experience Shakespeare in the park.  For the first time, Midsommer Flight takes their current offering indoors.  Director Beth Wolf skillfully carves out a staging area within the historic glass-covered building.  Christmas lights and poinsettias are nestled into the bounty of plants and trees.  A fountain in the next room adds an ideal watery soundtrack for Shakespeare's comedy of shipwrecked twins. 
Before the show even starts, the talented ensemble is making merry by singing, dancing and playing instruments.  The music is featured heavily throughout the show.  An outstanding Alex Mauney (Feste and co-composer with Elizabeth Rentfro) leads the singing.  The folksy band of guitars with a banjo, flute and clarinet provide a playful scene transition as we travel back and forth from Orsino's (Nick Loumos) and Olivia's (Kanome' Jones) homes.  The makeshift minstrel troupe keep the pace light and frolicking. 
Along with the zesty music, the comedy is pure lampoon.  At my performance, a few very young ladies (maybe 5-7 years of age) were loudly cracking up at the zany men of mischief; the gregarious Chris Smith (Toby), the cowardly Adam Habben (Andrew) and the pompous Jared Dennis (Malvolio).  These gents added layers of farce onto Shakespeare's rom-com of mistaken identities.
At the crux of the show is the nimble Meredith Ernst (Viola) pretending to be a man.  Ernst becomes the love messenger between Loumos and Kanome'.  As Ernst woos Kanome' for Loumos, Kanome falls for Ernst. Adding another layer of humorous complication, Ernst falls for Loumos. The love stories unravel completely when Jake Jones (Sebastian) arrives and Kanome' mistakes him for Ernst. 
Love is definitely in the air in this delightful Midsommer Flight romp. The high-spirited ensemble's merriment is infectious.  Combine this with Zoolights next door, this is a fun family freebie.  Both Zoolights and TWELFTH NIGHT are free but bring cash to donate.  Both festive activities would even inspire Scrooge to pry open his coin purse.   
Running Time:  One hour and forty-five minutes with no intermission
Written by William Shakespeare
Directed by Beth Wolf
Original music by Elizabeth Rentfro and Alex Fauney
Fridays and Saturdays at 7:30pm
Sundays at 7:30pm
Thru December 19th
Performances are free
Reservations recommended
Donations collected
For more information and to make a reservation, visit www.midsommerflight.com.
For more reviews and information on Chicago theatre, visit Theatre in Chicago.