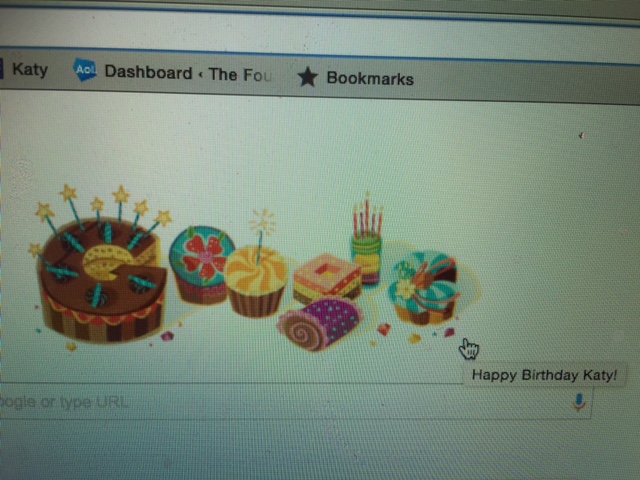 Google wished me a happy birthday.  Cool?  Or frightening?  I'm equally weirded out and  pleased with their acknowledgement. I've gotten cards, texts, and Facebook posts.  I've had a birthday lunch and a birthday drink. I'm certainly feeling showered in lovely remembrances from my community.    
I'm 52 today.  5-2! I'm playing with a whole deck now.  Before I start my year-long '52 Pick Up,' I like to look back and see the well-worn 365 day path that led me to today.  I enjoy spending my birthday in reflection and contemplation.  I use my bday as the timely opportunity to get ready for the new year focus. 
In reviewing my list of 2015 goals, I'm amused at how horrible I did on half of them. My areas of objectives were finances, health, creative, spiritual, career, travel, romance. Being the-glass-is-half-full gal, I'll start with the good work I've done…
TRAVEL: A  My objectives were a new state and a new country:  Oregon and Germany. 
HEALTH: A+  I've exceeded my objectives.  I'm working out with Josh mostly three times a week. I'm taking 2 yoga classes a week.  I am cooking.  Those three words hold powerful meaning.  It shows a major shift in my life.  I'm learning to cook.  AND I'm enjoying it.  This week I learned how to pickle an onion.  Me?  Pickling an onion??  Crazy! And I continue to focus on wine reduction with mixed success. 
CREATIVE:  A+  I committed to seeing and reviewing 4 shows or less per week.  At the end of the year, I'll have seen 130.  That's down from 151 in 2014 and 247 in 2013.  I'm balancing out my theatre work to focus on my own writing.  With the extra time, I wrote a book called HAPPINESS THIS WAY.  I'm editing it now but look for it to be available on Amazon in early 2016.  🙂
Now, the meh area…
SPIRITUAL:  C  Although I work daily on my spiritual life and practicing kindness, my focus was community worship.  I didn't do much with that. 
CAREER:  C  I intended to do some career exploration.  Instead, I moved the agency I work at.  I call it my legacy move.  It took years of convincing and raising money but I drove the process of moving out of a shabby, inadequate building into a professional office space.  I'm pretty proud of it.
Lastly, the bad stuff…         
FINANCE:  D   I had four financial objectives.  I didn't save enough in my short-term or 403(B).  I didn't pay an extra mortgage payment.  And I didn't carry through on all my philanthropic plan.       
ROMANCE:  F  I did diddle-squat.
I woke up on this beautiful crisp December morning to the reality of the aging process.  The first thing I did was get iced.  I put ice on my neck, my back and my foot.  On Thursday, I had strained my neck while doing push-ups.   Since I was packing ice on that, I threw it under my back too. My back has been occasionally achy.  I believe it's related to my foot.  I diagnosed myself off the internet as having a Jones Fracture in my left foot. I had it X-rayed on Tuesday.  Apparently, I have arthritis in my big toe and a heel spur.  That's not even where the pain is.  I must be walking irregularly to compensate these stupid afflictions and it's affecting the side of my foot and my back.
After I got my frozen parts moving, I went to mass to listen for inspiration.  The priest had a good sermon on being open to God's plan for my life. He emphasized that I need to realize my prayers are always answered but not necessarily the way I want them to be. It's powerful because that's not only true of my relationship with God but with people too.  People are also always there for me but not necessarily the way I want them to be. I'm happiest when I let go of expectations and embrace and appreciate each's individualistic style.        
Then, I walked over to one of the last standing book stores in Chicago to get a journal for 2016 goals and weekly musings.  I picked "Live in Wonder" by Eric Saperston.  He describes it as an interactive journal.  On the top of each blank page is a quote and a question.  The journal is to help 'discover your highest truth and use your deepest gifts to make a positive difference as you manifest a life that you love.'  His tagline is 'life is a journey. live in wonder.'  I read his intro over my annual egg nog latte.  He echoed the priest about being open to life.  I'm noodling on 'ask yourself hard questions.  To go anywhere, you first need to understand where you've come from and what you're taking with you on your new adventure.  More importantly, never be afraid to ask for help.' 
I'm ready to take on 52… starting now.  My next quest is waiting right over there.
You are the same today as you'll be in five years except for two things,
the books you read and the people you meet.
– Charlie "Tremendous" Jones