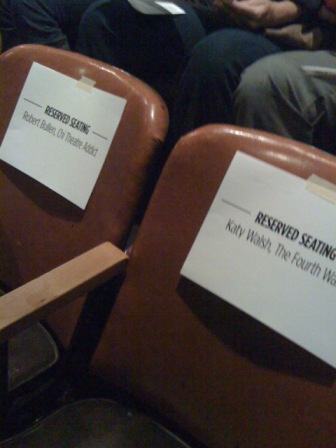 It is my great fortune to live in a town that is bursting with so much theatrical talent.  About seven years ago, I stumbled into reviewing the Chicago theatre scene. Every show enhances my understanding of theatre and life.  I enjoy most every production for some aspect.  The stinkers have been a single digit percentage of the approximately 1200 shows I've seen. I'm amazed by the plethora of gifted actors, directors, playwrights, and designers in Chicago.  2015 was a great year for theatre!  And of the 129 shows I reviewed, these are my top ten unforgettable plays of 2015.    
TEMPEST at Chicago Shakespeare Theater:  Although this list isn't in ranking order, "Tempest" was not only my favorite show of the year, it was my favorite production I've ever seen at Chicago Shakes. I've seen many seasons of Chicago Shakespeare Theater productions.  I have my favorites.  This THE TEMPEST was my absolute favorite of my favorites. It brought Shakespeare's poetic prose to life with magic, music and contortionists. It spoiled me for my next Shakespearean performance and definitely for any future production of THE TEMPEST. 
THE DROWNING GIRLS at Signal Ensemble Theatre: This was theatrical collaboration at its finest. The actors, writers, director, designers created an imaginative and evocative memory.  Special nod out to the three actors who performed soaking wet.
RIDE THE CYCLONE at Chicago Shakespeare Theater:  What surprised me most about this show wasn't the twists on this perverse story of six choir kids being killed on a carnival ride. It was the depth and breadth of the human experience of this high-spirited adventure. This wacky contemplation about living a full life is shockingly charming, profound and uplifting.  And totally original!
THE HERD at Steppenwolf Theatre:  The show has a beauty in its darkness like looking at something that is black and realizing it's a deep, rich purple. I loved Kinnear's loud, colorful and tumultuous play.  And I found myself transfixed from the initial disturbing phone call to the final haunting phone call. 
SOON I WILL BE INVINCIBLE at Lifeline Theatre:  The show has 'commercial appeal.'  I can easily see this innovative musical mounted on Broadway and becoming a family tourism destination.  It has super heroes battling a super villain while struggling with their super identities.  There's comedy, drama, and singing. It's "The Incredibles" meets "X-Men" with a "Wicked"-esque soundtrack. 
THE HAMMER TRINITY by House Theatre of Chicago:  The three play marathon had engaging stories, individually and collectively.  Then, there was an underlying philosophical life nugget that we are all in charge of our own story.  It doesn't matter who we are told we are or the life someone tries to force on us, we need to live our own story.  I loved that overarching message.  And I loved this play, all nine hours of it.  Story Save Us All!
SONDHEIM ON SONDHEIM by Porchlight Music Theatre:  In this intimate musical documentary, Sondheim himself narrated us through his 50 year career.  Snippets of filmed interviews were projected in-between live performances of his works.  He shared a startling story about his mother that leads into his "Children will listen" piece from Into the Woods.  This show was a rare opportunity to see the song in the makings from inspiration to production.
THE HOPEY CHANGEY THING and SORRY at Timeline Theatre:  The honesty of the messiness of life and relationships made me love these Apples.  And after experiencing HOPEY and SORRY, I was ready for more Apples!  I want Timeline to take on all 4 Richard Nelson plays and have an Apple marathon with Louis Contey directing this splendid crew of actors who very much resemble a tight, loving, imperfect family!
ACCIDENTALLY, LIKE A MARTYR at A Red Orchid Theatre:  In A Red Orchid's intimate theatre space, Set Designer John Holt impressively constructed a fully-functional bar.  The long-curvy bar filled the stage and blurred the lines between reality and fiction. The twinkly Christmas lights, the stacks of longneck cases, the juke box; all the details made the experience that much more familiar. Are we in a bar? Or are we in a theatre? The illusion continued throughout the show.  Is this art imitating life?  Or life imitating art?  It felt real to me.
MIRACLE by Hell in a Handbag Productions:  Playwright Dan Savage penned a drag parody of "The Miracle Worker."  If Savage's premise sounds irreverent, tacky and completely politically incorrect, it's because it was. I never thought I'd  laugh at a blind and deaf person but I did LMAO.  The laughs came easy and often in this dirty, dark MIRACLE.  Under the skillful direction of Derek Van Barham, the Handbag ensemble showcased why they are the masters of camp.
And nods out to my two favorite touring shows…
BEAUTIFUL THE CAROLE KING MUSICAL by Broadway in Chicago:  I loved BEAUTIFUL The Carole King Musical. It's an inspirational tale of reinvention. AND it's still playing.  But be warned since seeing the show, I can't stop singing to Carole King's "Tapestry" album on YouTube.  (I'm certain my neighbors don't think my singing is beautiful.) Still, Mueller and the entire cast do sing BEAUTIFUL.  Buy a ticket before "It's too late, baby now it's too late. Though we really did try to make it."     
KURIOS CABINET OF CURIOSITIES by Cirque du Soleil:  In between the circus acts, there were bits of pure vaudeville often led by Facundo Gimenez.  Although Gimenez and the others were very talented, these shticks served more as a respite from this adrenaline-charged, wild ride. Michel Laprise, thank you!  I absolutely LOVED this show.  In a word, it was AMAZING!