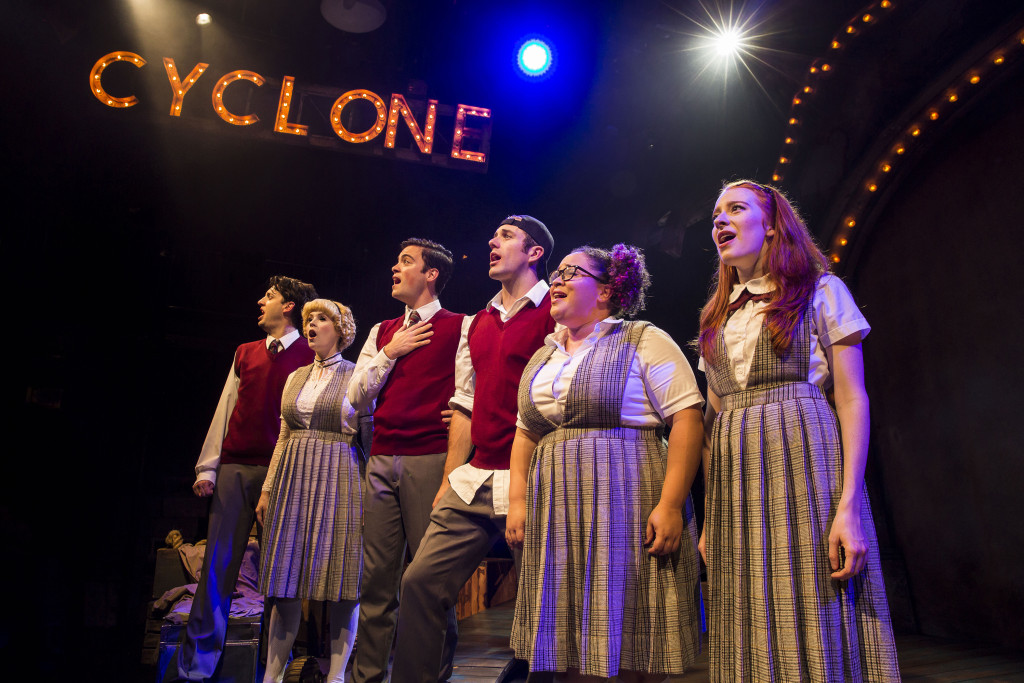 Chicago Shakespeare Theater presents the U.S. premiere of RIDE THE CYCLONE.
Canadian creative team Jacob Richmond and Brooke Maxwell have reconstructed their roller coaster in Chicago.  The musical originated as a song cycle of the theatre company Atomic Vaudeville.  The show garnered a cult following within the Canadian border.  At Chicago Shakes, Richmond and Maxwell continue to craft their musical with the support of Creative Producer Rick Boynton and Director and Choreographer Rachel Rockwell.  What surprised me most about this show wasn't the twists on this perverse story of six choir kids being killed on a carnival ride. It was the depth and breadth of the human experience of this high-spirited adventure. This wacky contemplation about living a full life is shockingly charming, profound and uplifting.  And totally original!
Karl Hamilton (The Amazing Karnak) is part Master of Ceremonies of the show, part game show host of the afterlife.  From his fortune telling kiosk, Hamilton mechanically predicts one of the kids gets to come back to life.  The distorted wrinkle is the chosen one must be unanimously selected by the group.  The over-achiever Tiffany Tatreau (Ocean) is quick to build her case with the witty diddie What the World needs is People Like Me.  Unfortunately, Tatreau loses the popular vote as she hilariously describes each of her classmates' life contributions with nonchalant brutality.
Except for Tatreau's character that stays pretty true to the mean-girl-brainy-stereotype, each of the other kids gets a show-stopping solo that beautifully showcases a deeper identity. And unlike some musicals where all the songs sound very similar, Richmond and Maxwell give their characters each a unique musical genre with personal lyrics to die for (yeah, I couldn't resist).  Noel's Lament has a French cabaret vibe for Kholby Wardell (Noel).  Wardell, who according to the program has played Noel in every Canadian production, is sultry perfection.  Until his solo, Wardell sulks in the background with biting sidebars.  During his number, he is a one-man-tour-de-force.  The sweet and sassy transformation engages unexpectedly.  His classmates and the audience start to root for him to become undead.
And that's where the heart-tugging comes from.  Each of these kids gets to pitch a life interrupted.  We get to see each life from an honest and touching perspective.  Bad boy Russell Mernagh (Mischa) raps about his long distance love. Mernagh is surprisingly tender and romantic as images of his bride-to-be are projected.  In each of the boys' reflections, there is a layer of fantasy that is slightly challenged by the others but overall supported as a whimsical memory. This is particularly true with Jackson Evans (Ricky).  Evans plays the choir member with disabilities.  Not only is Ricky physically limited, he can't speak or sing for that matter.  His life has been an elaborate sci-fi tale that he imagined up in his head.  In an over the top space jumpsuit –think David Bowie circa 70s- by Costumer Designer Theresa Ham, Evans sings and dances about his interplanetary sex appeal. It's hilarious!
The most disturbing character is Emily Rohm (Jane Doe).  Rohm plays a choir member that is decapitated in the accident.  She doesn't know who she is.  And the others don't remember who she is either.  She freaks the others out by robotically moving around with her blank expression.  She doesn't understand what she is missing or has missed. Richmond and Maxwell give her The Ballad of Jane Doe to hauntingly describe her questionable existence.  To balance out Rohm's hollowness is the very vivacious Lillian Castillo (Constance).  Castillo reflects on how she tried to fight her label of "nicest girl in homeroom."  Castillo, in full-on moxie, belts out these-are-my-favorite-things with cotton candy goodness in Sugarcloud.  With each song, we care more deeply about each of the terrific ensemble.  We are connected to this 6 person life derailment in a very personal way.
This CYCLONE ride is entertaining on multiple levels. The look is authentic. Scenic Designer Scott Davis creates a vintage carnival framework.  On either side of the stage, the Cyclone's tracks stop hinting at the mishap, especially the halted track suspended above the fortune teller kiosk. The placement is eerie. On Davis' muted midway, the singing and dancing is a lively spectacle. Not only are the songs wonderful, the singing is top-notch under the musical direction of Doug Peck. And Director and Choreographer Rachel Rockwell keeps the dancing and merriment playfully moving with seamless transitions. There are no speed bumps on this thrill ride! Although promotional materials boast the descriptor, "Glee meets Survivor", I would not use the same comparison.   I never liked either of those shows but I absolutely loved RIDE THE CYCLONE.
Running Time: One hundred minutes with no intermission
At Chicago Shakespeare Theater on Navy Pier, 800 E. Grand
Book, music and lyrics by Jacob Richmond and Brooke Maxwell
Directed and choreographed by Rachel Rockwell
Music direction by Doug Peck
Tuesdays, Wednesdays, Thursday, Fridays at 7:30pm
Saturdays at 3pm and 8pm
Sundays at 2pm
EXTENDED Thru November 15th
Tickets at www.chicagoshakes.com
Production photos by Liz Lauren
For more reviews and information on Chicago theatre, visit Theatre in Chicago.