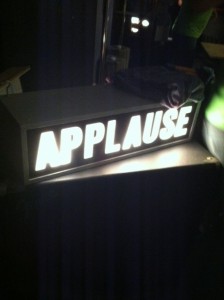 Out of the 151 plays I saw and reviewed in 2014, these are my Top Ten for their unforgettable quality.
GRIFFIN THEATRE:  Titanic was a ship to love.  The emotional connection between the characters and the audience was powerful.  I found it memorable for its passionate and hopeful portrayal of the tragedy.
THE SECOND CITY & HUBBARD STREET DANCE:   The Art of Falling was pure genius.  It melded two very different Chicago icons into a one-of-a-kind theatrical twofer. It was brilliant.
ORACLE THEATRE: The Jungle was a riveting theatric spectacle.  Every time I see a Chicago flag, I remember this show and the bloody revolution this town was built on.   
HAVEN THEATRE: Hot Georgia Sunday was masterful storytelling told from six characters' perspectives.  This unique series of narratives showcased amazing writing, directing, and acting.
LOOKINGGLASS THEATRE: In The Garden is my idea of the perfect love story.  Charles and Emma Darwin find love between their scientific and religious differences.  I struggled with the first act but fell hard in love with the play in the second act.      
A RED ORCHID:  Mud Blue Sky was a smart comedy with powerful storytelling.  I also loved the strong female characters played by Red O's unstoppable trio of Kristen Fitzgerald, Mierka Girten and Natalie West.    
GOODMAN THEATRE:  Luna Gale is another trifecta of writing, directing and acting.  Plus, it's an authentic portrait of the child welfare system which is an important reality for the general public to understand. 
WRITERS THEATRE: Kate Fry owned Hedda Gabler!  Her sublime performance has ruined me for any future production of HEDDA.  Fry was perfection! 
THE-HYPOCRITES: All Our Tragic and Into The Woods Although TRAGIC is the darling for most people in 2014, the unforgettable quality for me is just the 12 hour length.  It's like eating an entire pizza.  You don't necessarily remember the tasty bites.  You just remember that you ate the whole thing.  I do truly admire the cast and crew's marathon commitment to telling that tale but I found WOODS a much more unforgettable Hypocrites' production.  Taking the well-known musical and setting it on a playground and telling it from kids' perspective was so damn clever!      
AMERICAN THEATRE COMPANY:  The Humans sneaks in just under the 2014 wire.  The family dysfunction is hysterically and disconcertingly authentic.