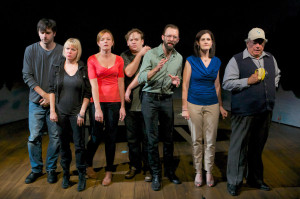 Sideshow Theatre presents the Midwest premiere of STUPID FUCKING BIRD.  
In the program the phrase 'sort of' appears before the adaptation credit. Playwright Aaron Posner uses the basic framework from Anton Chekhov's "The Seagull."  Although Posner sets it in contemporary times, his characters have the same Chekhov conflicts.  Dev loves Mash who loves Con who loves Nina.  Nina crushes on Trig who is the famous writer boyfriend of Con's actress mother.  Con is a budding writer and is jealous of Trig on multiple levels. The essences of the classic play are here.  
Posner takes two broad steps back from the masterpiece to look at it from a different angle.  "The Seagull" was already a play within a play.  In Posner's creation, BIRD is a play within a play within a play.  Posner blurs the line between fact and fiction as the actors verbalize their struggle with their characters' roles.  Regularly, characters break the fourth wall and address the audience directly. In some ways, this gives insight into the mysterious backstory of a character. Norm Woodel (Sorn) is particularly engaging in his late night kitchen confession.  A reserved Woodel reflects on a lonely and mostly dismissed life.  It's a powerful monologue.  
At other times, the break from traditional play constructs is clunky and annoying.  Matt Fletcher (Dev) and Nate Whelden (Con) ask the audience to help Whelden decide what to do about his love obsession.  In my performance, the improvisational moment was awkward.  The audience participation felt forced and pointless.  Someone shouted out 'shoot a bird.'  I don't know if that was planned or not.  Either way, Fletcher responded with 'weird.'  I quite agree.  
Whelden has several scripted yet supposedly 'unscripted' rants.  His passionate theatrical implosions start out thought-provoking. He, as the playwright, wants better theatre.  He wants the audience to feel something. By the final act, I'm feeling exasperated.  I can't separate Whelden's screaming about his playwright frustrations, his broken heart or his Chekhov's character's fate. I'm not so much connected to resolving any of his issues as I'm just ready for the yelling to stop.  I feel like I, as an audience member, am being scolded for not allowing drama to unfold in unusual ways.     
I, in fact, love theatrical innovation.  Director Jonathan Green opens and closes the play with unforgettable panache.  Before the show even starts, the actors are visible in the wings.  Their pre-mingling reinforces the play within the play within the play vibe.  Under Green's facilitation, Posner's exploration of acting out roles in life verses on stage is illustrated.   Love and lust are both scrutinized in comical and steamy ways.  Infrequently, Katy Carolina Collins (Mash) pops up to play the ukulele and sing about unrequited affection.  Later, Collins, Fletcher, Whelden and Nina O'Keefe (Nina) are simultaneously pontificating about the downside to loving the wrong person.  Meanwhile in the background, Cody Proctor (Trig) and Stacy Stoltz (Emma) are expressing the upside of making it with the wrong person.  The verbal and physical tirades climax perfectly.  It's my favorite scene in the show.    
STUPID FUCKING BIRD had a lot to say about love and life on and off the stage.  I'm just not sure it all needed to be verbalized at length and with the audience's involvement.  Full disclosure:  I did see the final preview.  And that audience was mixed.  We had the person laughing so hard, s/he snorted.  And then the rest of us stunned in silence to be asked to shout out suggestions how a Chekhov character should handle his love life. I love "The Seagull." I sort of liked parts of STUPID FUCKING BIRD.  I'm not shooting down the BIRD but I do think it needs its wings clipped. 
Running Time:  Two hours includes an intermission
Location: Victory Gardens Richard Christiansen Theater, 2433 N. Lincoln Ave. 
Written by Aaron Posner
'Sort of' adapted from Anton Chekhov's The Seagull
Directed by Jonathan L. Green 
Thursday, Fridays and Saturdays at 7:30 pm
Sundays at 3 pm
Thru September 21st  
Tickets are available at www.victorygardens.org, by calling (773) 871-3000 or in person at the Victory Gardens Box Office.
Photo by Jonathan Green.
For more information and reviews on Chicago theatre, visit Theatre in Chicago.