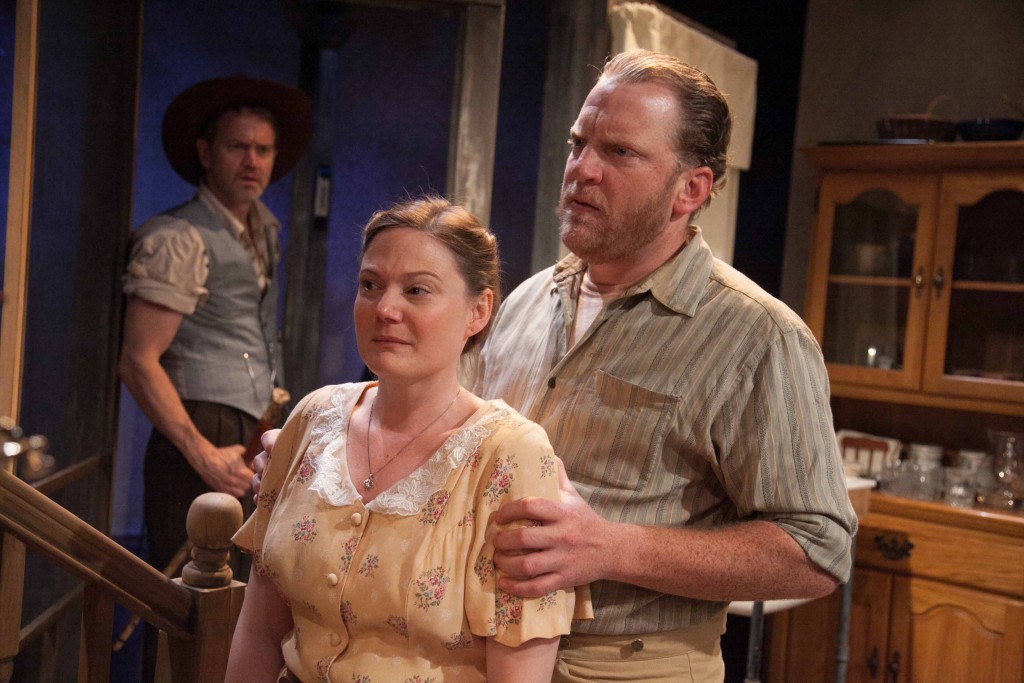 American Blues Theater presents THE RAINMAKER.
It's been awhile since I smiled through an entire play.  I did last night.  I couldn't help myself.  Playwright N. Richard Nash penned an uplifting story of love and family.  And under Edward Blatchford's masterful direction, the superb ensemble engage us with their authentic humanity.  We see each person's longing for something special to happen under even the most crusty exteriors.   
The show has heart and humor.  In this rural small town, people are lovingly in each other's business.  At the Curry home, pops and the brothers are worried that Lizzy (played by the noteworthy Linsey Page Morton) won't find a husband.  Downtown, the Sheriff (played by the outstanding Robert Breuler) is trying to coax his deputy in to getting a dog.  Suddenly, a stranger arrives in town with big promises to change everything.  He insists he will end the drought and bring the rain.
The set-up sounds like an episode from the Andy Griffin television show.  Yet, there is so much more going on here.  Blatchford facilitates distinct performances from his cast.  Each actor is real in the part. It doesn't feel so much like we are watching a show but more like we are experiencing these lives in actual time.  And we are rooting for the happily-ever-after for everyone. There is plenty of wholesome simplicity.  And the sipping-lemonade-on-the-porch charm is spiked with zingers. This is particularly apparent  at the sheriff's office where the scene-stealing Breuler drawls out his witticisms into a fading mutter.  I can't imagine how the sullen Howie Johnson (File) keeps a straight face. 
And over at the Curry home, this family is real. The dynamic between Danny Goldring (Pops), Vincent Teninty (Noah), Matt Pratt (Jimmy) and Morton is solid.  The loud blowhard Teninty tries to manage his siblings' lives.  He continually puts down the adorable Pratt.  And he brutally critiques Morton.  Goldring stabilizes Teninty's bluntness with his sage sincerity.  He lovingly defends Pratt and Morton and gently reprimands Teninty.  Although an understated Goldring plays father-knows-best like comfortable, worn slippers, Teninty is still the driving force of sensibility for the family.    
When Steve Key (Starbuck) arrives, he throws the Curry family off their routine.  He encourages Pratt's whimsical nature. Key gives Pratt permission to beat his own drum. And the earnest Pratt comes-of-age with sweet hilarity.  The dreamy-eyed Key talks about the fantastical in kid-like terms instead of hard selling a con. Key sees life through rose-colored glasses.  His and Morton's interactions are the soul of the show.  Morton shows a range of emotion between dealing with her kin, awkwardly flirting with the no-nonsense Johnson and heartbreakingly telling pops how she sees herself.  And when Key casts a spell over Morton, we see her light up the stage.  She transforms… magically.   
This one here is the real mccoy!  For the dreamers and the skeptics, THE RAINMAKER provides a refreshing little diddie.  THE RAINMAKER pulled me into his miracle-making scam.  And I became a believer.
Running Time: Two hours and twenty minutes includes an intermission
At Greenhouse Theatre, 2257 N. Lincoln
Written by N. Richard Nash
Directed by Edward Blatchford
Thursdays, Fridays, Saturdays at 7:30pm
Sundays at 2:30pm
Thru September 27th 
Buy Tickets at www.americanbluestheater.com
Production photo by Johnny Knight
For more reviews and information on Chicago theatre, visit Theatre in Chicago.