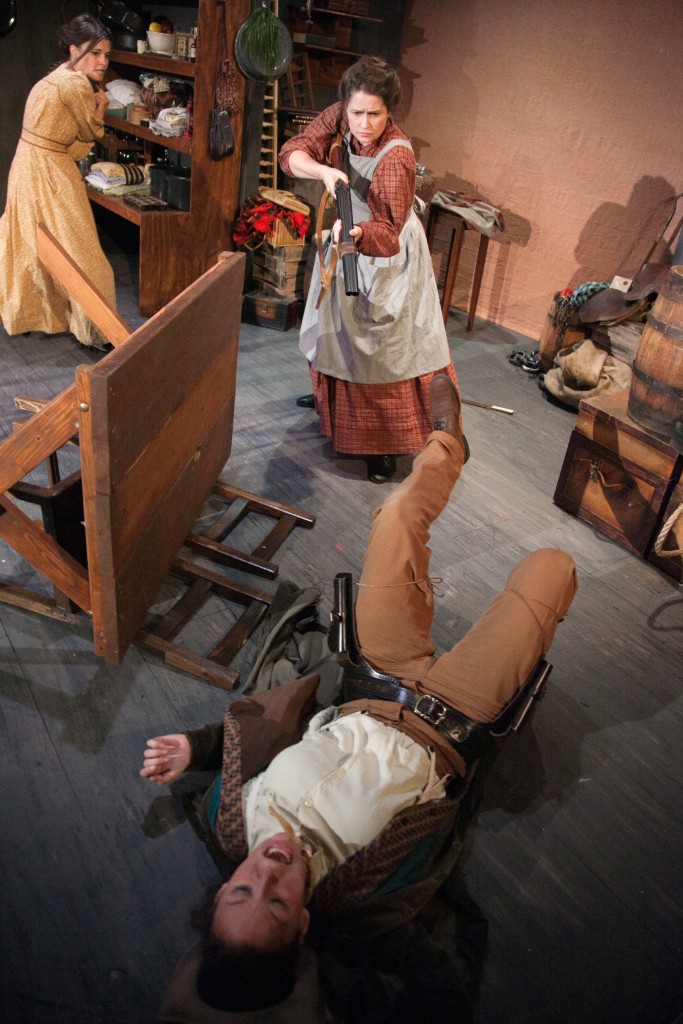 Babes with BladesTheatre Company presents the World Premiere of PATCHWORK DRIFTER.
Playwright Jennifer L. Mickelson takes a look at how the west was won from a woman's perspective.  Mickelson uses her five-female-character-driven play to illustrate the challenges of the wild Wyoming frontier.  A shopkeeper (played by Delia Ford) is raising her daughters (played by Eliza Rose Fichter and Zoe Shiman) to be ladies. A strict Ford wants to marry her girls to prospective gentlemen of means.  Shiman, the younger daughter, is content to be molded into her ma's dreams.  Fichter, on the other hand, has found love with a laborer.  And mom and daughter disagree on what defines Mr. Right.
On top of the timeless mother-daughter angst, Mickelson layers in two strangers (played by Meredith Rae Lyons and Elyse Dawson).  Both knock on the door unexpectedly with mysterious pasts.  Whereas Lyons arrives with a gentle strength, Dawson barges in demanding respect.  Secrets unravel in a past meets present tug-a-war.  Literally!
Because its a Babes with Blades show, it expectedly gets rough.  At one point, a gun fight breaks out in Ford's kitchen.  Nicci Schumacher has built this impressive homestead  kitchen at an angle.  So, Ford shooting at Dawson is a little disconcerting from my vantage point.  The gun is often pointing right at me.  JK Choreography orchestrates the brawl into physical combat with pistol whipping and knife wielding.  Later, as Fichter pulls out buckshots from wounds, I get a little squeamish from the sights and sounds.
Director Leigh Barrett paces this homespun tale with loving toughness.  The ladies balance true grit and kindness.  The sharp-talking Ford offers the displaced Lyons shelter and a job.  The closed-off Lyons entertains the gullible Shiman with an animated tale. This house feels like a home.   Even after being physically reprimanded by Ford, Fichter is quick to defend her ma.  These ladies act like a family. When a vengeful Dawson disrupts their lives, they rally together.  I'm even ready to jump in and defend the sanctuary that Ford built too. Under Barrett's facilitation, we care about these tough pioneer gals.  And we are invested in what happens next.
PATCHWORK DRIFTER is a tribute to the gutsy women who tamed the west, one man at a time.  If Louis L'Amour and Laura Ingalls Wilder had a love child, it'd be a PATCHWORK DRIFTER.  I enjoyed this tightly packaged visit to the old west.  Babes with Blades make perfect pioneers with guns.  And I left smiling because Mickelson even gives us a satisfying epilogue .     
Running Time: Eighty-five minutes with no intermission
At City Lit Theatre, 1020 W. Bryn Mawr
Written by Jennifer L. Mickelson
Directed by Leigh Barrett
Thursdays, Fridays, Saturdays at 8pm
Sundays at 3pm
Thru September 19th 
Buy Tickets at www.babeswithblades.com
Photo by Johnny Knight
For more reviews and information on Chicago theatre, visit Theatre in Chicago.