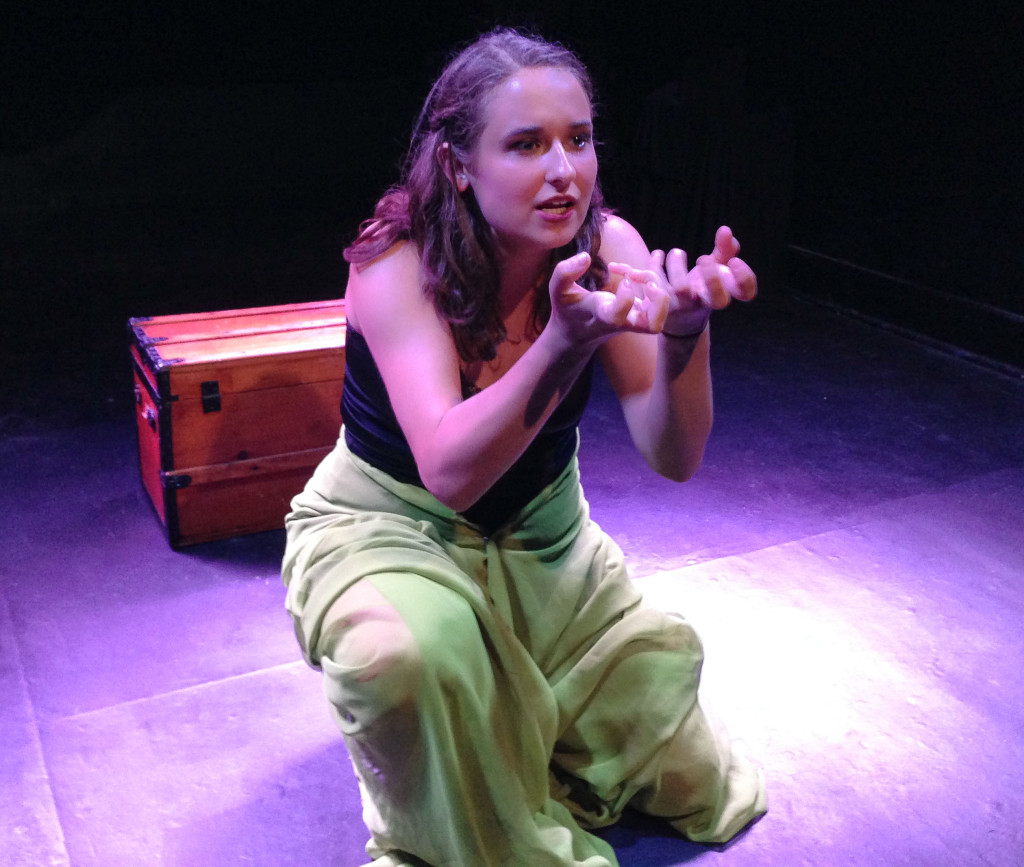 The Other Theater Company presents the world premiere of  DAUGHTERS OF IRE.
This is not your da's yarn about the wee people that built the great country of Ireland.  It's not the celtic stories romanticized by Yeats and other Irish writers over history either.  Instead, writer and performer Savanna Rae researched four women of ancient Ireland; Maeve, Scathach, Uathach and Deirdre.  And in her ambitious one woman show, Rae reimagines the vivid and often brutal herstory of these remarkable women.
Rae silently unpacks a small chest in the middle of a stark stage.  She is dressed in all black.  Throughout the show, she puts on a green silk, a plaid sash, a floral crown and becomes a different person.  Rae impressively switches from the free spirited lilt of an Irish queen to the tough-talking Scottish brogue of a warrior.  Under the skillful direction of Carin Silkaitis, the transition from character to character is seamless.  At one point, Rae plays a fierce Scottish mother slips into the 'valley girl' style daughter and then abruptly shifts back to the mother chasing the daughter.  Because Rae is an amazing seanachai (Irish for storyteller), we almost see both women in the room.  We certainly feel their passionate presence along with the other ancient women. 
A tireless Rae pulls the audience into this animated Irish herstory lesson.  She is engaging as she tells tales by interacting with the unseen past.  The show starts out lusty and wild as Maeve gets it on with Fergus.  Rae illustrates the wild and impulsive nature of this Queen who escaped her husband and then fought him on the battlefield.  Rae is riveting as she describes the situation from a seanachai perspective and then goes into first person.  She transforms into Maeve and tells a bloodcurdling story of how she savagely gained the respect of her soldiers. Seeing the twinkle in her eye as Rae describes stepping on an eyeball is disconcerting.           
Rae goes pretty dark in her retelling of the DAUGHTERS OF IRE.  Initially, she charms in her vivid description of the lives and loves of these women.  Rae actually pokes fun of how history glossed over of the mistreatment of women.  And we laugh at the lunacy of the past.  Rae gradually escalates the telling of the abusive tales.  The laughter ends. The discomfort is palpable.  By the time, she is playing Deirdre the show has gone from playful to hostile.  Although Rae regularly mentions not defining these women or any women as victims of violence, the last part of the show hits so heavily on rape that is all I can think of as I depart.    
I am Irish.  I do love all things Irish.  So, does my da and my bestie Bill.  In the first twenty minutes of the show, I planned to bring them both.  They would delight in Rae's Irish shapeshifting.  By the end, I knew I couldn't bring them, wouldn't bring them, shouldn't bring them.  They are good and proud Irish men and this would make them ashamed of a past they are not responsible for.  As a woman, I know it's important to understand the horrific act of rape.  As an Irish woman, I want to understand my ancestral roots. And what heritage doesn't have pasts blood-soaked in sadistic acts against gender, religion, class, or ethnic background?  I guess I just want to hear my Irish herstory with a song and a jig.  And maybe that's why we Irish drink so much to live in blissful ignorance.   
Running Time: Seventy-five minutes with no intermission
At Side Project Theatre, 1439 W. Jarvis
Written and performed by Savanna Rae
Directed by Carin Silkaitis
Thursdays, Fridays, Saturdays at 8pm
Sundays at 3pm
Thru September 20th 
Buy Tickets at www.theothertheatrecompany.com
Production photo by Carin Silkaitis
For more reviews and information on Chicago theatre, visit Theatre in Chicago.