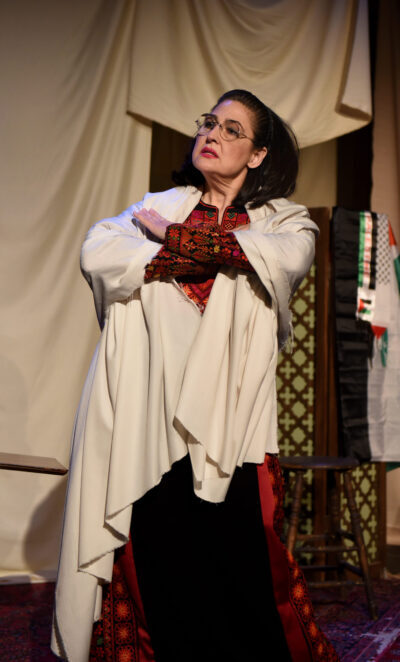 International Voices Project (IVP), in collaboration with Intercultural Music Production, presents the United States premiere of THE SHROUD MAKER.
IVP champions the work of global playwrights to get their stories onstage. It's particularly challenging for plays with Palestinian content to find theaters to showcase their work. The Israeli-Palestinian conflict perspective changes depending on the narrator and their political persuasion. With IVP's support, critically-acclaimed playwright Ahmed Masoud's story is finally making its USA debut. Masoud tells the story of a woman living on the Gaza Strip. Hajja (played by Roxane Assaf-Lynn), loosely based on a real-life character, is a seamstress surviving the warring factions by sewing shrouds for the dead.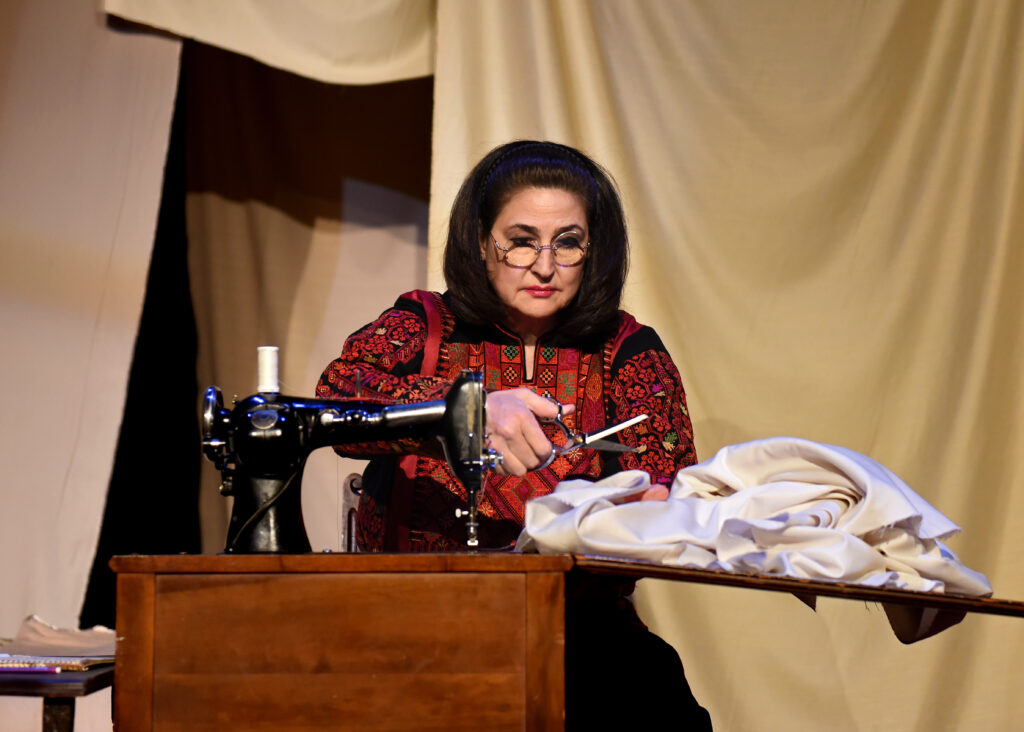 Masoud unravels Hajja's life as a dark comedy. The show starts out with Assaf-Lynn screaming expletives into a phone. She then turns her attention to the audience to share her life story. Under the even keel direction of Marina Johnson, Assaf-Lynn shares the day to day, year to year, decade to decade experience of survival on the front lines. She talks about her own childhood, her sewing livelihood and raising a son. The topics feel almost pedestrian. The extenuating circumstances are not. Although Hajja's life has been marred with abandonment, isolation, and killings, Assaf-Lynn relays these experiences with nonchalance. Her resignation to the horrible events in her life is heart-wrenching. And her fierce determination to adopt a positive and humorous outlook is inspirational.      
THE SHROUD MAKER is a Palestinian woman's personal account of growing up and growing old in a war zone. It's an intimate peek behind the shroud of political and military decisions to see the human life affected. THE SHROUD MAKER broadens and narrows the narrative to tell a woman's haunting story.  
Running Time: Seventy-five minutes with no intermission
At Chicago Dramatists, 798 N. Aberdeen
Written by Ahmed Masoud 
Directed by Marina Johnson 
Performances are:
Fridays, Saturdays at 7:30pm
Sundays at 3pm
Thru April 8th
For more information or tickets
For more Chicago theatre information and reviews, please visit Theatre in Chicago