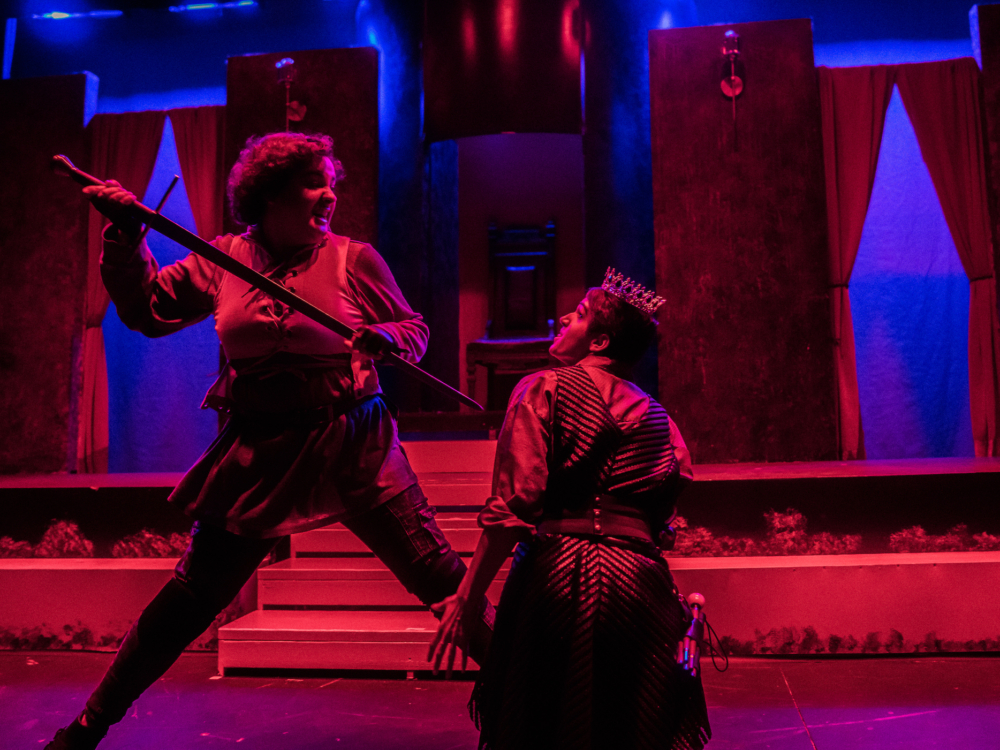 Babes with Blades Theatre Company, in partnership with the University of Illinois Chicago's Disability Cultural Center, presents RICHARD III. 
The Babes take on William Shakespeare's tale of one man's bloody and ruthless climb to the throne. In BWBTC fashion, the show starts and ends with the 13-member ensemble battling it out. Fight director Maureen Yasko impressively choreographs the Medieval skirmishes on a fairly shallow stage with the large cast. The fiery ensemble go to war wielding swords, shields and other Middle Ages weaponry. The Babes showcase their grit and their dueling talent in a captivating slaughter.
Violent clashes is the hallmark of a Babe's play. In another altercation, Madison Hill goads a hesitant Kayla Marie Klammer into murder. Hill and Klammer almost playfully debate their assassination work assignment. Hill wins the argument and the duo attack Jennifer Mickelson with disturbing apathy. These moments of brutal assault and skillful thrashing are the signature moves Babes' fans expect. And Yasko and her armed forces provide an array of these exciting encounters. They storm the stage, kill their enemies and then dissipate into the shadows. In the lead, Aszkara Gilchrist, a legally blind actor, navigates the physicality of combat with awe-inspiring composure.
These action-packed ambushes seem to conflict with Director Richard Costes' overall theatrical tone. Costes has chosen to end each scene with a blackout and drumbeating. Initially, it intrigues. Quickly, its impact diminishes. The scene transitions become awkward stops and starts. It adds length without substance. The first act seems particularly long. 
The cast of characters in RICHARD III is extensive. Many of the ensemble play multiple roles with Coste blurring the gender lines. The energetic troupe shifts from lords to ladies by tweaking hair or outfits. Pat Roache is a standout playing both a cigarette smoking guard and the shrill Queen Margaret. The open captioning overhead, present at every performance, helps identify the character speaking. Nod out to Mickelson for playing her many roles with such distinction I never needed to check the screen for confirmation. Cute puppets (designer Kat Pleviak) are also utilized to represent the ill-fated princes. It is Lauren Paige's (Queen Elizabeth) sweet maternal interactions with her children that make it even more upsetting when Klammer dumps their doll corpses out of a bag.     
There is plenty of RICHARD III to enjoy. Coste definitely puts his own spin on a classic.  One of my favorite touches is Tom Petty's song 'It's Good to be King.' It's a fun theme song for the bloody race to the crown… especially for a contemporary audience. Still, if elements are added to a show, other stuff must be removed to tighten the story…especially for a contemporary, masked audience.                           
Running Time: Two hours and thirty minutes includes an intermission
The Edge Theater, 5451 N. Broadway
Written by William Shakespeare
Directed by Richard Costes
Fight direction by Maureen Yasko
Thursdays, Fridays, Saturdays at 8 pm
Sundays at 3 pm
Thru October 15th
For more information or tickets
Photos by Joe Mazza/Brave Lux
For more Chicago theatre information and reviews, please visit Theatre in Chicago