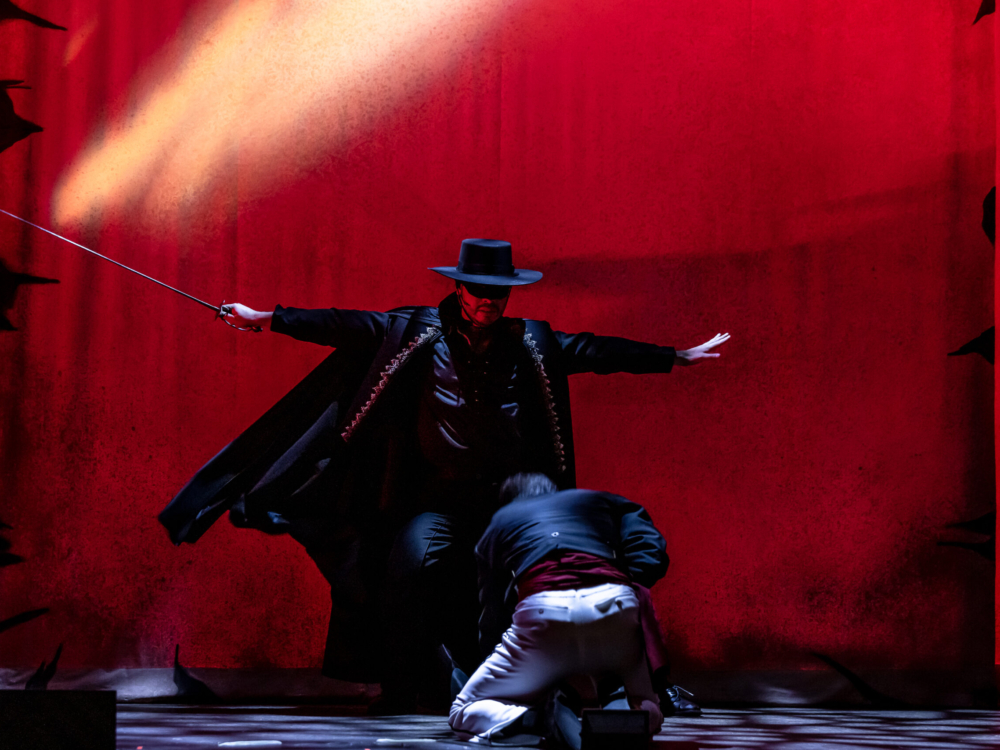 Music Theater Works presents ZORRO the Musical. 
An anonymous sword fighter defends a village from the persecution of tyranny. The legend of Zorro, a black masked super hero, is well known. The actual backstory is less familiar. Isabel Allende's pulp novel is the foundation for ZORRO the Musical. The creative team, Stephen Clark (book, lyrics), Helen Edmundson (book), Gipsy Kings (music) and John Cameron (music), spun Allende's story into a musical that premiered in 2008 in London. And now for a limited engagement, Music Theater Works brings Zorro to Skokie!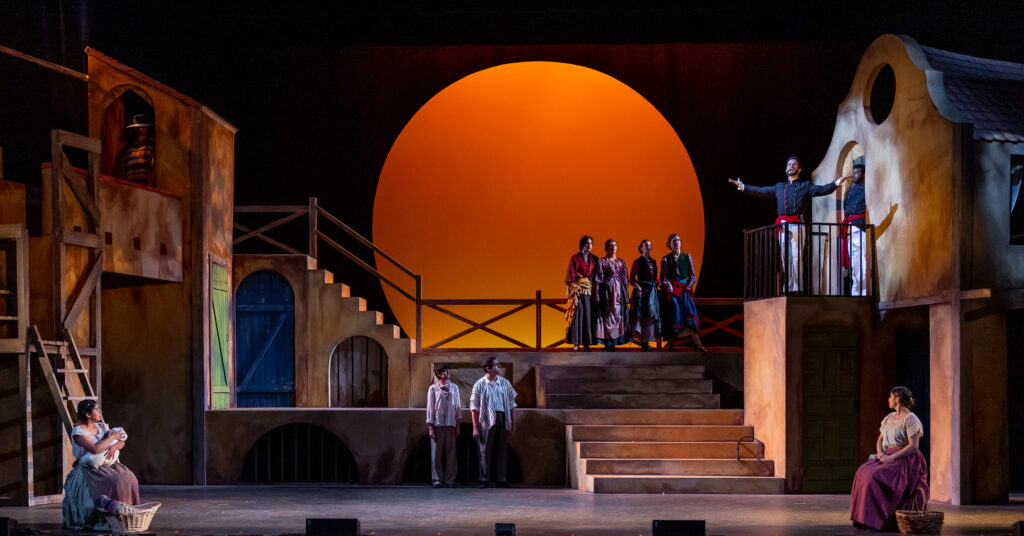 Director Adrian Abel Azevedo orchestrates the swashbuckling and castanet clicking tale of good over evil. At the onset, shadowy silhouettes and rhythmic hand-clapping usher in a mysterious and idyllic tone. Luis A. Galvez (Don Alejandro/Old Gypsy) appears onstage to establish the tale as a memory. His reflection cues up the action. Without the benefit of understanding the details of Zorro's origin story, the initial scenes may be too brief and confusing. The characters are quickly introduced, disbanded and reappear after a perplexing amount of time. Relationships and even parentage isn't quite clear as Cisco Lopez (Diego) is coaxed to return home by Laura Quinones (Luisa). Adding to the uncertainty, two actors are very similar in appearance with the same costumes and beards. Who is who? And only one actor has an accent. Why?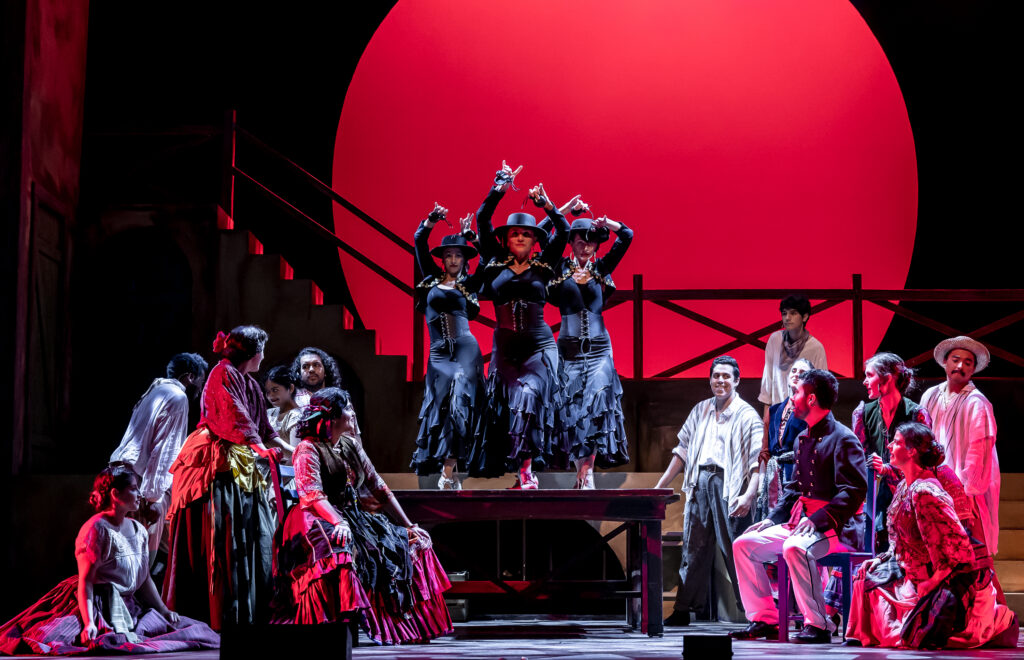 Despite the awkward beginning, this production engages in its spirited commitment to the musical adventure! The focal point is the dancing and singing. Choreographers Laura Savage and Luis Beltran Urena (Spanish dance), along with Conductor Juston Kono, team up for big energetic spectacles. Savage utilizes transfixing Urena's flamenco dancers (Lina Bulovaite, Karla Tennies Koziura, Jocelyn Leving), the talented ensemble and fun, colorful costumes (designed by Adriana Diaz). The orchestra produces a lively "Bamboleo" number to ignite vibrant and fiery dancing.  Hands, with deliberate and elegant wrist motion, seem to beckon the audience to join in the fiesta. The experience induces shoulder-shimmying, head-bopping and broad-smiling. Despite the gallows threat, these villagers want to play and flirt. In a passionate duet, Lopez and Quinones tango with an organic sensuality. Savage's and Urena's choreography is a primary reason to see this ZORRO.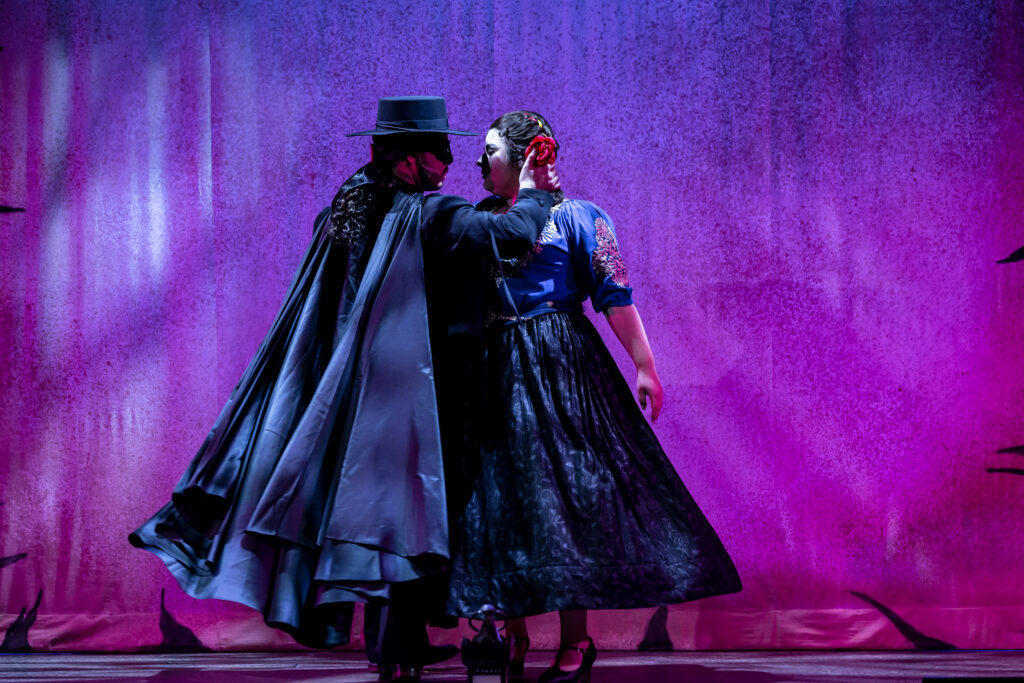 The singing is another motive for ticket purchase. Both Lopez and Quinones have showcase moments in their solos "Hope" and "The Man Behind the Mask", respectfully. These principals aren't the only ones with powerhouse pipes. The outstanding Alix Rhode (Inez) leads the singing and the rebellious merriment in several numbers. Her wonderful moxie captivates both the audience and the adorable J. Christian Hill (Garcia). And nod out to Nick Sandys' fight choreography. The dueling between Lopez and the ensemble has an Inigo Montoya impressive skill and fun chase aspect.
Even though the storytelling is a little bumpy, this ZORRO the Musical boasts an abundance of Zest with a capital Z!
Running Time: Two hours and twenty-five minutes includes an intermission 
North Shore Center for the Performing Arts in Skokie, 9501 Skokie Boulevard
Based on the novel by Isabel Allende
Music by Gipsy Kings and John Cameron
Lyrics by Stephen Clark
Book by Stephen Clark and Helen Edmundson
Directed by Adrian Abel Azevedo
Music directed and conducted by Juston Akira Kono
Choreography by Laura Savage
Wednesdays at 1pm
Fridays at 8 pm
Saturdays at 2 pm and 8 pm
Sundays: 2 pm
Thru August 21st
For more information or tickets
Photos by Brett Beiner
For more Chicago theatre information and reviews, please visit Theatre in Chicago