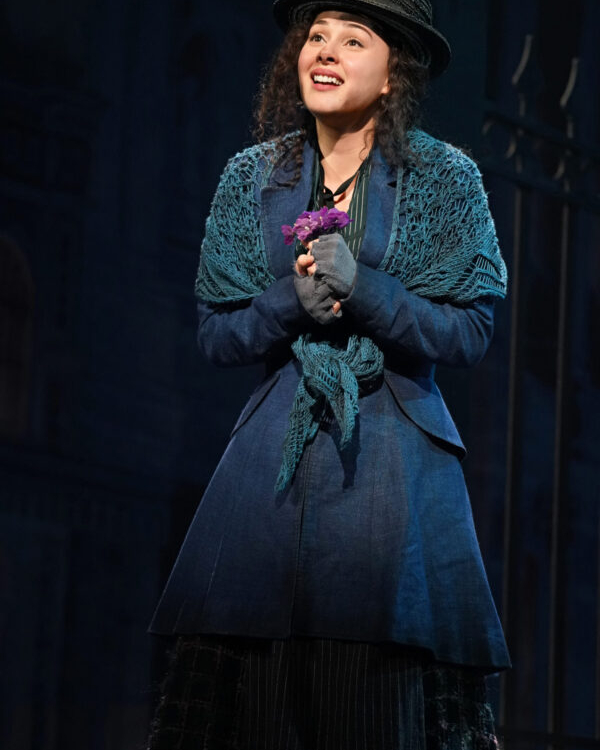 Broadway in Chicago presents Lincoln Center Theater's Lerner & Loewe's MY FAIR LADY.  
It. Is. Loverly! 
Fans and newbies will delight in this newest production of flower girl turned lady transformation. The story, based on George Bernard Shaw's 1913 play and Gabriel Pascal's motion picture "Pygmalion", romanticizes a rags-to-riches makeover rooted in learning proper diction. A linguistic expert takes on the challenge of teaching a young woman to articulate in an upper class fashion. In 1956, Alan Jay Lerner (books and lyrics) and Frederick Loewe (music) put the play to song for their stage musical and later the iconic 1964 movie. Their beloved score is a litany of unforgettable tunes capturing class struggle, gender inequity, unrequited love and bachelor party shenanigans. 
The heart and head of the show are the two leads, the passionate Shereen Ahmed (Eliza) and highbrow Laird Mackintosh (Henry Higgins). Ahmed captivates from her humble entrance selling violets to her stunning appearance at the ball to her steadfast poise in the finale. Her evolving elocution is comically spoken and beautiful sung. In one scene, she is delightfully stilted relaying her aunt's death. In other scenes, she is unapologetically true to her convictions. In "Show me", she fiercely pushes Freddie (the dashing Sam Simahk) to action. And when she sings "I could have danced all night", Ahmed charms the entire audience in wishing the same.
Mackintosh, on the other hand, is brutish, often obnoxious and completely hysterical. He spews his preposterous notions in "I'm an ordinary man" and "A hymn to him." Mackintosh crushes Lerner and Loewe's bros' anthems. He impressively matches  the cadence of his singing with his physical movements to punctuate the humor. He and his sidekick (the amicable Kevin Pariseau) are deliciously obtuse in the "You did it" romp. And nod out to the supporting performances of a dignified Leslie Alexander and shrewd Gaylon Scott.
Director Bartlett paces this perfectly. The action never stops or even pauses. He effectively utilizes Michael Yeargan's revolving house for Ahmed's multiple wardrobe changes. Ahmed strolls out a door and the house starts to spin. A complete  rotation features the servants singing from different rooms with Ahmed walking through another door in a different outfit.  Costume Designer Catherine Zuber dresses the entire ensemble in imaginative splendor. At the races, they don big hats and frilly frocks. At the ball, it's exquisite gowns accentuated with jewels. And during Martin Fisher's spirited rendition of "Get me to the church on time", Zuber contrasts her elegant evening wear with full-on bawdy stag party attire.
MY FAIR LADY is a fan favorite! And I'm a huge fan! This production is a sensory explosion of colors and sounds. And the good feelings are delivered by a talented cast and crew.  In these volatile times, the tried and true provides  solace and enjoyment. The familiar and amusing songs continue to monopolize my thoughts since the curtain call. I highly recommend MY FAIR LADY as a loverly summer escape!          
Running Time: Three hours includes an intermission
Cadillac Palace Theatre
Based on George Bernard Shaw's play and Gabriel Pascal's motion picture "Pygmalion"
Book and lyrics by Alan Jay Lerner 
Music by Frederick Loewe
Directed by Bartlett Sher
Choreography by Christopher Gattelli
Music supervision by Ted Sperling
Music arrangements and orchestrations by Robert Russell Bennett and Phil Lang
Music direction by John Bell
Tuesday through Friday at 7:30 p.m. 
Wednesday (7/6) matinee at 2:00 p.m. 
Saturdays at 2:00 p.m. & 8:00 p.m. 
Sundays at 2:00 p.m. 
Sunday (7/3) at 7:30 p.m. 
Thru July 10th
For more information or tickets
Production photos by Joan Marcus
For more Chicago theatre information and reviews, please visit Theatre in Chicago