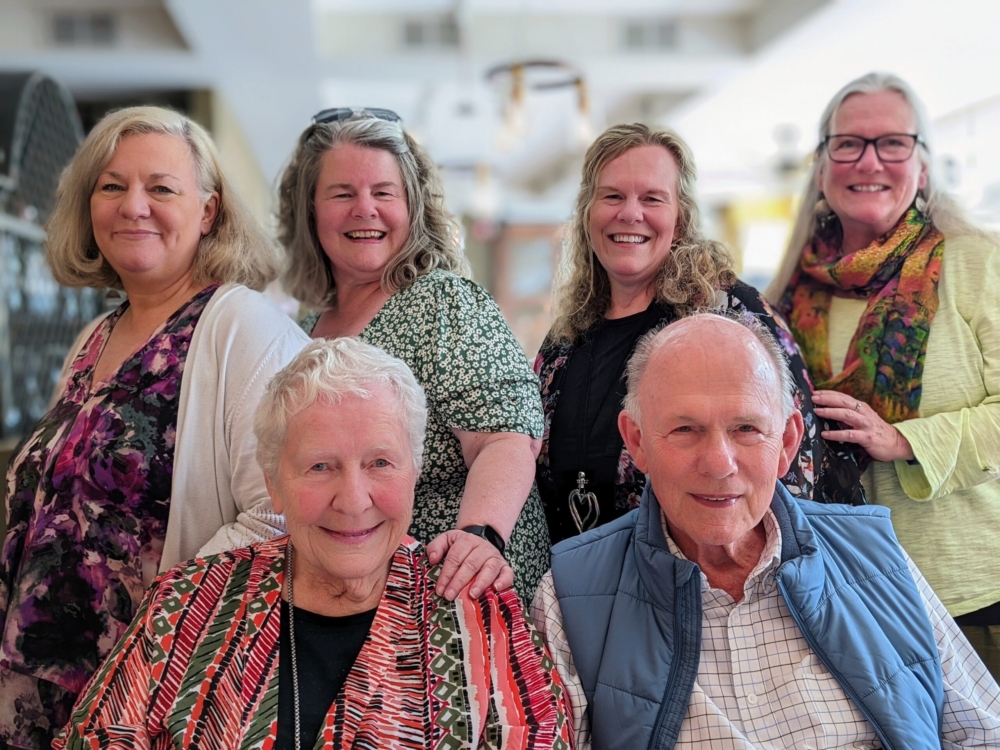 Finally, Spring is here! Although it's weird it arrived in late May, we'll take it! I'm thoroughly enjoying the breezy 70s weather. Despite the occasional 90 degree spikes and today being cloudy and 66, May blossomed! Flowers bloomed in colorful bounties. Trees budded and sprouted leaves. And now, the city is painted serenity green with boats in the harbor and Cub fans in Wrigley. Even though in years gone by, this would be the official opening of patio season. One of the changes the pandemic made is restaurant patios have become year-round in Chicago.    
Ah, yes, the plague is still here! COVID is the uninvited guest that refuses to leave. Our positivity rate is up and that's not counting home testing. My yoga studio has joined theatres in insisting people wear masks. My employer and our condo management are also strongly encouraging the return to mask wearing to stop the spread. And our healthcare conference added masks to the required safety protocols of being vaccinated and completing an onsite health screening.  
I've served on the conference planning team for a few years. In 2020 and 2021, the annual conference was a virtual event. During those two years, we successfully pushed off our hotel conference contract because of city pandemic restrictions and force majeure. Well, this year, the bill came due… literally. We were on the hook for $170K-ish whether we had a conference or not. The pandemic became THE obstacle in recruiting attendees, soliciting sponsors and ensuring safety. Our own team was even skittish about taking a huge step into the unknown and out of our home offices. Our overarching goal became to just open the in-person conference on May 24th. 
And we did it, yet not easily! On the Thursday before the conference, the entire planning committee went into the office to stuff tote bags. That Friday night, we all received an alert from HR that one of our own tested positive. We were encouraged to isolate, wear a mask, take a test immediately if we got symptoms or take the test on Wednesday the 25th (5 days after exposure). We ended up losing (not death just illness)a few of our conference leads to the C-word. The plague loomed palpably. I, myself, ended up canceling my weekend plans pre-conference, isolated in my home, took 2 tests before the conference, one during and one after… all negative. Once again, Coronavirus was the uninvited, unwanted and unavoidable guest that makes life unnecessarily dramatic. 
Still, the conference was a huge success. I had multiple people tell me it was our best conference ever. Although right after saying that, one guy turned back to me and admitted, 'it might be because we haven't been to one in three years.' I choose to embrace the compliment sans the qualifier.  
And I had a great month…         
This month, I really 'broke bread' with family, friends and community. On Mother's Day, I had brunch with the parents, 3 sisters, 1 brother-in-law and 7 nieces/nephews. At a Memorial Day barbecue, I ate with the parents, 2 sisters, 1 brother-in-law and 8 nieces/nephews. (I saw most of my immediate family sans 1 brother-in-law, a niece and a nephew.) I also had dinner with Bill (3), Bilger, and Bilger/Ellen. I hosted Karen/Natalie for a happy hour. I had brunch with Jen B-B and lunch with Collin/Dodger and the tote-stuffing conference team. I had an an array of meals with different combos consisting of parents/Jenny/Abby/Joey/Kylie/Palmer/Karlie/Elysse/Fred. And I also had multiple meals with 273 conference/staff retreat attendees. 
 At home, I completed one puzzle (during my isolation), hit 6276 level on Candy Crush, and took 1 yoga class-unmasked. Bill and I went on a couple long walks. I only worked out with Josh six times due to work, isolation and the conference. I did achieve my 10K steps on 25/31 days. I also got to babysit Greta and Jonah -twice! And I had my annual physical. The prognosis is I'm healthy and overweight… no surprise there!    
I saw and reviewed two plays: "Seagull" (Steppenwolf) with Josh and "The Chinese Lady" (Timeline) with Ellen. At home, I watched "Grace & Frankie"-season 7, David Spade Comedy Special, "The Adam Project", "Hacks" -season 2, "Marry Me", "In Search of Italy with Stanley Tucci" -season 2, "Senior Year", "Growing Red", and David Letterman's interview with Julia Louis-Dreyfus. 
This month was also a big learning month for me. I attended our conference and staff retreat. Our theme was #IRL2022, Inspire, Reimagine, Lead. Both amazing events featured several subject matter experts in consumer anthropology,  resilient leadership and healthcare innovation. I also took four LinkedIN courses for my own professional and personal development: Reinventing You with Debbie Millman, Leadership Mindset, Organizing Your Remote Office for Maximum Productivity and Creating a Positive Work Environment. I was able to take nuggets from each opportunity. I never want to lose sight of how important being a student for life is. 
Plus, I'm continuing to adhere to my new practice adoption based on James Cleary's Atomic Habits. My morning ritual is to first read for 30 minutes to an hour. In May, I read 4.25 books.   
I'm reading Louise Penny's Chief Inspector Armand Gamache series in order. It is a perfect read about real (fictional) people that deal with the complexities of being human. Penny is an extraordinary storyteller. She creates colorful and flawed characters that become friends. It's so engaging! I especially love reading the paperback books because I like to read Penny's acknowledgements. She chronicles her personal life and how it intertwines with her Three Pines life.  
The Nature of the Beast by Louise Penny. A child is killed for stumbling onto a secret in the woods. The entire village turns suspect and detective in this mystery involving a weapon, a playwright and a serial killer. (Penny's eleventh)
A Great Reckoning by Louise Penny. Gamache becomes Commander at the Surete du Quebec Academy for new police officers. When a professor dies, he wrangles up a band of misfit students to solve the mystery of the murder and a map. (Penny's twelfth )
Glass Houses By Louise Penny. This mystery has dueling timelines with a murder in November and the trial in July. Penny also heaps on a dark-hooded stalker, drug cartels and the villagers struggling with poorly baked baguettes. (Penny's thirteenth)

     
*Hello, Molly by Molly Shannon. I listened to SNL's Molly Shannon tell me about her life. Unlike Randy Rainbow's book that I listened to last month, Molly's personal tale is not a smart and funny reflection. It actually starts with the tragic loss of her mother and sister from a car accident. It happened when she was four. She was also in the car and her father was driving. Her childhood was painful with a loving yet erratic, alcoholic father. She channels all that struggle and heartache onto the stage. Molly also talks about the years of hard work to 'make it.' She doesn't candy-coat this reality check for pursuing a life as a performer. Although there are fun side stories about Eugene Levy, Will Farrell and other friends, the crux of the book is really a tribute to her father and his influence in her life and eventual success.
*Finding Me by Viola Davis. I just started listening to Davis tell her story. Molly's book was the perfect transition from Randy to Viola. The Academy Award-winning actress has a strong and unforgettable voice that she uses to reflect on her tragic childhood. It's riveting and horrific!! She shares terribly descriptive stories of poverty and domestic violence. 'We weren't just poor, we were 'po'!' She talks about times with no food, no electricity, no water, and no heat. Her poignant storytelling is hard to listen to. I marvel at her resilience and her success. I'm only a quarter away through it yet I already want her to receive any and all future awards for triumphing over adversity.  
At the conference, I jotted down this quote from a presenter:
Between stimulus and response, there is a space. In that space is our power to choose our response. In our response lies our growth and our freedom. -Viktor E. Frankl
I've been thinking a lot about that space. I'm working on providing myself and others with that space. The end of May was such a flurry and frenzy of activity. I'm looking forward to this low-key weekend so I can hold that space to listen to myself and others. I'm ready to see people and places. I plan to hone space to catch-up, slow-down and move-on! I'm stepping out into the unknown -with my mask on. I'm going to continue to live this plague life with caution for myself and respect for others in pursuit of happiness*.    
*POH (pursuit of happiness) has always been my mom's thing! 🙂 She is in this Mother's Day picture with her four daughters and husband who all adore her!!