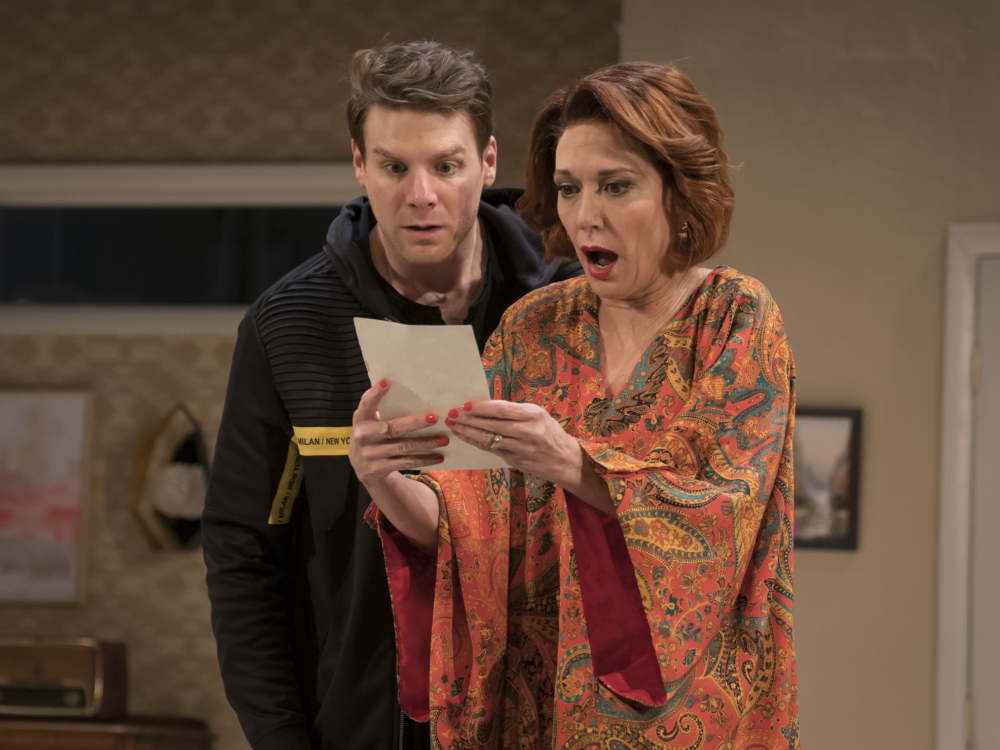 Lookingglass Theatre presents ACT(S) OF GOD.
Playwright Kareen Bandealy pens a dark comedy anchored in religious fervor. The play starts with a couple relocated to the desert in 2029. The wife (played by a noteworthy Shannon Cochran) sorts through mail. The husband (played by Rom Barkhordar) is trying to read his book. The noise from the radio and his temperamental wife distracts him. When their adult children arrive for a visit, a mysterious letter sends the family into an existential crisis. Everything they believe to be true is about to be tested by internal and external forces.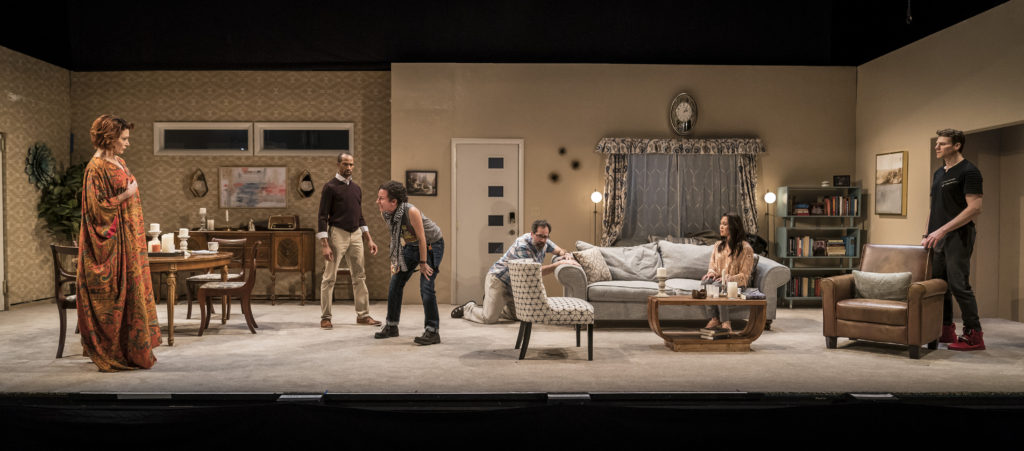 Bandealy's story is straight from the theatre of absurd. Cochran even hilariously utters that she'll probably wake to learn she has been in a play of absurdity. It's not a dream. She is. And so is the audience. Purists to the art form may enjoy Bandealy's repetitive storytelling of angels and mangos. I honest to God didn't.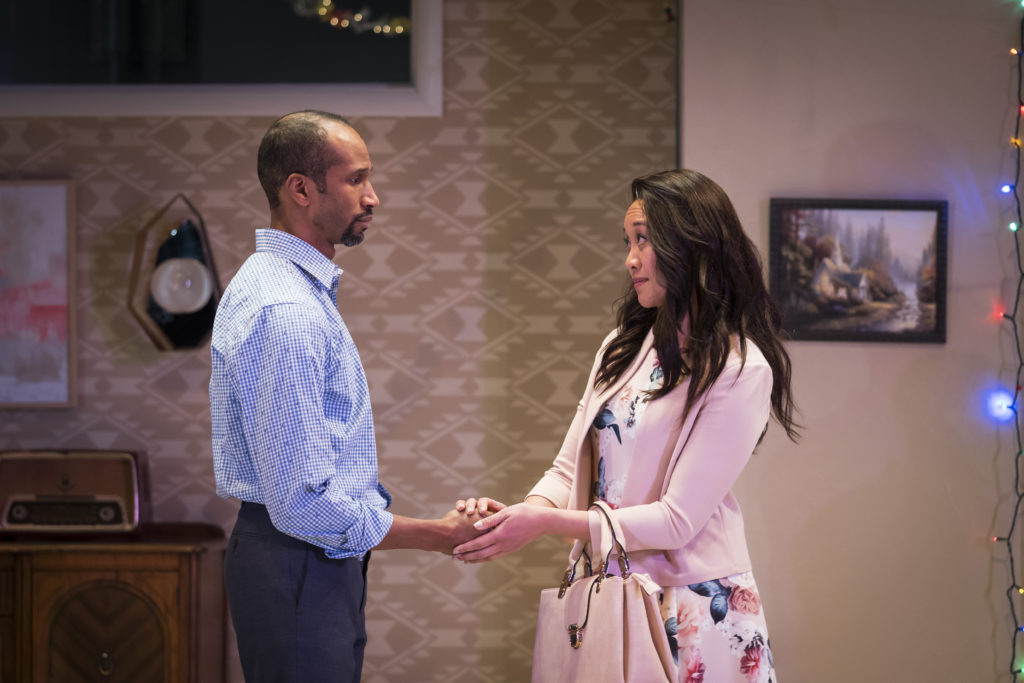 The characters' backstories and the family dysfunction made me curious. Cochran, in particular, entertained me with her caustic humor. Her munching on a breadstick during Emjoy Gavino's epiphany moment was hilarious. Her riotous lamenting in the last moments of the show steals focus. Yet, not even Cochran could tether me to the zealot debates on guess-who-came-to-dinner.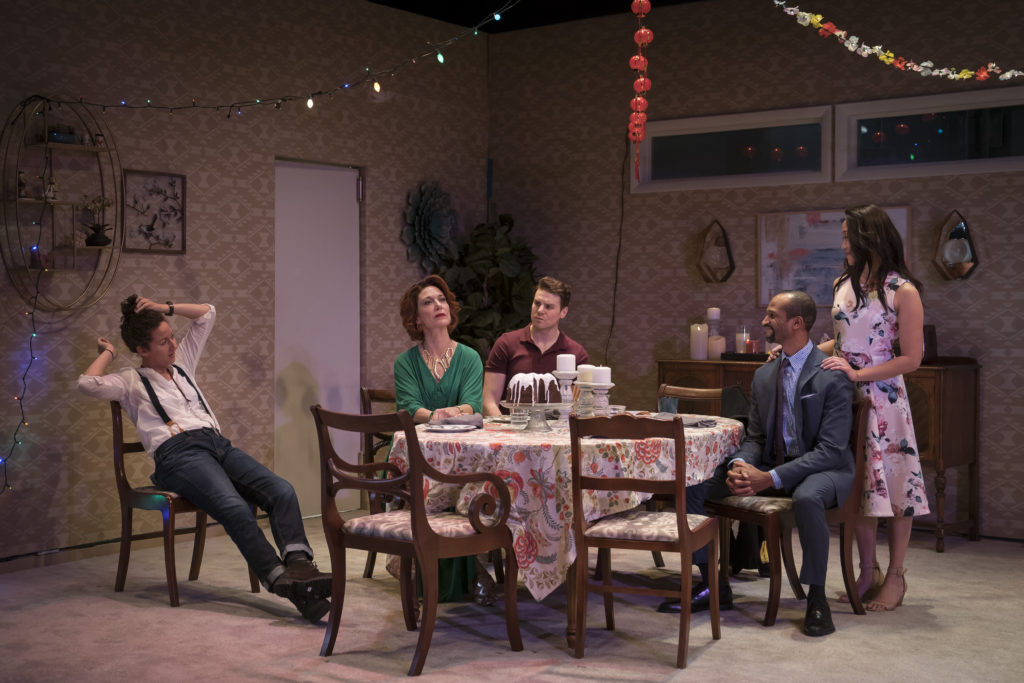 Although Director Heidi Stillman creates an unforgettable ending, her overall pacing is sluggish. She facilitates the three act show with two intermissions. The intermissions tack on about forty minutes to the show. Their primary function appears to be to put up lights for the dinner party and take them down. Since the dinner party isn't even shown, putting the lights up in the first intermission to take them down in the second seems completely superfluous.    
ACT(S) OF GOD is a dark comedy. It's a play of absurdity. The dialogue is laced with both church-speak and provocative expletives. Its definitely not for everyone!
Running Time: Two hours and thirty minutes includes two intermission
At Lookingglass Theatre, 821 N. Michigan
Written by Kareem Bandealy
Directed by Heidi Stillman
Tuesdays, Wednesdays, Thursdays, Fridays, Saturdays, Sundays at 7:30pm
Thursdays, Saturdays, Sundays at 2pm
Thru April 7th
Production photos by Liz Lauren
For more Chicago theatre information and reviews, please visit Theatre in Chicago