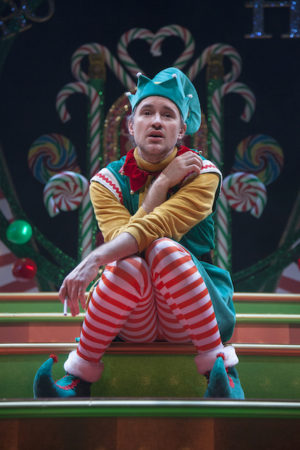 Goodman Theatre presents SANTALAND DIARIES.
I'm a huge fan of David Sedaris. He is an exceptional satirist. His storytelling is vivid and personal. He looks at ordinary things in an extraordinary manner. And he is hilarious! 
In SANTALAND DIARIES, Sedaris chronicles his work experience as an elf at Macy's. He takes us behind the scenes to the holiday craziness in a department store Santaland. His intimate elf confessions have been adapted for the stage by Joe Mantello.    
In this one man show, Matt Crowle (Crumpet) plays Sedaris. He shares all the details from applying to be an elf to surviving Christmas Eve horrors. In between, he covers a variety of topics including white vs black Santas, Jersey dads, the vomit corner, materialism, and elf rivalry. Under the skillful direction of Steve Scott, Crowle tells his woes dripping with sarcasm. On the holiday spectrum, he's somewhere between Grinch and Scrooge. He isn't your typical North Pole elf. He's someone who took a seasonal job and hates it! 
Crowle plays it with terrific comedic timing. He zings the punchline with an unexpected jig or cocking of his hat. He mocks the holiday fantasy along with its entitlement and commercialism counterparts. And he does it wearing striped tights, curled shoes and a green velvet jacket. His narration is even funnier because he's not wearing the outfit, the outfit is wearing him… and wearing on him!        
I have previously seen SANTALAND DIARIES. Actually, I saw it a few times, a decade or so ago. Although the elf antics are still fricking hilarious, some of the content is dated. Sedaris has several references to the soap opera "One Life to Live." I get 'em! I also watched that soap in the 80s. But younger folks have no clue to who Victoria Buchanan is or Asa, Beau, Clint or the whole clan. In addition, the use of the word 'retarded' is cringe-able. Times have changed. I feel Sedaris or Mantello could easily tweak the show for a modern audience.   
Still, SANTALAND DIARIES is a clever tale of elf oppression. This is no "Miracle on 34th Street." It's more 'reality on Dearborn.' The countdown to Christmas is a riotous implosion of fun. I promise you'll never look at a department store elf the same.   
Running Time: Seventy-five minutes with no intermission
At Goodman Theatre, 170 N. Dearborn
Written by David Sedaris
Adapted by Joe Mantello
Directed by Steve Scott
Tuesdays, Wednesdays, Thursdays at 7:30pm
Fridays at 8pm
Saturdays at 4pm and 8pm
Sundays at 2pm
Thru December 30th 
Buy Tickets at Goodman Theatre
Production photos by Erik Scanlon
For more Chicago theatre information and reviews, please visit Theatre in Chicago