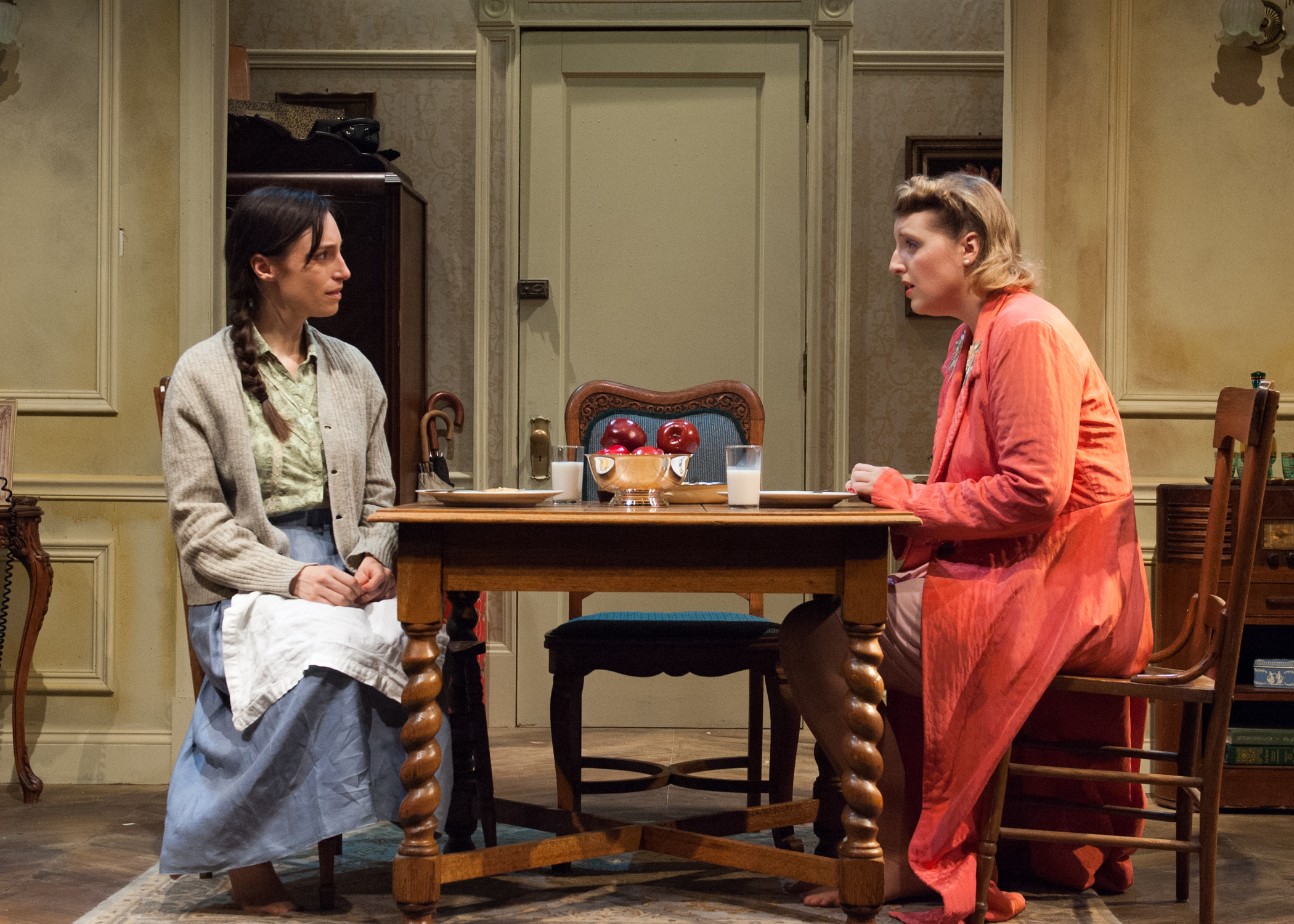 TimeLine Theatre presents A SHAYNA MAIDEL.
The translation for 'shayna maidel' is 'pretty girl.' The phrase has a sweet simplicity not traditionally associated with something as horrific as the holocaust. Well, that's Playwright Barbara Lebow's point. Her story doesn't focus on the atrocities of the attempt to exterminate the Jewish people. Instead, Lebow narrows in on one family's separation and unification. The play takes place in New York in 1946 with flashbacks to a Polish village. Director Vanessa Stalling effectively navigates us back and forth in time to understand the depth of this family's persecution.    
Lebow first introduces us to Bri Sudia (Rose) in her New York apartment (scenic designer Collette Pollard). The small three room flat stretches across Timeline's stage. Rose's domineering father (played by Charles Stransky) arrives banging on the door in the middle of the night. He announces her sister Lusia (played by Emily Berman) has survived the holocaust and is coming to America. He also  sternly informs Rose that she will be giving up her bed for Luisa and sleeping on the sofa.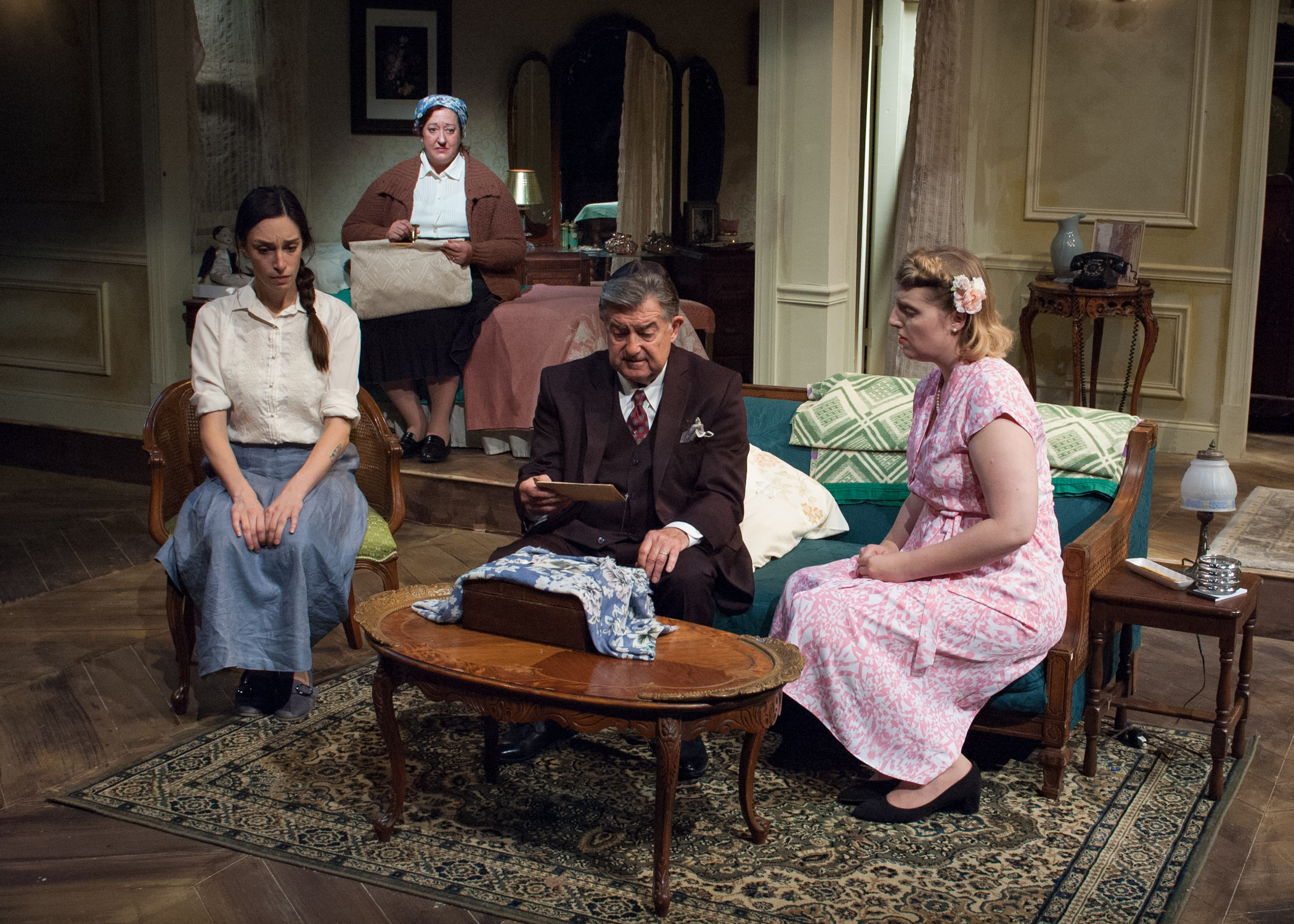 The relational dynamics intrigue as we peel away at the family's past. The play is primarily about the sisters separated at a young age.  Papa brought ten year old Rose to America. Mama stayed behind in Poland with an ailing Luisa. Rose is a bubbly blonde living on her own in the city. Luisa is a scarred, determined immigrant searching for her husband. Sudia and Berman have immediate awkward compassion making their interactions feel genuine. Sudia nervously tries to help Berman assimilate into an American lifestyle. Berman resists changing too much to ensure her husband will recognize her. They work to overcome the distance between them. As the strangers turn into sisters, we watch true intimacy form before our eyes. When Stransky screams at Sudia, the protective Berman grabs her hand. When Sudia begs to know about their mama (played by Carin Schapiro Silkaitis), Berman returns to the past remembering.  
Under Stalling's skillful direction, the flashbacks are surreal. Berman seamlessly transforms into a carefree person in her memories and dreams. People pop out of the woodwork and she is happy to see them. She is a pretty girl again. Her interactions with Silkaitis, Alex Stein (Duvid), and Sarah Wisterman (Hanna) are playful. She is a daughter, a wife and a friend. The future torture is unknown and unanticipated. These intermittent scenes are both lighthearted and haunting.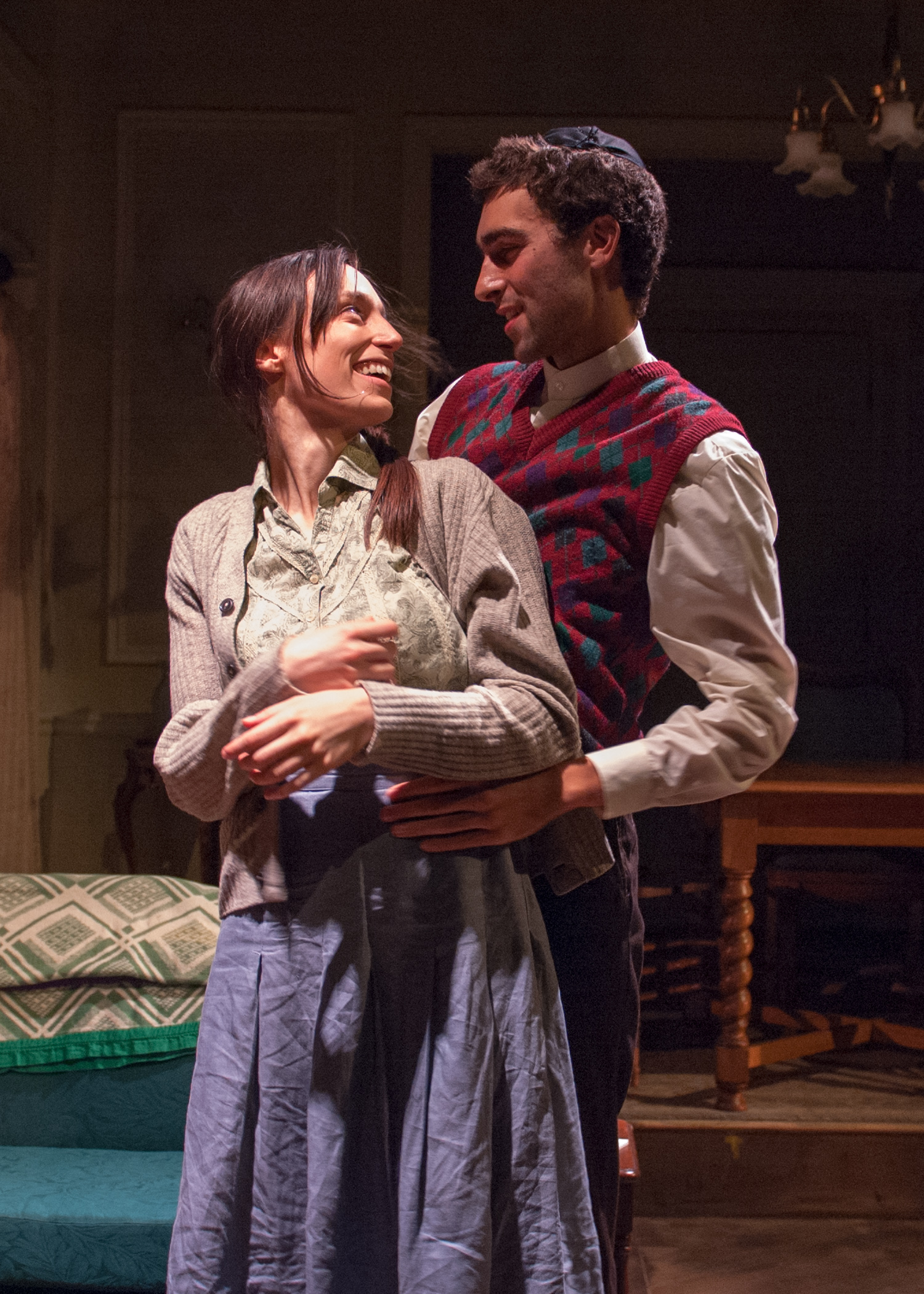 Lebow's story pieces together the past and the present. The Weiss family searches for understanding, forgiveness and love in the aftermath of a genocide. Although the holocaust is ever-present, an exchange about lists is particularly heart-wrenching, this play is about what happened to a pretty girl. And her story is powerful. A SHAYNA MAIDEL is like sitting in the living room of an estranged family and watching as they learn how to be a family again. Survivor's guilt and hope is equally palpable.  
Running Time: Two hours and twenty minutes includes an intermission
At TimeLine Theatre, 615 W. Wellington
Written by Barbara Lebow
Directed by Vanessa Stalling
Wednesdays and Thursdays at 7:30pm
Fridays at 8pm
Saturdays at 4pm and 8pm
Sundays at 2pm
EXTENDED Thru December 2nd
For more information and reviews on Chicago theatre, visit Theater in Chicago.