Robert Kauzlaric's adaptation of Neverwhere premiered at Lifeline in 2010. I saw it and loved it….hard!  The 2018 revisit to Neverwhere was a trip I highly anticipated taking since I heard mention of the reboot last year.
Although Kauzlaric's impressing storytelling still has heaps of intrigue, humor and heart, Director Ilesa Duncan goes more theatrical than thrilling. Her pace is steady not racing. In the previous production, I felt like I was dropped into a fast-moving comic book adventure. In the reboot, Duncan directs the movement with a cautious deliberation. Her rhythm loses the urgency of the chase. The last few minutes are particularly slow and affected instead of exciting and fun.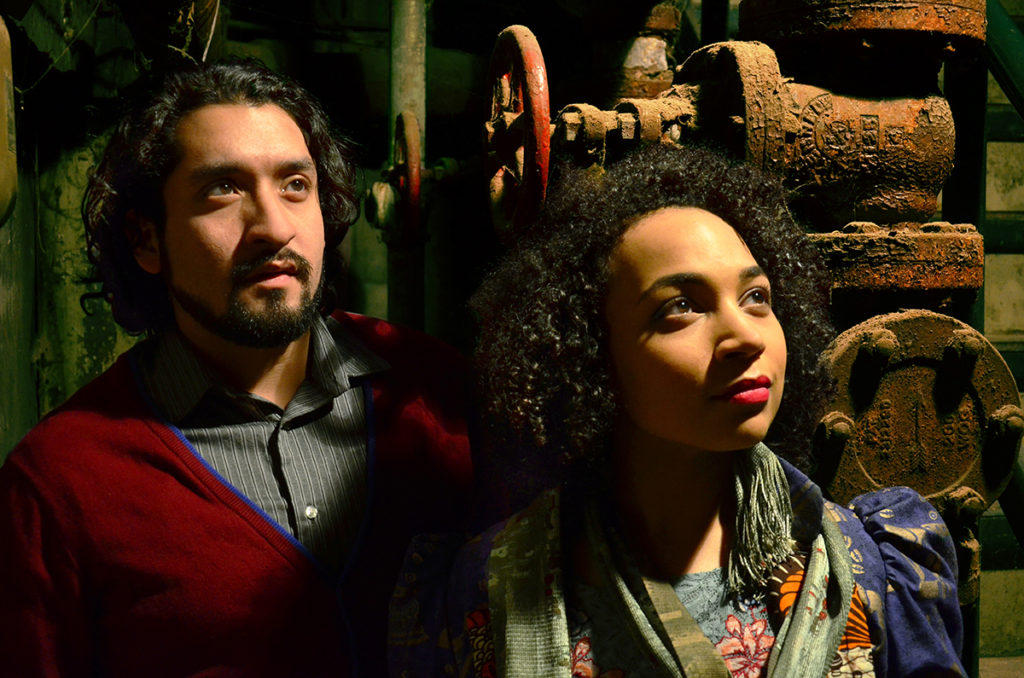 That said, the show is good. The talented cast led by Jose Nateras (Richard) and Samantha Newcomb (Door) guide us through London's underworld. They are trying to find out who killed Door's family. During their quest, they seek audience with an angel, Michael Reyes (Islington), while being pursued by assassins, John Henry Roberts (Mr. Croup) and LaQuin Groves (Mr. Vandemar).  Kauzlaric gives some of the best comedy lines to the murdering duo. Roberts is the fast-talking swindler and Groves is the looming enforcer nailing each punch line.  Matthew Singleton (Marquis de Carabas) brings a subtle wit.
The tight ensemble are impressive playing multiple roles.  Aneisa Hicks (Hunter & ensemble) goes from ordinary coworker to fierce warrior. The always versatile Michaela Petro (Jessica, Anaesthesia & ensemble) effortlessly and amazingly changes character and accent continuously. And Dave Skvarla (Old Bailey, The Earl & ensemble) plays vagrant and royalty with disparate flourish.  Nod out to Aly Renee Amidei(Costume Designer) for underworld finery from velvet overcoats to shiny gold tapestry. Each character has a distinct look.
NEVERWHERE is fine! And for audience members not seeing the original premiere, it might be fantastic.  Since NEVERWHERE 2010 is in my top 20 best shows ever, this show reminds me, you can't go home again.
Running Time: Two hours and thirty-seven minutes includes an intermission
At Lifeline Theatre, 6912 N. Glenwood Ave.
Written by Neil Gaiman
Adapted by Robert Kauzlaric
Directed by Ilesa Duncan
Thursdays and Fridays at 7:30 p.m.
Saturdays at 4 and 8 p.m.
Sundays at 4 p.m.
Thru July 15th
Tickets may be purchased at the Lifeline Theatre Box Office, 773.761.4477, or by visiting www.lifelinetheatre.com.
Production photos by Suzanne Plunkett
For more information and reviews on Chicago theatre, visit Theater in Chicago.