Lyric Opera's new-to-Chicago production of Turandot. 
Production Designer Allen Charles Klein provides an imaginative backdrop for Puccini's last opera. The focal point is an over-sized dragon lounging on his back. One claw serves as the pulpit for the Emperor. The other claw holds a mystical orb. Throughout the show, the dragon remains while elements around it change. In the first act, decorated trees add a festive touch. The look is so elegant that it's easy not to see that the hanging decor is actually the heads of dead suitors. Klein's innovation continues in his wardrobe choices. He dresses the elders in earthy robes and long beards. On the other end of the spectrum, the three ministers, Ping, Pang, Pong, are dressed in elaborate Asian-influenced costumes. The people of Beijing are somewhere in the middle. Some are dressed in cultural finery. Others are in plain slave-like attire. The combination of textures and colors pop alongside the impressive dragon fortress.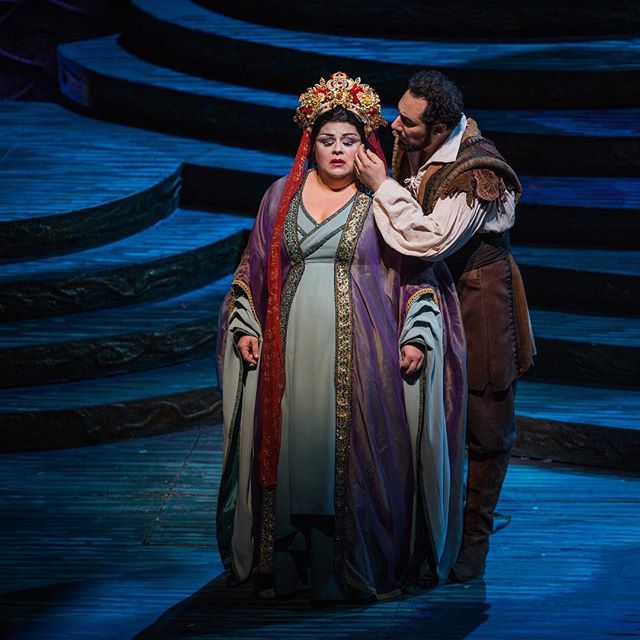 Giacomo Puccini uses the dramatic fairy tale by Carlo Gozzi to showcase one of his most unforgettable arias. Gozzi's story is about an icy princess who refuses to marry until a suitor can answer three riddles. The losers lose their heads. The townsfolk fear Turandot's cruelty towards her would-be-husbands and them. Within this Grimm-like premise, Puccini finds the heart and the soul. He sends Turandot (performed by Amber Wagner) a confident match in Calaf (performed by Stefano La Colla). Although Wagner resists La Colla's charming pledge of devotion, for the audience it's love at first note. By the time La Colla magnificently sings the emotional aria Nessun Dorma in Act 3, we all want to marry him.  La Colla is rewarded for his powerhouse delivery with thunderous applause.
Later in the third act, Janai Brugger (Liu) sings about the true meaning of love in Tu che di gel sei cinta. Brugger transforms from timid to fierce as she reveals the depths of her feelings for Calaf. The emotion in the moment has a dark beauty that lingers. A lifeless Brugger remains onstage as a disquieting reminder. This helps transition Wagner from Ice Princess to woman. When she tells her father Calaf's name is 'Love,' her conversion is complete. We see it. We feel it. We believe it.
As it's done for other operas, Lyric Opera shaved off an intermission making TURANDOT tighter and shorter. This change is targeted at the sensibilities of a contemporary audience. And it's appreciated! I highly recommend this TURANDOT. The primary reasons are Puccini and Nessun Dorma. I love both! And this production brings Puccini to life with amazing pageantry and outstanding performances.  Like Calaf, by the end, you will win! You will win! You will win!
Running Time: Two hours and thirty minutes includes an intermission
At Lyric Opera House, 20 N. Wacker Drive
Composed by Giacomo Puccini
Libretto by G. Adami and R. Simoni, after the dramatic fairy tale by Carlo Gozzi
Conducted by Sir Andrew Davis
Directed by Rob Kearley
AT 7:30pm on January 13th, 27th
At 2pm on January 17th, 21st
Opera in three acts in Italian
Projected English Titles by Francis Rizzo
For more information and reviews on Chicago theatre, visit Theater in Chicago.