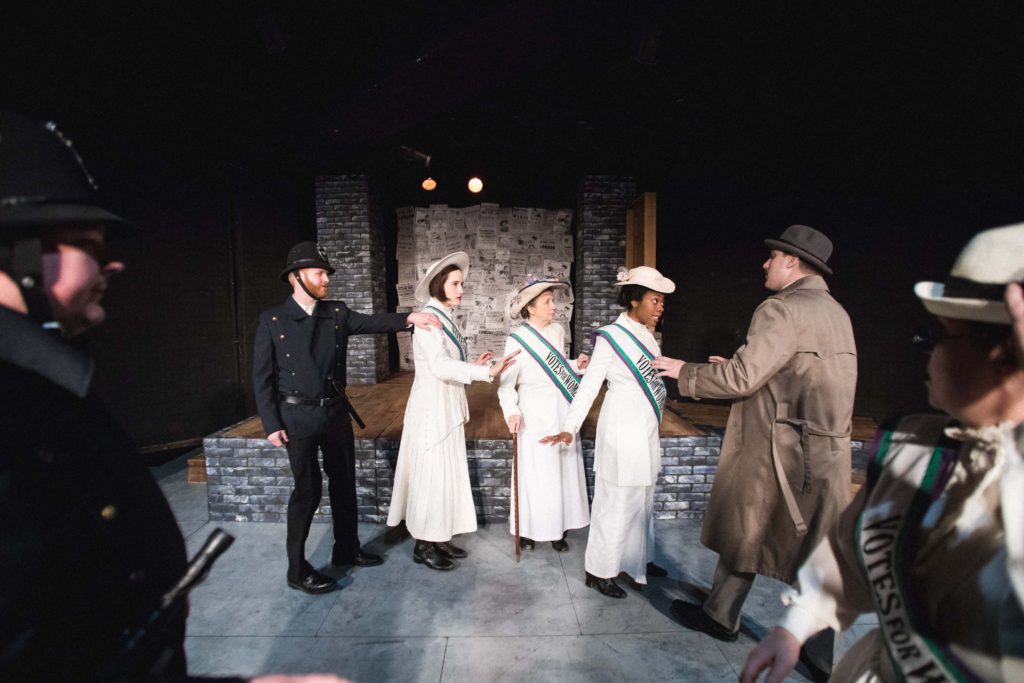 Babes With Blades Theatre Company (BWBTC) continues its 20th Anniversary Season: "Origins" with the Chicago premiere of The Good Fight.
Christabel Pankhurst, Emmeline Pankhurst, Gertrude Harding, Harriet Kerr, Grace Roe, Emily Wilding Davison were women suffragettes in London. Playwright Anne Bertram gives us a peek into the turbulent era that secured a woman's right to vote. Bertram starts her story when Christabel runs away to Paris to escape imprisonment. Although Christabel wants to lead from a safe distance, the London-based militant movement advances the cause with less and less of her influence. The ladies learn jujitsu. They write articles. They burn churches. They sacrifice their bodies, their health, and their lives for the greater cause.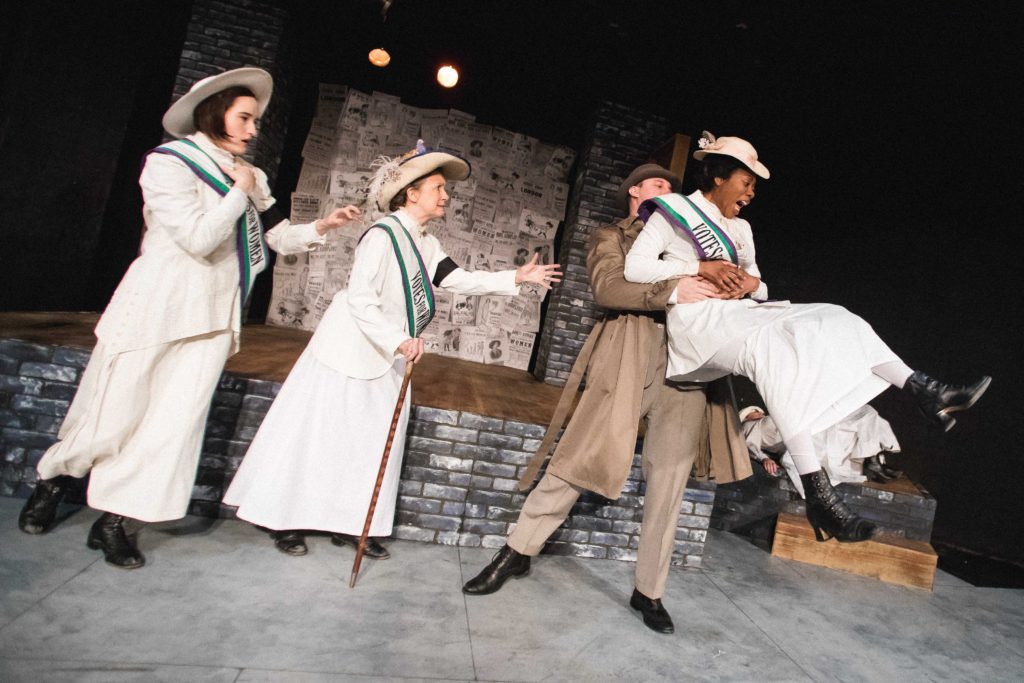 Arielle Leverett (Grace) inherits the leadership role from Christobel. At first, Leverett waits for her instructions to arrive from Paris. Her indecision and hesitation causes Taylor Raye (Emily) to take drastic measures for press coverage. Raye's act devastates Leverett. The Paris correspondence continue to arrive late and out of touch with reality. The conflicted Leverett takes the group in a new direction. Her crew, Scottie Caldwell (Gertrude), C. Jaye Miller (Hilda), Jillian Leff (Cicely), Elizabeth Del Toro  (Mary) become bodyguards for Emmeline (played by Jean Marie Koon).  Koon plays the steadfast stateswoman that is stalked and arrested by the police. Under Fight Choreographer Gaby Labotka's orchestration, the bodyguards run diversions and fight back. The aggressive skirmishes, a Babes' hallmark, are energetic, kick ass scenes. The maneuvering is particularly impressive done in the vintage gowns by Costume Designer Kimberly G. Morris.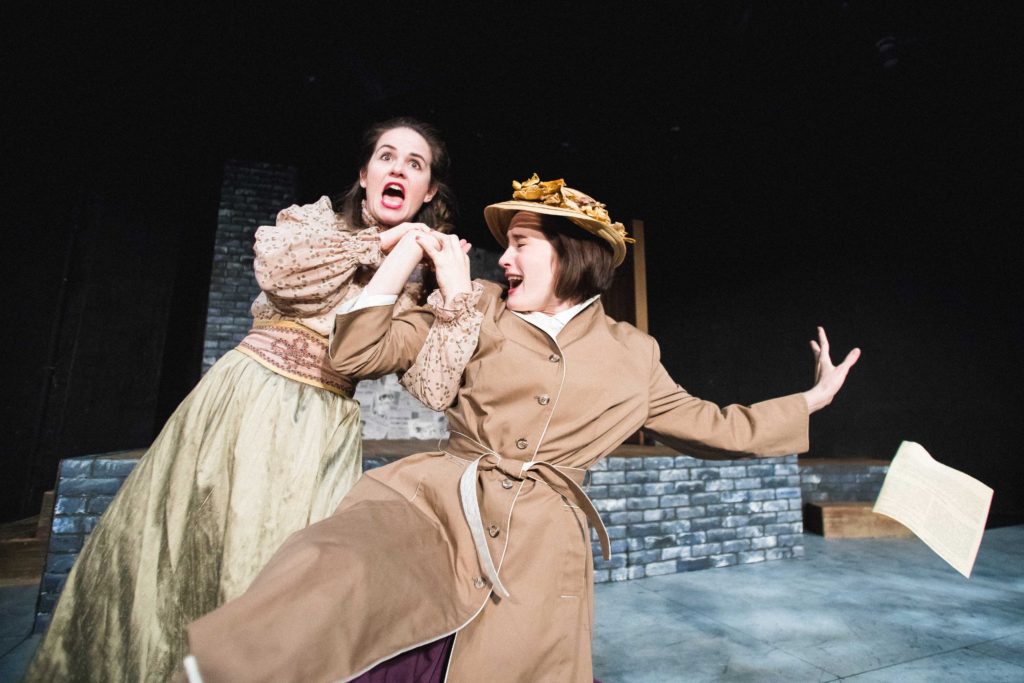 In between the suffragettes' plotting, Bertram splices in segments of Parliament debate. The ministers argue that voting rights would lead to female parliament members. Bertram peppers humor into these governmental debates. Richard Traub anchors his opposition lamenting that there is no room for all the women's hats. Bertram uses both Home Secretary McKenna (played by Joseff Stevenson) and Mary (played by Del Toro) to provide us with a historical framework. Stevenson pops up for ongoing announcements on the political climate.  And the spunky Del Toro regularly marches across the stage chronicling the date. Although these elements help build a timeline, the story is choppy especially if you are not familiar with English suffragettes. Bertram makes an assumption that the audience knows the backgrounds on her characters, these real women.  Since I am only really versed with American suffragettes, it took me some time to figure out who was who, what was what, when was when. I spent the entire intermission googling all these women. I skimmed their Wikipedia pages to cram for the second act.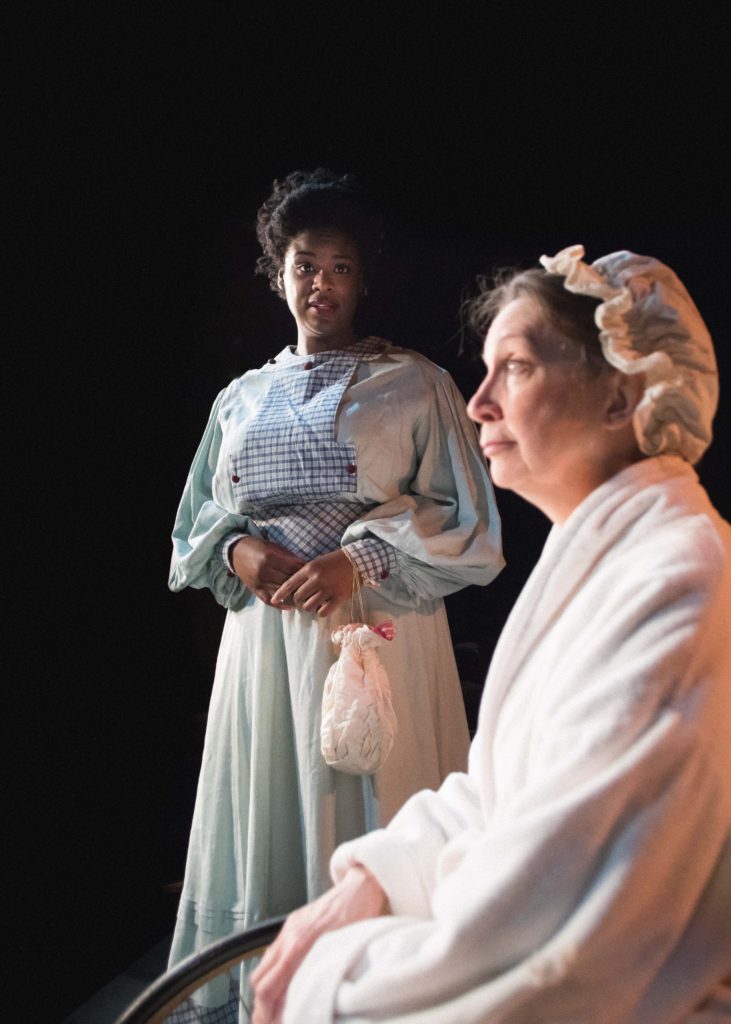 With the current #metoo movement and Saturday's 2nd women's march, Bertram's play is a fascinating and timely look back to a past fight for equality. Although I left musing that we've-come-a-long-way-baby, my stronger emotion is rage. I can't believe it's been less than one hundred years since women could vote. The misogyny driving our country is unconscionable.  The 'progress' since the 19th amendment for equality in jobs, in pay, in leadership representation has been shamefully slow. That the country selected a lying sexual predator that inherited his wealth rather than choosing an educated woman with global leadership experience is a nightmare I can't wake up from. THE GOOD FIGHT makes me want to channel their militant fervor and start slapping people in power. THE GOOD FIGHT is an inspirational example of how women can effectively organize a coup.
Running Time: One hour and forty-five minutes includes an intermission
At City Lit Theatre, 1020 W. Bryn Mawr
Written by Anne Bertram
Directed by Elizabeth Lovelady
Fight Choreographer Gaby Labotka
Thursdays, Fridays, Saturdays at 8 p.m.
Sundays at 3 p.m.
Thru February 17th
To purchase tickets and for more information, please visit BabesWithBlades.org.
All photos by Joe Mazza
For more information and reviews on Chicago theatre, visit Theater in Chicago.