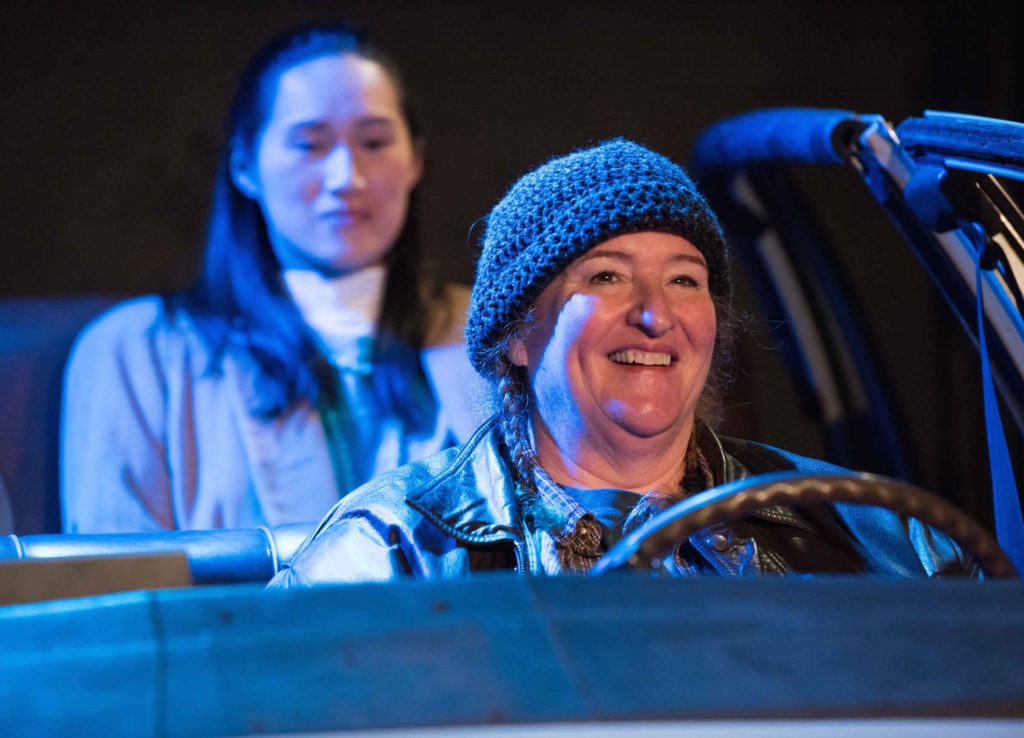 The Agency Theater Collective announces the Chicago holiday classic HELLCAB.
Playwright Will Kern penned a memoir to his Chicago cab driving days. Kern gives us a day-in-the-life-of a cab driver on Christmas Eve. He features a series of snippets from a myriad characters. He has couples going to church, going into labor, and going down on each other. The stories revolve around their interactions with their cab driver (played by a soulful Rusty Schwimmer). The stage is a cab. Most of the play is watching Schwimmer's facial reaction to what is happening directly behind her. Whether it's two drunken NYC tourists, a traumatized weeping woman or a man shrouded in mystery, the audience watches Schwimmer's reaction to the ever-changing life stories in her back seat.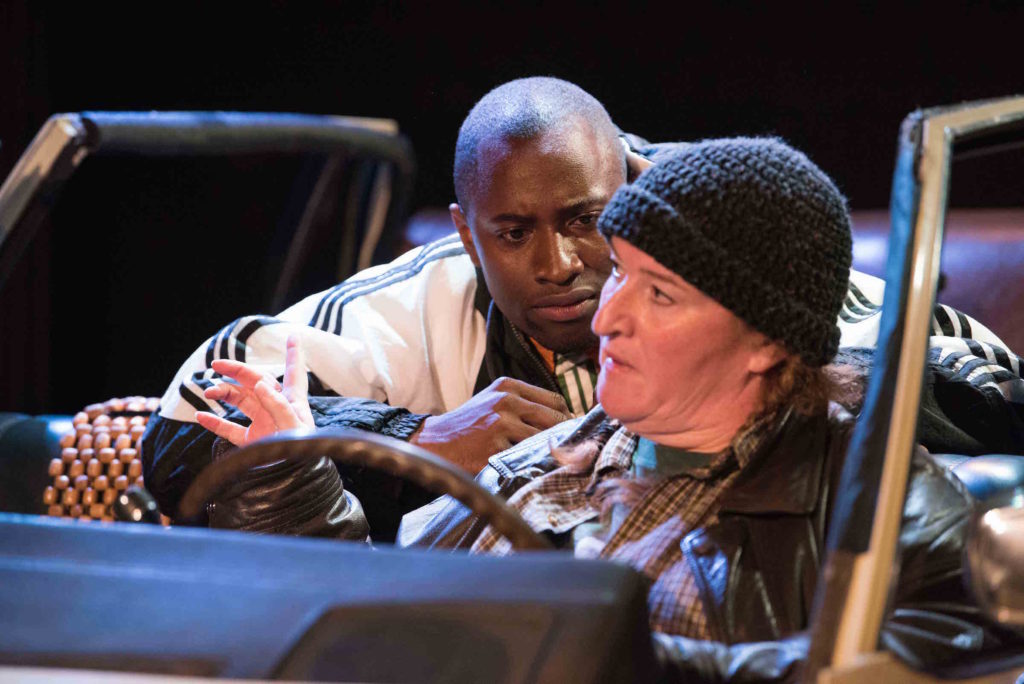 Director Sommer Austin paces this in heightened drama with ongoing black-outs. For some stories, it seals the searing emotional moment. At other times, it just slows down the play. Not every story needs such a deliberate finish. Some of the buffoonery could be staged back to back without pause, especially the funnier bits. Prohibiting the quick switchover is many scenes start with people opening the doors and getting into the cab. The mechanics of the stage cab make the repetition clunky. In other productions I've seen of this show, the back doors remain off or open allowing passengers quicker transitions from scene to scene.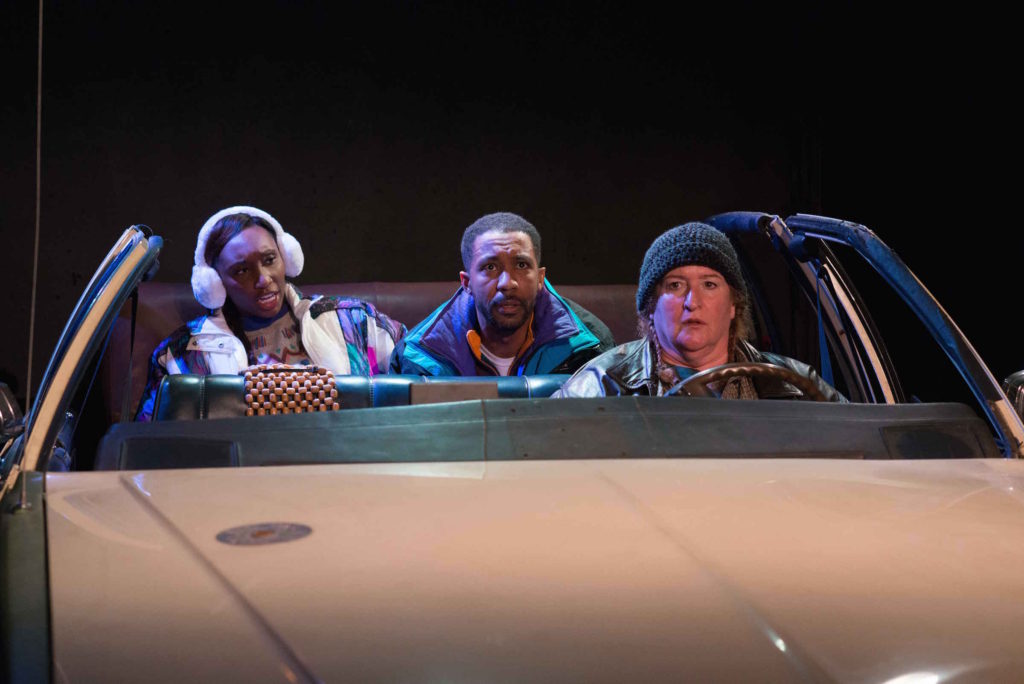 Despite sluggish pacing, Austin has a talented crew (George Ellzey Jr., Harsh Gagoomal, Gabrielle Gulledge, Sean Higgins, Kate Jacobsen*, Diana Lee, Manuela Rentea, Delysa Richards, Sara Richmond*, Reginald Robinson, Jack Schultz*, Tim Touhy*, Ethan Walles* and Marie Weigle) led by Schwimmer that continually morph into engaging scenarios. This isn't your typical holiday show. It's reality-based Christmas angst. Not everyone has the imagined cocoa-by-the-fire-white-Christmas. Some people's holiday is just another day. And others' Christmas experiences are pure hell. These characters reflect the diverse experiences of authentic lives during the season.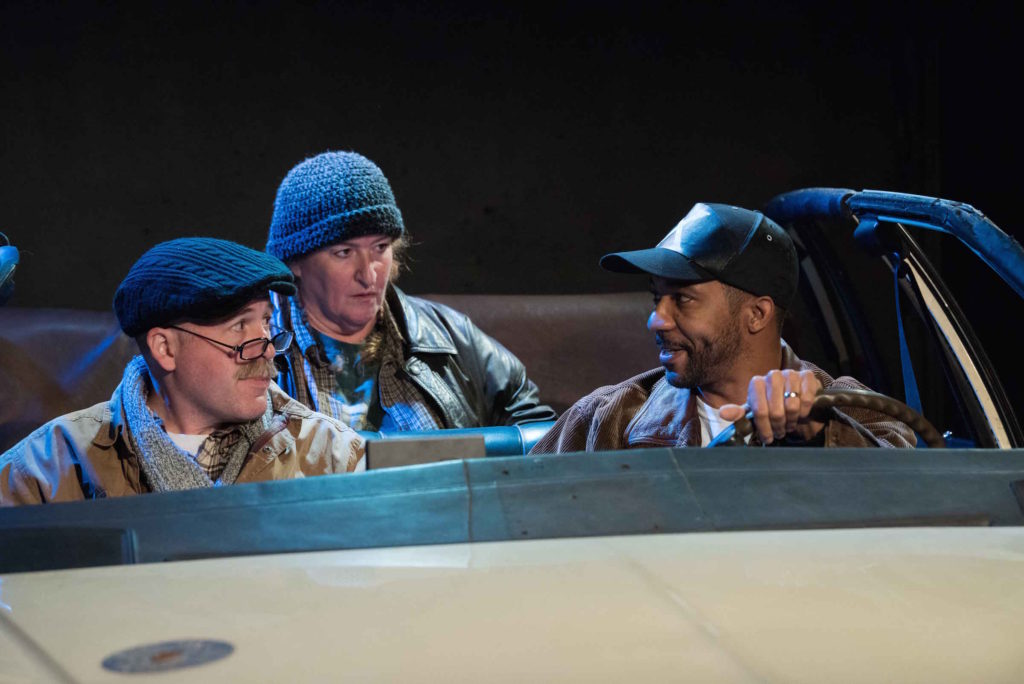 SIDENOTE: I heard Kern modified his script for a female cab driver. I'd also encourage him to up his fares to keep the show more timeless. I love his use of Chicago locations but I couldn't help continually recalculating today's fares or the HellUber alternatives.
Running Time: One hundred and five minutes with no intermission and a late start
At the Den Theatre, 1331 N. Milwaukee Ave.
Written by Will Kern
Directed by Sommer Austin
Thursdays, Fridays, Saturdays at 7:30pm
Sundays at 3pm
Thru December 17
Tickets are pay-what-you-can for all performances. For more information and to purchase tickets, please visit www.wearetheagency.org or call the Den Theatre Box Office at 773.697.3830.
*Ensemble members
All photos by Bill Richert
For more information and reviews on Chicago theatre, visit Theater in Chicago.