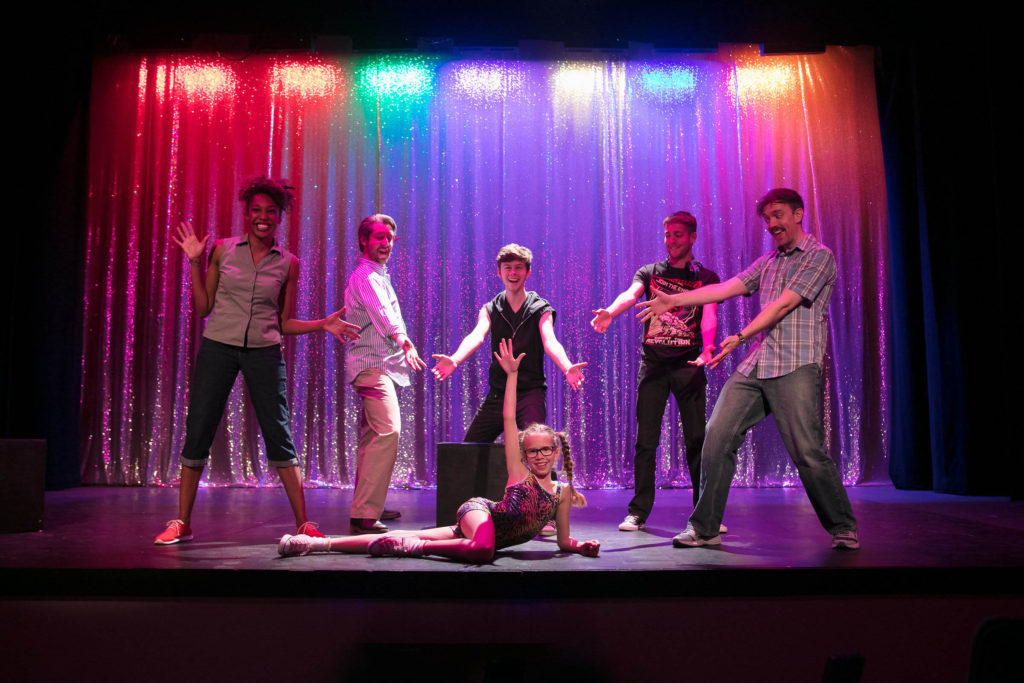 Chicago Theatre Workshop, in association with Fletcher Jones Volkswagen, presents the regional premiere of LITTLE MISS SUNSHINE.
Are you looking for a little sunshine? You'll find it in this show. The creative team of James Lapine (book) and William Finn (music and lyrics) condense Michael Arndt's quirky and provocative film into a pint-size playful romp. Arndt's tale centers around an earnest girl's pursuit of pageantry fame. Although Arndt's wacky family is well-developed caricatures, the musical version loses some of the personality depth. When Finn adds in the musical parts, Lapine's book gets skimpy. Folks that haven't seen the film might get lost on this road-to-runway trip.  Fans of the film, like myself, will enjoy the light-hearted return to Hoover-ville. This Hoover family has less angst and more bounce especially getting into the van.
Director and choreographer Maggie Portman cleverly orchestrates the family continually racing to get into their van. She uses slow motion, strobe lights and versatile scenery cubes to provide the innovative visual. Under Portman's direction, the terrific ensemble, Greg Foster (Richard), Sharyon Culberson (Sheryl), Ken Rubenstein (Grandpa), Kyle Klein II (Dwane), George Keating (Uncle Frank), does a fine job keeping the family woes in check and putting the focus on Olive's dream of becoming Miss Sunshine.Sophie Kaegi (Olive) is every bit Miss Sunshine. Whether belting out a song or shaking her badonkadonks, this spunky little gal is amazing. Kaegi even innocently zings many punchlines. And nod out to her mean girls' competition, Chayce Davis, Jersie Joniak, Tatum Pearlman, for deliciously strutting their stuff.
LITTLE MISS SUNSHINE is a fun, feel-good show! You'll leave the theatre smiling and talking about who played who in the movie. The movie is excellent. The play maintains the overall premise. And the musical element even heightens the happy ending with a spirited Shake Your Badonkadonk number. It's got a lot of pep! I would, however, recommend seeing the movie before the play so you can delight on a reminiscent journey and avoid getting lost in transit by all Lapine's shortcuts
Running Time: One hundred minutes with no intermission
At Edge Theatre, 5451 N. Broadway
Based on Michael Arndt's Academy Award-winning film
Book by James Lapine
Music and lyrics by William Finn
Directed and choreographed by Maggie Portman
Music direction by Nick Sula
Thursdays and Fridays at 7:30pm
Saturdays at 8pm
Sundays at 3pm
Thru June 4th
Tickets are on sale now at www.chicagotheatreworkshop.org or by calling 773.999.9541.
All Photos by Joel Maisonet
For more information and reviews on Chicago theatre, visit Theater in Chicago.