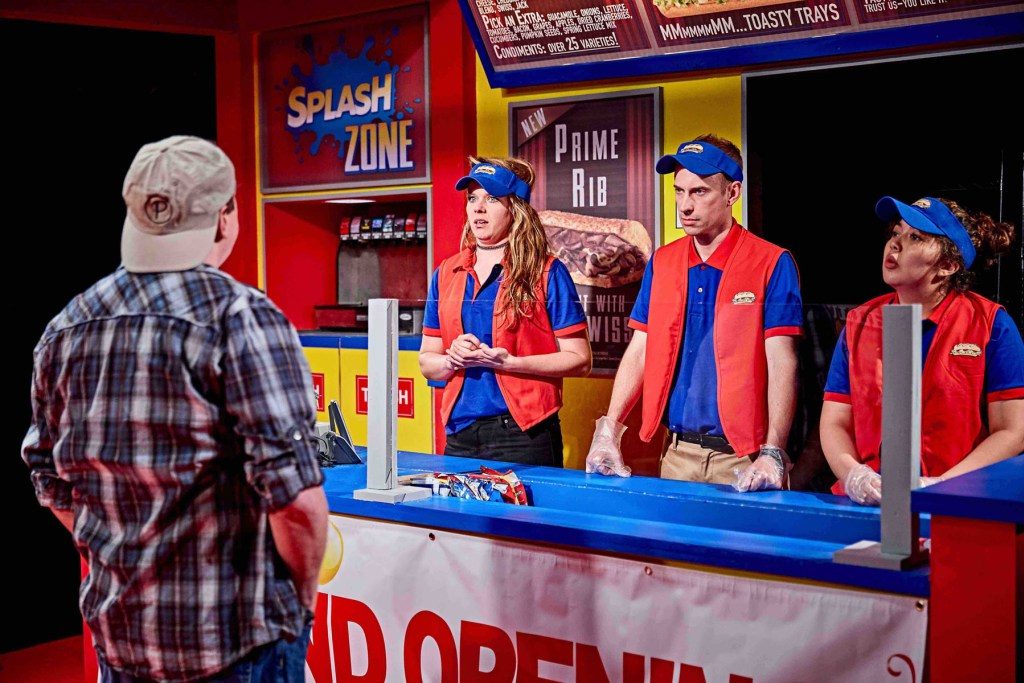 First Floor Theater presents the Chicago premiere of AMERICAN HERO.
Walking into this theatre space is like walking into a fast food joint. Designer Jeffery D. Kmiec's set is authentically legit. He even has a splash station. Before the show started, I found myself musing about my sandwich order. Playwright Bess Wohl's story takes place in a fast food franchise. A misfit crew of sandwich artists are abandoned by their owner on the day of the grand opening. The employees continue to base, stuff and wrap in response to corporate's edict to stay open. Wohl attempts to expose the underbelly of franchising. Her revelations aren't anything terribly provocative or new. Anyone, who has worked – or just eaten at a fast food restaurant, knows the uniform and systematic approach to food preparation. 'Corporate' verses the little guy is also a familiar tale. Instead of boldly blazing the drama or the lampoon, Wohl goes down a well worn path.
Despite the somewhat pedestrian material, Director Cody Estle tethers us to his talented ensemble's character portrayals. He makes us care about who is making these sandwiches. He infuses plenty of personality and finds the humor in the dialogue. The play starts with an awkward interview between Brian McKnight (Bob) and Sarai Rodriguez (Sheri). An abrupt McKnight is questioning a dispassionate Rodriguez. Instead of dismissing Rodriguez, McKnight enthusiastically hires her. The surprising decision garners laughter and Rodriguez joins Chris Daley (Ted) and Annie Prichard (Jamie) behind the counter. The forced trio uniting together despite their varied backstories becomes the focal point.
An aggressive Prichard hilariously goads an uptight Daley. Their banter continually teeters between flirting and sparring. The odd-person-out, Rodriguez is initially barely conscious. Her other fast food job keeps her in perpetual exhaustion. As the story progresses, Rodriguez transforms from mumbling interviewee to scrappy leader. By the final scene, she is almost unrecognizable in manner and appearance. She has become an 'American hero.'
Although the overarching story is on the light side, Estle orders up plenty of personality in his sandwich making. They might be out of prime rib but the tuna salad is pretty good. AMERICAN HERO entertains as a day-in-the-life-of-the-working-poor. It illustrates the challenges of staying employed in a dead end job.
Running Time: Ninety minutes with no intermission
At The Den Theatre, 1333 N. Milwaukee
Written by Bess Wohl
Directed by Cody Estle
Thursdays, Fridays, Saturdays at 7:30pm
Sundays at 3pm
Thru June 3rd
Buy Tickets at www.firstfloortheater.com 
For more information and reviews on Chicago theatre, visit Theater in Chicago.