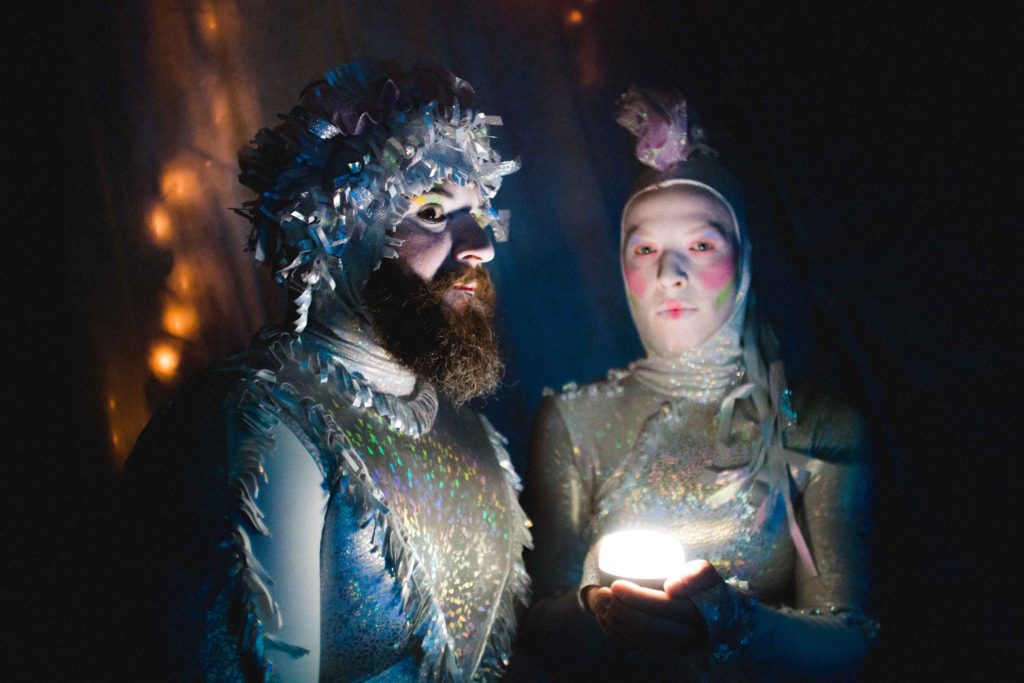 The Neo-Futurists are proud to present a world premiere created and performed by Leah Urzendowski and Anthony Courser THE? UNICORN? HOUR?
Are you feeling depressed?  Do you need a shot of joy?  Well, Urzendowski and Courser are offering up big buckets of shiny, sparkly pleasure.  As the creators and performers behind THE? UNICORN? HOUR?, Team U&C fabricate a womb of comfort.  Mismatched sheets tent the Neo-Futurarium as a kid-like fort.  Team U&C arrive on stage in dark cloaks that they quickly shed to reveal silver, glittered unitards. The dynamic duo break-out into a high-energy dance routine. The music is blaring.  Their high-kicking, shoulder shimmying, athletic unicorn-ing fill the room with an unexpected lightness. Their playful ambiance is ripe for both giggling and soul searching.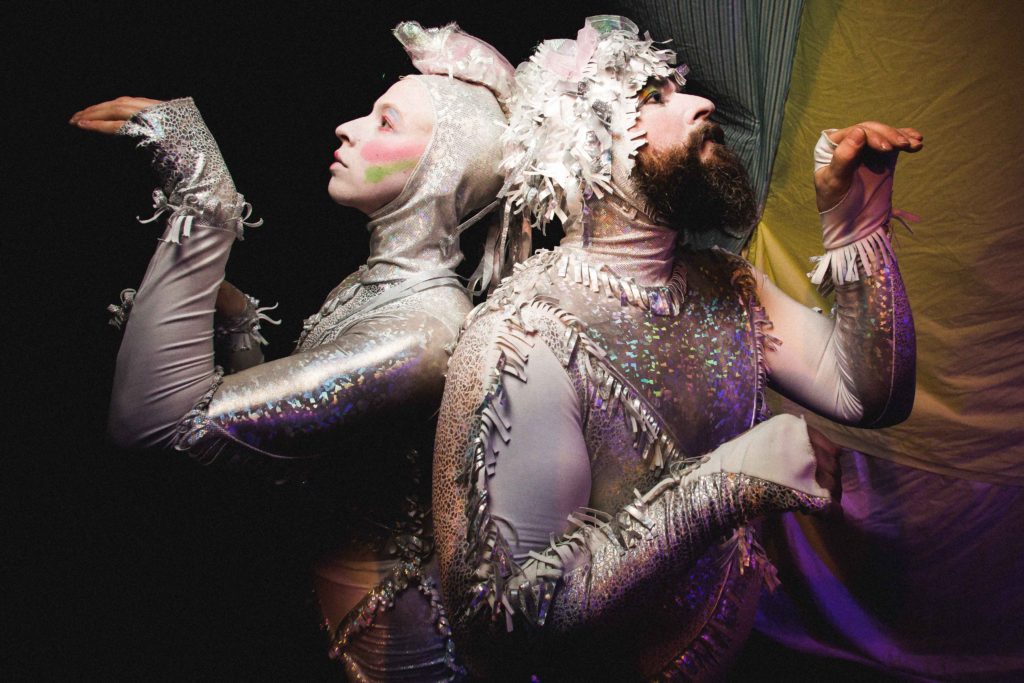 Under the nimble direction of Adrian Danzig, U&C get silly and serious in confronting what scares us and what brings us joy.  Right after the dance party ends, a breathless and excited Urzendowski drops the F-bomb frequently and animatedly.  Courser works to contain her colorful enthusiasm by drawing a swear square on the ground and redirecting her with gentler word choices.  The shtick is a hoot as Urzendowki can't control her self expression. She vibrates an infectious glee. The show, part performance art, part vaudeville, part game show, generates a carefree, make-believe world.  At one point, Courser heads out on a huge adventure that includes driving a car, a horse, and a dolphin. We see it all as the amazing Courser jumps from a plane and later climbs a mountain. Once he reaches a peak, he calls out to Urzendowski to join him. The mating call includes hand gestures, bending back and belting out a 'caw'.  Urzendowski responds inkind and then hysterically makes her way across the stage. When she reaches him, they initiate an experiment with darkness.  They are able to change the room from joy into unknown fear quickly and eerily.
This show is emotionally engaging because of Team U&C. They interact with the audience.  They tether us to their nonsense and their seriousness. Their moves, whether dancing or flipping, are perfectly in-sync. Urzendowski effortlessly slips her legs around Courser's waist and then delightfully peeks out from his legs.  The twosome generate this sense of oneness. Their twisting of limbs are centipede-like contortions. They showcase the depth of  the trust and intimacy. I found out post-show that the couple is a couple offstage which made their connection even more adorable.  I like to imagine they sit at home in tiny chairs drinking tea from mismatched cups in shimmery jumpsuits…all the time!
In this political climate, we could all use a shot of joy! QUESTION:  THE? UNICORN? HOUR?  ANSWER:  YES!!
Running Time: One hour and fifteen minutes with no intermission
At The Neo-Futurarium, 5153 N. Ashland
Created and performed by Leah Urzendowski and Anthony Courser
Directed by Adrian Danzig
Thursdays, Fridays, Saturdays at 7:30 p.m.
Thru May 13th
Ticket prices for  Thursdays are pay what you can; for the regular run, tickets are $10-25.
Tickets and information are available at neofuturists.org or 773.275.5255.
For more information and reviews on Chicago theatre, visit Theater in Chicago.