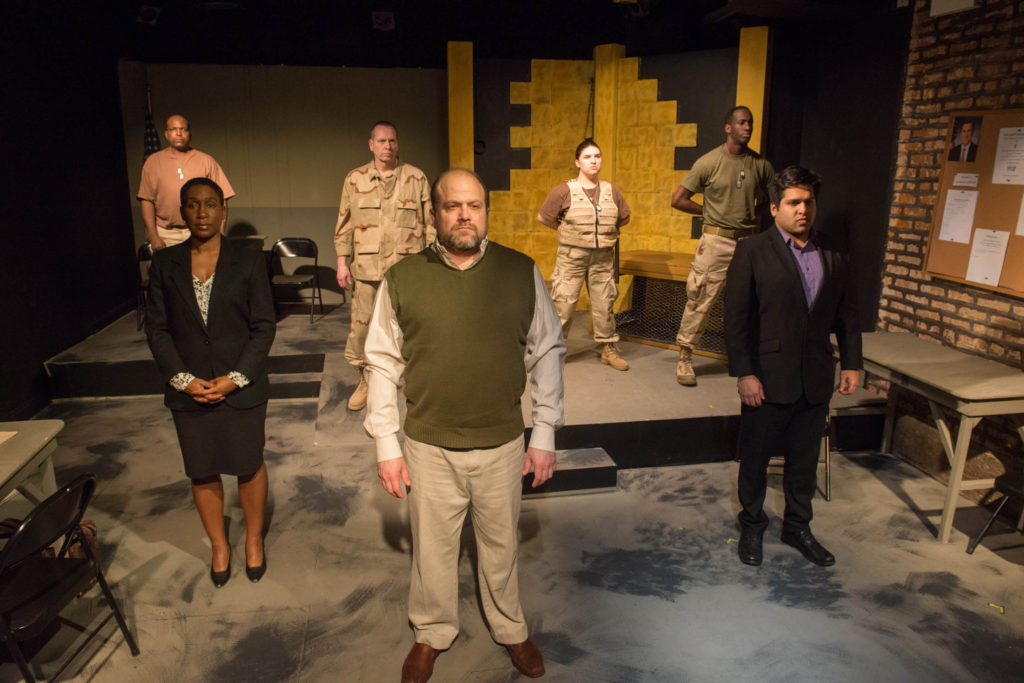 The Agency Theatre Collective presents the world premiere of SKIN FOR SKIN.
Following the success of their inaugural production, "Chagrin Falls", The Agency Theatre Collective tackles a world premiere. Playwright Paul Pasulka debuts his story about the military interrogation of a Muslim-American contractor suspected of aiding Al-Qaeda. Pasulka tells his tale from multiple angles. A psychologist (played by Shariba Rivers) is introducing her theory on deflecting torture to a military colonel (played by Tony St. Clair).  A truck contractor (played by Steve Silver) is going about his day, praying and working. Two soldiers (David Goodloe and Hannah Tarr) are blowing off steam by drinking beers.  Each scene hints at the pending collision of psychology, religion and torture. Although Director Michael Menendian pulls out interesting illustrations of brutality, especially in a waterboarding sequence, Pasulka's characters  primarily feel like stereotypes playing out familiar yet disjointed storylines.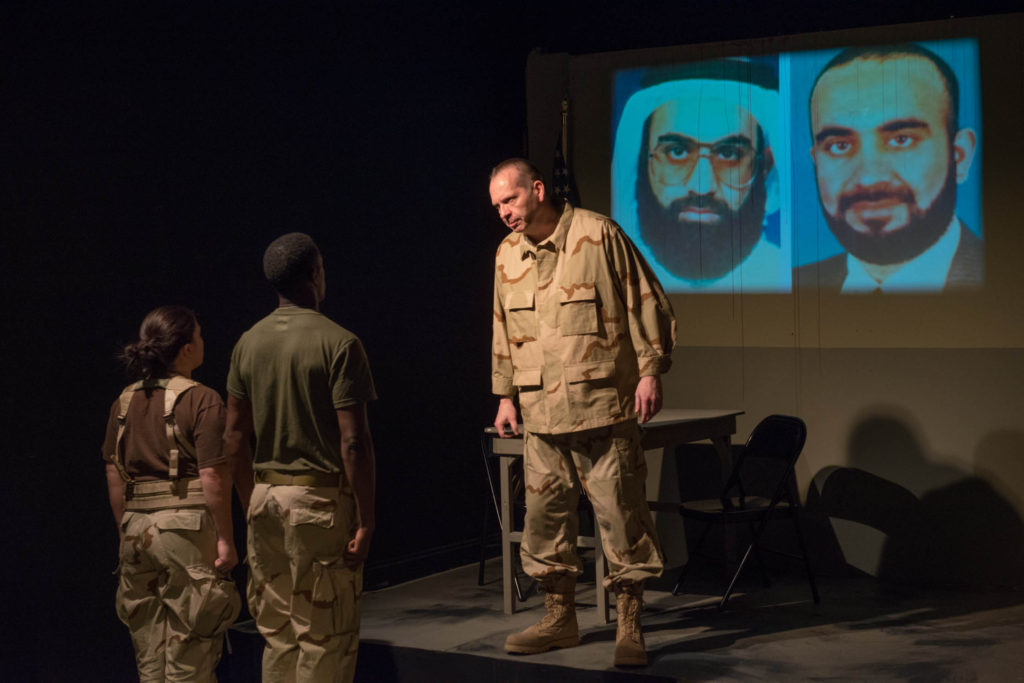 St. Clair, Tarr, and Goodloe play caustic militants. St. Clair unemotionally orders questionable acts. While Tarr carries out the dirty deeds with amusement, Goodloe begins to struggle with his persecutor role. Although Goodloe brings an aspect of humanity to the military cliche, the potential emotional engagement from his connection to Silver gets lost in the fragmented exchanges. Even though the overall set up is simplistic, getting smoothly from point a to point b is zig-zagged.  Some of the conversations are convoluted and feel forced.  At different points, Tarr and Goodloe are yucking it up over sexual conquests. Pasulka's 'locker room' banter may establish personalities in one scene but it returns for an awkward continuation in another scene. The unnecessary addition doesn't push the story forward as much as water down the intensity.  Bible quotes are also sprinkled in the dialogue. The religious overture makes for unnatural interactions. The conversations feel stilted. The one scene that feels authentic is a reserved Rivers interviewing Silver.  Although St. Clair coercing Rivers to interrogate Silver is anticipated, the actual examination unfolds organically.
Pasulka's story is not new to this political climate.  The idea of securing intel through torture, specifically; waterboarding, is an ongoing heated debate. And in this show, the most riveting scene is the waterboarding depiction. Watching the soldiers perform the drowning-like ritual is a gut-puncher.  Beyond that torture sequence, Pasulka's story falls flat. We're not emotionally invested in his characters. It never gets personal. Most of the interactions feel mechanical.  The overall story misses marring us with the true implications of torture. I left the theatre newly educated about waterboarding but not haunted and horrified by the inhumane practice. SKIN FOR SKIN just scratches the skin when it could have bruised me deeply.
Producing new work is a risk for any theatre company but especially a newcomer to the Chicago theatre landscape. I look forward to The Agency Theatre Collective's next project.
Running Time:  Ninety Minutes with no intermission
At Rivendell Theatre, 5779 N. Ridge
Written by Paul Pasulka
Directed by Michael Menendian
Thursdays, Fridays, Saturdays at 7:30pm
Sundays at 3pm
Thru April 2nd
For more information and to purchase tickets, please visit WeAreTheAgency.org or call 773.680.4596.
Photos by Bill Richert
For more information and reviews on Chicago theatre, visit Theater in Chicago.