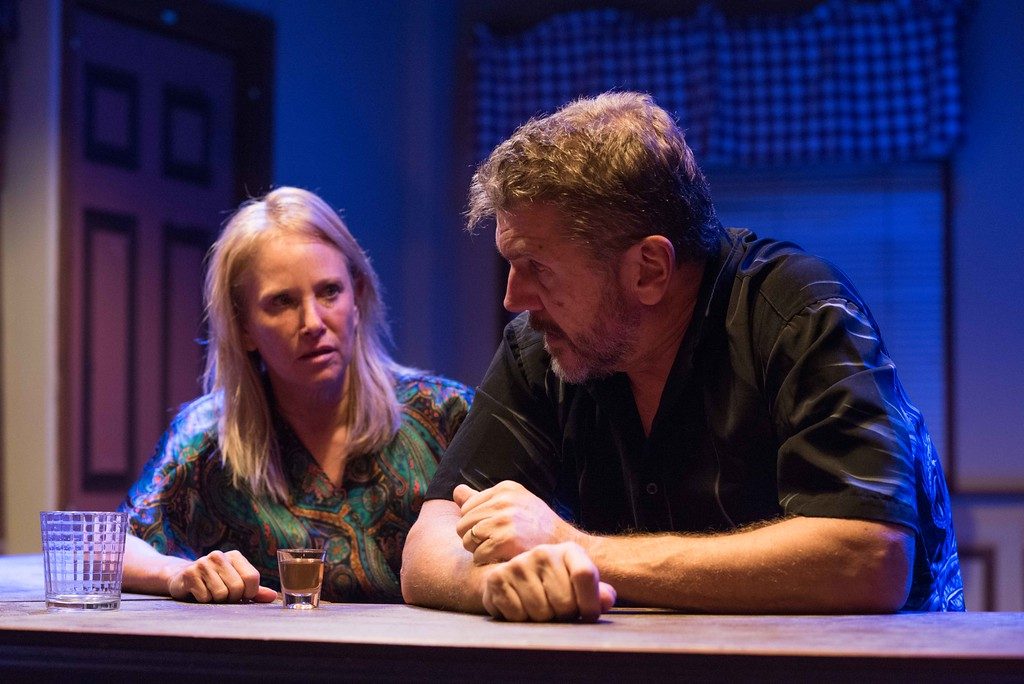 Reviewed by Tom Lawler
Set the scene: The Agency Theater Collective was founded in 2010 with a mission to create "relevant, authentic work with a focus on new or rarely produced plays."  Chagrin Falls, written by Chicagoan Mia McCullough, has garnered a slew of productions and honors across the country since making its debut in 2001 – most notably the American Theater Critics Association Osborn Award.
What's it all about: Graduate student Patrice (Jennifer Cheung) visits Chagrin Falls, Oklahoma to interview a death row inmate in the last days before his scheduled execution – and also queries a few of this small town's residents for their views on the death penalty. Going into Chagrin Falls, you may be expecting a two-hander on capital punishment (now there's a euphemism), but McCullough and director Sommer Austin have taken a more novel, atmospheric approach. Working in a tone that veers between slice-of-life and allegorical, the two largest employers in this titular small town are a slaughter house and state prison. A dark cloud hangs over this town's residents as they feel guilt for their role in the killing business or other secrets they may harbor.
Stand-out performance: Denise Hoeflich is completely believable as Irene, the harried owner of the town's small motel-bar-restaurant that serves as one of the town's main watering holes. Hoeflich also gels nicely with Robert Koon, better known as a playwright, but looking natural here as a troubled Vietnam vet who's recently retired from 30 years at the slaughterhouse. Cody Lucas turns in an interesting, jumpy performance as a sensitive prison guard with secrets and a conscience (more than a bit underlined by his reading a paperback of Crime and Punishment). Overall though, Hoeflich feels like the essential glue of a well-bonded cast.
Also, check out: McCullough has some interesting points to make about all of our (whether explicit or complicit) roles in the death industry.  Chagrin Falls also unveils some surprising details about the anesthetic measures taken to protect prison employees in the lethal injection process.
More of this, please: I love it when a play doesn't dawdle in its opening moments. Since the action really begins when the graduate student arrives at the motel, I'm pleased to report McCullough has Patrice walking on stage within the first three minutes of Chagrin Falls. No need to burn precious minutes "setting the scene" – let character-based action drive the narrative. The first 45 minutes of Chagrin Falls are especially engaging as director Sommer Austin introduces McCullough's characters and ably juggles the play's various conflicts and plots with pace, varied blocking and welcome low-key humor.
However:  This crisp pacing and tone flag in an overlong and stationary two-person fishing scene in Act I. Moreover, in Act II, once a mystery surrounding a central character is resolved, we still have about 30 minutes to go. This stage time is filled with a lengthy two-person scene as Koon's Vietnam vet finally expunges some of his guilt for the war (Note: this play is set in 1999) and many protracted pauses as Austin directs her closing scenes with Maximum…Poignancy.
In summary: Visit Chagrin Falls and enjoy some soulful performances and provocative questions to ponder in a handsome, atmospheric production that overextends its welcome a bit in its second act.
Do this first: Gourmet tacos, apps and beers? Try Antique Taco across the street – but get there early, since they pack them in most nights. Or: Have you ever tried the milky, decadent Tonkotsu (pork stock-based) ramen at nearby Oiistar?  (It's usually not as crowded as you'd expect.)
Do this after: So many options nearby – or stay for another drink at one of The Den's bars. If the Emporium Arcade Bar across the street is too crowded (it will be), try a classic: Nick's.
Running Time: 130 minutes (including one 10-minute intermission)
At The Den Theater, 1333 N. Milwaukee
Playwright: Mia McCullough
Director: Sommer Austin
Thursdays-Saturdays at 7:30pm (No performance on Thursday, 11/24)
Sundays at 3pm
Thru December 11
Tickets: $28
Buy/Request Tickets at Agency Theater Collective's Brown Paper Tickets site.
Photo by:  Bill Richert
For more information and reviews on Chicago theatre, visit Theater in Chicago.