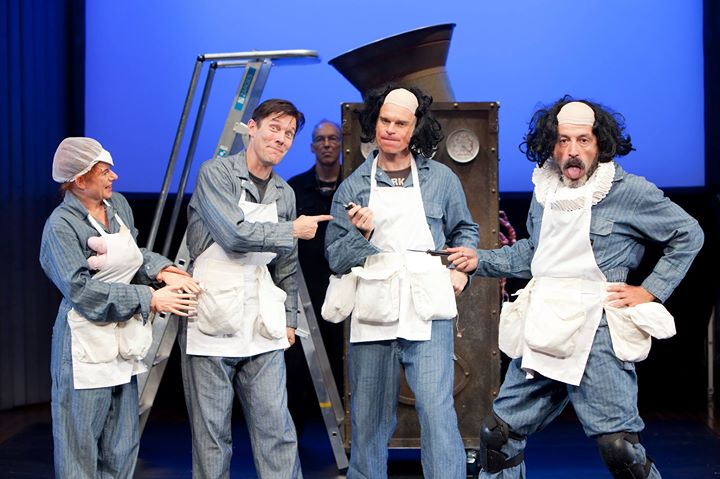 Chicago Shakespeare Theater presents the Spymonkey's THE COMPLETE DEATHS.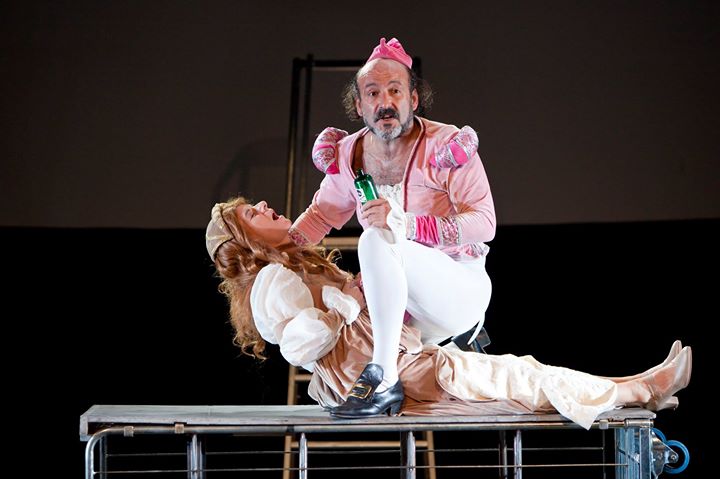 Did you know there are 75 onstage deaths in Shakespeare's plays?  The killings include 74 human plus the fly in "Titus Andronicus."  Spymonkey, UK's clown troupe, perform this clever tribute to the Shakespearean deceased.  Director and Adaptor Tim Crouch has created a showcase showdown of these memorable life exits.  He drives his clown Mini Cooper onto The Pier and out stroll mirth-makers; Aitor Basauri, Stephan Kreiss, Petra Massey and Toby Park.  The talented foursome will spend the next couple hours dying in outrageous ways.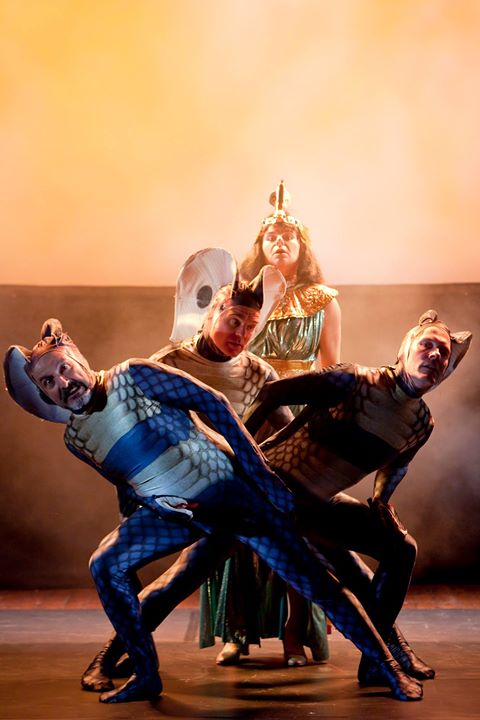 The show casually starts with Kreiss lying on the ground.  Massey wanders in with a fly on a stick and a hand-held camera.  Her fly prances over Kreiss' body, on his forehead and up his nose.  We see the blown-up fly antics on the screen behind.  The fly will return through-out the show until he bites the big one. Each of the 75 deaths will be preceded with the play and character's name flashing on the screen. The time of death will be announced by a buzzer.  On the side of the stage, a woman, seemingly busy with paperwork, will hit a red button in unison with the actor corpsing-out. Her precision is amusing especially because she acts completely detached from the center stage grim reaper hijinks.
THE COMPLETE DEATHS is British-style vaudeville. Although the morbid humor is Shakespearean sophisticated,  the executions range from ingenious to silly.  Cleopatra and her asps pass over with flourish in colorful costumery. In another bit, the folk meet their demise cranked through a sausage-maker. The romp is fun and raunchy. Even though Park tries to refine the absurdity, the others go off the rails.  An animated Massey insists on doing Ophelia, an offstage death. And Kreiss and Basauri duel in their underwear, painting every crack and crevice red.  One of my favorite shticks is Basauri's ongoing conversation with the Bard himself.  He is given tips on how to be a proper Shakespearean actor. At one point, Shakespeare blurts out, 'what the f#ck are you doing?' This hysterically timed inquiry illustrates the irreverent handling of the material.
THE COMPLETE DEATHS is a good time.  This big ole funeral party is a fatal who's who.  The eulogy honors the theatrical ending for both the nameless, guard one and the unforgettable, Romeo and Juliet plus 72 more.  Spymonkey has brought its unique death lampoon to Chicago for a limited engagement.  Make plans to see them kill it soon.
Running time: 2 hours and ten minutes with one intermission.
At Chicago Shakespeare Theater on Navy Pier
Directed and adapted by Tim Crouch
Tuesday, Wednesday, Thursday, Friday at 7:30pm
Saturday at 3pm and 8pm
Sunday at 2pm and 6pm
Thru December 11th
BuyTickets at www.chicagoshakes.com
For more information and reviews on Chicago theatre, visit Theater in Chicago.