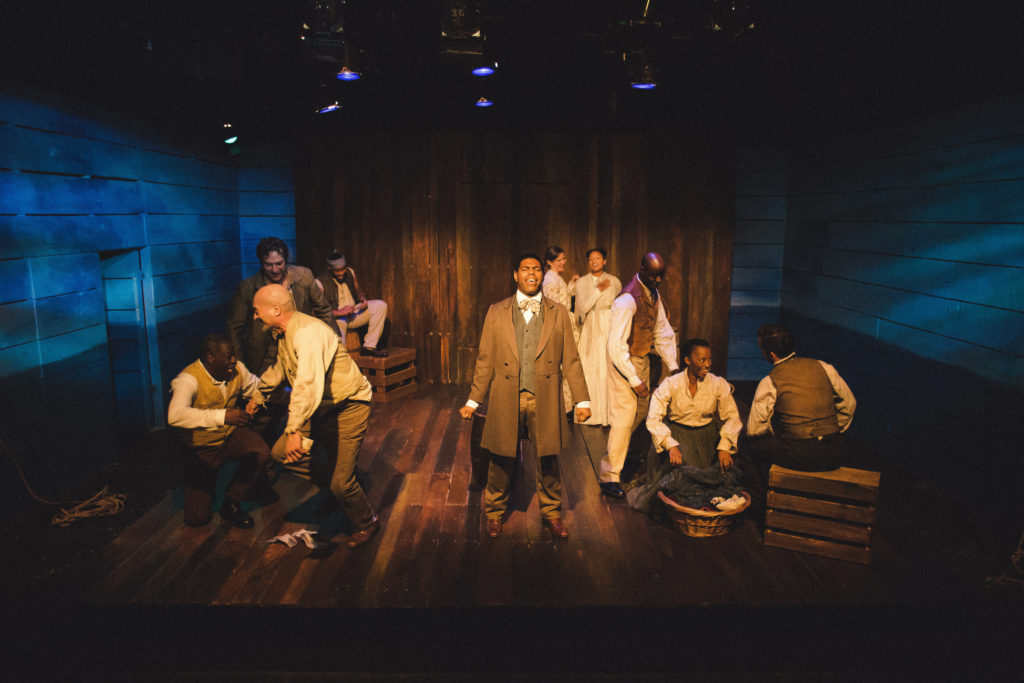 Pegasus Theatre presents the World Premiere of RUTHERFORD'S TRAVELS.
Charlie Johnson's National Book Award-winning "Middle Passage" has been adapted to the stage by Ilesa Duncan and David Barr III. The story is epic.  And the adaptation gets complicated.  Duncan, also serving as director, utilizes an ensemble of 11 actors to play multiple characters. The small Pegasus stage is over-flowing in personalities. From the get-go, it's a challenge to determine who is who. The show starts at the end with Breon Arzell (Rutherford) reading from the captain's log post voyage. From this point, the story goes back to Rutherford's arrival in New Orleans with intermittent flashbacks to his Illinois roots. Instead of a straight line, this journey is more of a zig-zag.  The robust storytelling gets overwhelming in the detail.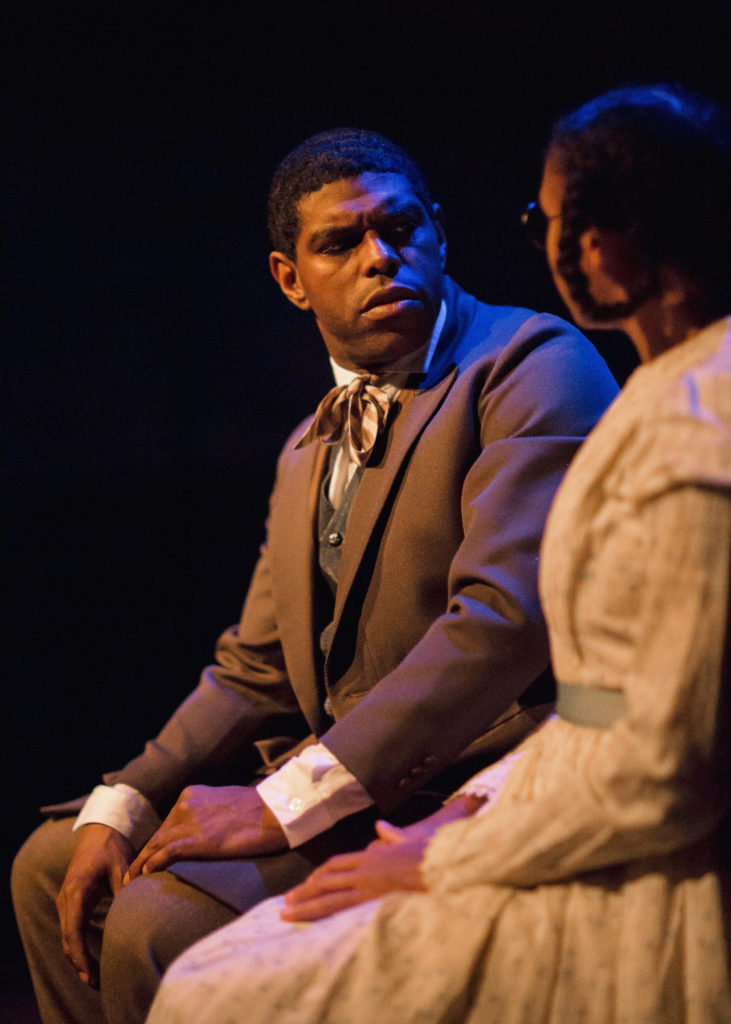 The outstanding Arzell serves as the guide on this odyssey.  He chronicles his life as a rogue, his time on a slave ship and his struggle to determine right from wrong. Arzell impressively tackles this demanding role.  He effortlessly slides between narration and participation. Sometimes the transition happens during a conversation as he sidebars to the audience. His playful insight adds humor to this long trip.  Other ensemble members also inject comedy to lighten up the layers of hardships. Slavery, mutiny, storms, disease swirl this ship into wildly, troubled waters.  The ever unfolding dramas temper the tension. I'm not on the edge of my seat fearful.  I'm more 'now what' exasperated.  The continual assaults on this doomed vessel feel almost absurd.
RUTHERFORD'S TRAVELS captures my interest but not my emotional investment. In their effort to honor Johnson's novel, Duncan and Barr's play gets bogged down in the detail.  The over-complicated storytelling makes me feel like I'm cramming for a Rutherford exam.  A few key points referenced in the second half have me scratching my head wondering how did I miss that in the first half. The story is powerful. The play lacks that same potency. The ending even has a hurried, unfinished feel. Until the stage goes black, I'm not certain it is over. RUTHERFORD TRAVELS would be better served to pare down the baggage for a smoother sail.      
Running time: 2 hours and 30 minutes includes an intermission.
At Pegasus Theatre at Chicago Dramatists, 773 N. Aberdeen
Based on the novel "Middle Passage" by Charlie Johnson
Adapted by Ilesa Duncan and David Barr III
Music directed and composed by Shawn Wallace
Directed by Ilesa Duncan
Thursdays, Fridays, Saturdays at 7:30 PM
Sundays at 3pm
Thru December 4th
Buy Tickets at www.pegasustheatrechicago.org
Production photos by Joe Mazza, Brave Lux
For more information and reviews on Chicago theatre, visit Theater in Chicago.